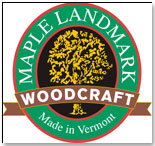 Maple Landmark (ToyDirectory), a Vermont-based wood toy manufacturer, has grown from a small business to a large award-winning company that sells to over three thousand dealers. Famous for the personalized NameTrain and Hang-A-Name, this quaint "toy factory" turns out Railblox, games, rattles, and their own Vermont Country Blocks, a line of country, decorative letter blocks. Their train engine cribbage boards are unique. In 2001 they acquired the Montgomery Schoolhouse, another wood manufacturer, boosting their success.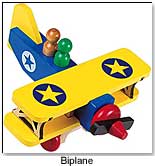 Owner Mike Rainville started woodworking in grade school, making items he sold at flea markets and craft fairs. By the time he entered high school he was selling to regional gift shops. Wood was a natural choice because it was readily available. From hand tools to power tools and machines, he learned his trade. Rainville attended Clarkson University, focusing on business and engineering. After graduation in 1984, he built a new woodshop and turned his skills into a full time profession.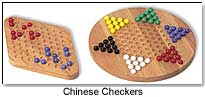 In the early stages he made gift products such as jewelry boxes, clocks, and cutting boards in addition to toys, which became a specialty ten years ago. He´s been in business for twenty-five years. "I think a key element of our success has always been our flexibility. We weren´t built on a single product, but on our capabilities," Rainville explains. "Making new and different things keeps life interesting for us. While we like our high volume products, we are also willing to carry items that may only sell a couple hundred units a year. Since we make it ourselves, volume requirements are less of an issue."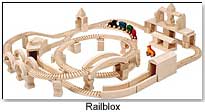 Maple Landmark is known for quality workmanship. Mass-market packaging prevents customers from touching the wood, an obstruction to appreciating the item. Rainville says that production has been driven to lower cost countries. "Unfortunately, what seems to have been lost is the extra character that wood brings to a product. The quest for price all too often removes the base elements that people look for when making the effort to buy wood – design, wood grain, and finish."
His main focus is the dealer network, but the company does direct sales as well. The Internet helps consumers get items they can´t easily locate. According to Rainville, Maple Landmark´s buyers are diverse, bringing a high level of care to purchases. "We love grandparents because grandparents appreciate our products. We also see young parents who come to us because they are concerned about the quality and content of the toys their children play with."