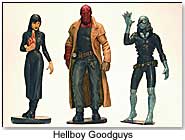 It has been no accident that the people from Dark Horse Comics (ToyDirectory) have created some of the most noteworthy comic book characters of all time, nor was it an act of random fate that Hellboy, world´s greatest paranormal investigator, recently scorched his way to heavenly heights in box office sales. Beneath the scenes of the irresistible comic strips, film, and collectible and licensed merchandise lies a talented team of professionals, many of whom have helped this homegrown company achieve its current place as an industry giant. TDmonthly recently spoke with one of the Dark Horse legends, David Scroggy, vice president of product development, in order to find out how Dark Horse Comics continues to remain among the most prolific companies of its type.
TDmonthly: What do you think has been the key to Dark Horse´s success?
David Scroggy: A good eye for properties and for what kind of items to do. An innovative approach. Top-shelf creative talent to help us create the work, teamed with a skilled in-house design department. A successful effort from our sales department to find new markets for the admittedly oddball stuff we do.
TDM: How does Dark Horse decide what products to manufacture?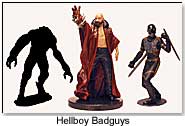 DS: It varies, but generally we will look at new projects on a budget worksheet to evaluate the financial risks and rewards. Sometimes we look to our publishing program for product tie-ins that make sense, such as our current upcoming merchandise on Hellboy, Conan, Shi and The Goon. Other times we look at upcoming entertainment, like Neil Gaiman and Dave McKean´s new film "Mirror Mask" from the Jim Henson Company. Still others are inspired by existing programs that don´t necessarily spring from publishing, such as our ongoing relationship with 1950´s pin up icon Bettie Page, or our line of stationery, journals and coasters featuring modern day "lowbrow" artists.
TDM: In what way do you see your company´s products as being different from others in your market category?
DS: I think we try to have some fun with our stuff, and that seems to come across in the market. No matter what the product category we try to bring a quality, well-made product forward. We also attempt some wonkier items, like the Futurama Brain Slug squishie toy or the boxed sets of PVC figures inspired by Tim Burton´s book, "The Melancholy Death of Oyster Boy."
TDM: Do you have a best-selling product?
DS: Well, the Tim Burton items just mentioned were probably our biggest success of last year. I should also mention the series of limited-edition busts that we distribute for Gentle Giant Studios in Burbank. These wildly skilled artists have been making a highly collectable series of prepainted ployresin busts based on Star Wars characters. They consistently sell out upon release.
TDM: What is your company´s target market? Can you give us a glimpse of some of the strategies employed to reach that market?
DS: We reach a few different markets. First off, I should state that we sell very little to the mass market giants like Walmart and Target. Almost all of our sales are elsewhere.
We reach all of the nation´s comic book and collector specialty shops through our relationship with Diamond Comics Distributors (ToyDirectory), where we are a "premiere vendor." We also sell directly to several specialty retail chains like Musicland, Tower Records, Hot Topic, Virgin Megastores and others. Additionally, we service a large number of independently owned specialty shops that are not comic stores, but rather hip gift shops, stationery stores, pop culture emporiums and the like. We also reach chain bookstores like Waldenbooks, Barnes & Noble, Borders. These chains are mostly involved with our books instead of merchandise, but we are seeing increased interest in certain products in addition to books.
We reach these customers a variety of ways. We publish a product catalog that is distributed to them, we have a retailer part of our web site that many stores use, we attend trade shows and gift shows nationwide, we have selected sales reps who present our merchandise, we advertise in publications and online.
TDM: What are your company´s goals for the future?
DS: To continue to grow as a consumer products company as we have been over the past few years, to continue to innovate and to continue to tie in with publishing and filmed entertainment as appropriate.
TDM: What new directions do you see the industry taking, and how does your company plan to adapt?
DS: We don´t see the pricing wars between Walmart, Target and the traditional chain toy retailers as affecting us too much. We do see the use of exclusive products as a competitive tool for retailers as a trend that is in increasing use at the specialty retail tier.
In our case, we recognize that we will always be in something of a niche market, but we feel that that is a good thing. It is niche, that although it is a little hard to describe, we feel we know very well. We intend to exploit that by remaining "ahead of the curve" in terms of the types of projects we do and the properties that these items are based on. We see diversification of product mix on the part of some entertainment retailers, and we think that bodes well for us.
We see the collectibles market as solid, and intend to remain active in this area as well.
TDM: Can you tell me a little bit about how Dark Horse Comics and Dark Horse Entertainment work together to envision concepts, products, etc.?
DS: We do work together, but at the end of the day are in kind of different worlds. Surely we´ll be active on the merchandise side (publishing as well) when there is an entertainment project coming forward under the auspices of DHE. Entertainment also looks to the publishing program for characters and stories that will work on film. But we really don´t sit down together at the concept stage and try to come up with product ideas. Our company President, Mike Richardson, keeps us abreast of what is going on with entertainment and coordinates with product development as needed.
Some of the latest releases from Dark Horse Comics include the following:
Bettie Page Action Figure: Cleopatra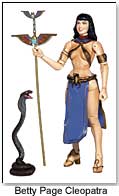 Designed by sculptor Derek Handy, this is the beautiful first version of a new series of Bettie Page action figures ($14.99). Smiling, sexy Bettie Page comes with Cleopatra attire, an asp, staff, dagger, as well as other Egyptian accessories.
Kotobukiya Star Wars Clone Trooper Pre-painted Soft Vinyl Model Kit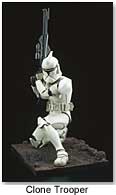 These Clone Troopers ($99.00) are the precursor to the famous Imperial Storm Troopers of the Empire. The highly skilled frontline troops are one-seventh scale, of superior quality and easy to assemble. Other Star Wars model kits include Kotobukiya Jango Fett ($94.99), Obi-Wan Kenobi ($94.99), Anakin Skywalker ($94.99), and Yoda & Mace Windu ($99.00).
Conan PVC Set: The Frost Giant's Daughter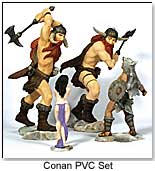 Inspired by one of Conan's memorable adventures, this four figure boxed PVC set ($44.95) is comprised of a young Conan dressed in snow attire, the beautifully sly and luring ephemeral maiden, and her two barbaric brothers. The figures are sculpted and painted to among the highest standards of detail and craftsmanship. The Conan figure is approximately 4" tall and the giants are 7" tall. They are designed by noted artist Arthur Suydam.