Internet stores will never replace brick and mortar. An average customer touches merchandise before purchase and needs direct contact with a retailer, but the Internet crosses distance barriers and draw unlimited sales. Beverly Kranz, owner of Collector´s Ink, a comic book store in Chico, California, believes customers want personalized service and comments, "While they may use the Internet to gain information about an item or series, there is a very real benefit to talking with a real person, face-to-face, especially if that person shares your love of the medium."

Is one-on-one contact essential to make a sale?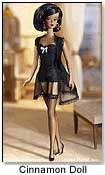 Doug Dressler, an associate for The Train Station , a model train retailer in Mountain Lakes, New Jersey, emphasizes patience. He remarks, "The average sale takes anywhere from ten minutes to a half hour, but it can go a lot longer than that." Despite drawbacks inherent in working on the Internet, the trend is global for new entrepreneurs. Diana J. Yano, owner of BigBeautifulDoll.com and CinnamonDoll.com , based in Patchogue , New York , since 2001 [Editor's note: these sites are now defunct 6/13/08], agrees that retail has been depersonalized, but knows how to close distance between computers. Her customers are divided between those who acquire for casual display and those who meet the rigid requirements of the collector.
"This latter group requires and demands a high order of customer service to complete the purchase," Yano explains. "It is not unusual for us to hold the doll or action figure physically and describe the doll and condition of the box in great detail."
Some customers need more attention, even when it comes to e-purchasing. "Overall, our direct, one-on-one contact with customers, I estimate would be in the 25 to 35 percent range. As in any retail environment, an indecisive e-customer may require a generous share of handholding. We have on rare occasion hand-delivered local orders and have entertained a client at our home office due to the variations of dolls specific to military figures."
Sales techniques on the Internet are similar to the cheery hello and offer of assistance used in person. Yano says, "Ignoring a customer´s question...is a huge mistake. It is essentially saying that you have no interest. Another misstep, such as not taking the request seriously, providing false or inaccurate information or not offering a timely response can ring the death knell for the sale and a quick exit by the customer. How you respond to an initial correspondence will either make or break the decision of the customer to pursue the collectible through your site."
According to Yano, following these ten practical tips will assure success with customers:
1. Make your website entertaining
2. Answer all email promptly
3. Include special offers such as free shipping, complimentary gift-wrapping, or free bonus items
4. Display your phone number and make certain the person answering is trained in dealing with the public
5. Be polite and patient. Lack of social skills can devastate a business
6. Enclose a business card, a promotional handout, or some form of personalized acknowledgement and gift to preferred customers
7. Follow-up when an order is shipped, providing a tracking number
8. Email announcements of new items with coupon offers
9. Include a postcard or mailer with all purchases
10. Add a personal thank you note to a package and mention related merchandise
Yano offers a special warning to Internet stores. "If you´re shortsighted in your response or lack of one, you have already set the stage for an unhappy potential customer. Even though you are Internet-based, word travels. Being unresponsive or providing unsatisfactory service spreads through the e-community rapidly."