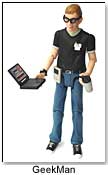 There is a new super hero action figure hitting the toy markets. He doesn't have a cape, doesn't carry a gun or a light saber, isn't the subject of some popular show or cartoon, and he doesn't transform into something. Oh, but make no mistake about it, GeekMan ($15.99 U.S.; $19.99 Canada) by Happy Worker (ToyDirectory) doesn't come empty handed. He is equipped with some very useful tricks of his trade, such as geeky glasses, laptop computer, pocket protector and coffee mug. He also writes code at light speed, lacks a bit in the personal hygiene department, and tends to turn girls off instead of on.
"It's about time that the computer and technology world had a superhero of its very own. GeekMan was designed by geeks, for geeks," says Kris Schantz, founder of Happy Worker, who spent five years at Internet companies.
The six inch tall action figure is realistically sculpted and can be posed in a variety of awkward and geeky positions.
Schantz adds, "He´s the first in our line of everyday superheroes. We´re taking a fun look at people around us in day-to-day life and immortalizing them in plastic. In their own way, doesn´t everyone deserve to be a superhero?"