Barbie has remained a penultimate collectible for those who cherish each Barbie transformation. But after a 40 year run, our girl may have hit an evolutional ceiling.
While still the world's best selling doll, Barbie sales have remained flat or down in 12 of the last 13 quarters according to an LA Times article on April 21, 2004. Radical changes in Barbie's lifestyle have been floated by Mattel to counteract the success of MGA Entertainment's Bratz. But after dumping Ken, getting "Flava'ed" and droppin' Cali Girl Barbie $5 a pop, nothing's working. Barbie may have lost her groove.
And the rest of the Adult Collectibles category is morphing, too, along generational and economic lines of the new century.
Lower price points, cross-marketing licenses of characters from electronic games and films and a sales continuum that spans generations in many categories are balanced by collectors' demands in some markets for exclusive, high-priced items they purchase as investments and objets d'art.
Licensed characters and accoutrements continue to be a leading source of new releases. Current film and video game releases tap into the desires of both seasoned collectors and newcomers to the Collectibles market. Authenticity and exacting production standards continue to be a hallmark of popular items.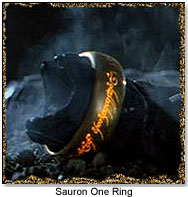 The Sauron One Ring by Master Replicas ($199.00), an electronic replica of the Dark Lord of Mordor's armor-clad severed finger. This 1 to 1 scale Limited Edition replica is finely detailed and when activated, the script glows red through the surface. It comes with a numbered, limited edition plaque and plaque stand. It is fully authorized and licensed by New Line Cinema and is limited to 2,500 worldwide.
The latest films are not the only source of subjects for Collectible Figures. Perennial favorites include media characters embedded in the collective consciousness for years.
One of America ´s enduring nostalgia icons, the Lone Ranger, ($150.00) appeals to generations of fans. Designed and sculpted by Ruben Procopio and measuring approximately 12" tall, the Lone Ranger logo has been sculpted into the rock surface and each silver bullet (28 of ´em), buckle and stud has been individually painted. Limited to 1500 pieces, the special decorated collector box, by Electric Tiki includes a Certificate of Authenticity. A special edition website/Comic Con exclusive Retro-Lone Ranger ($150), dressed as he first appeared in his red shirt/black pants combo is currently available for pre-order. Both figures will be available July/August 2004.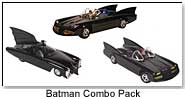 Since the 1950s, the black knight known as Batman has appealed to fans worldwide. From comics to the small screen to the silver screen, Batman doesn't show any sign of losing momentum. The whopping Batman Combo Pack by Playing Mantis ($100) includes: 1960's Batmobile; Batboat; Batplane; and Batcycle model kits, 50's and 60's 1:24 scale die-cast model kits; 60's and 40's Batmobile, Batgyro and Batboat 1:64 scale die-cast model kits.
And the good guys are not the only popular collectible figures. The "dark side" is well represented in the pantheon of adult cult idols.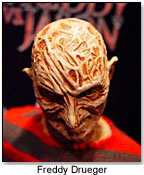 Freddy Krueger, the Dream Stalker ($225.00) has once again reared his horrifying head. Standing 18" tall, this Brian Dooley sculpted piece, available through Sideshow Collectibles is semi-articulated and includes a polystone head and hands, film-authentic costume, flocked fedora that is removable, a base, and gloved right hand, with real leather, copper plates, and metal blades. Look for Freddy, limited to 2000 pieces, in September/October.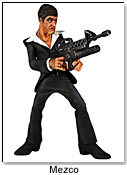 "Scarface," the gangster Antonio "Tony" Montana depicted in the 1983 classic film directed by Brian DePalma, is now a 10" tall roto-cast figure by Mezco , the first in a series that includes multiple versions of Al Pacino as the infamous Montana . The license includes articulated action figures 4-10 scale, cold cast busts, statues and figures, as well as Mezco's signature Mez-itz line . The first assortment of figures is planned for release in Fall 2004.
The most sensational trend in the Adult Collectibles category is the steady pull of alternative sensibilities on designers. The dark and sexy characteristics of many new collectible releases highlight what is sure to be a mushrooming factor in market growth.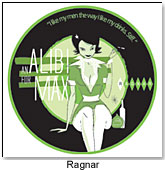 Inspired by the designs of the artist known as Ragnar ($12.99 ) , one of today's hottest graphic artists/designers, comes a set of four sturdy, thick coasters with full-color images, available from Dark Horse. The coasters are 1/8" thick cork, 4" square, with laminated tops.
Television and film programming gets into the act with new shows that inspire collectables.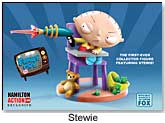 The first-ever Stewie ($29.95) collector figure based on the hit TV show, "Family Guy," has been officially authorized by 20th Century Fox and Family Guy creator Seth Macfarlane. Available through Hamilton Action the 4 1/2 inches tall and issued in an edition strictly limited to 95 casting days, Stewie is also hand-numbered and includes a matching numbered Certificate of Authenticity.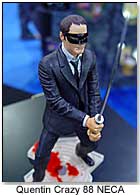 The action figure collectible often features a charismatic hero or heroine from a film, but for the first time the San Diego Comic-Con or Wizard Chicago Conventions will feature a behind the scenes personality. The exclusive Quentin Tarantino Crazy 88 action figure by NECA accompanies the release of the "Kill Bill" action figures. The Quentin 88 will be coming in its very own clamshell package and features a Blue Leaves base to connect with the other figures. This floor piece will even have its own new blood pattern.
For the budget minded collector, there are always nostalgic knickknacks and head knockers.
Flickers by Playing Mantis; ($5.59) are like the classic flicker rings, but with lenticular technology to create a series of progressive images when the flicker element is moved. Featuring characters from today´s hottest properties, there are 12 different rings, five of which feature detailed sculpts of Marvel superheroes.
And what about Barbie? Will she gracefully concede that the bloom is off the rose?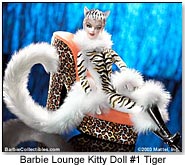 Hardly. Witness the Barbie Lounge Kitty 2004 Collector Edition Lounge Kitties™ Doll #1 Tiger by Mattel ($39.98). Wearing a glitter-print cat-suit with white fluffy trim and high boots, this kitty comes with a leopard patterned shoe-shaped chair. Plus, her pal, Panther, wearing a black cat-suit with long attached gloves and patterned tights also comes with sexy lip-shaped chaise lounge. Talk about a dynamic duo!