Impulsive, quirky, smelly…What compels people to purchase those wacky novelty items? Most novelty products don't make any sense at all, so it seems odd that there might even be any logic behind their existence. At the core of its being, the novelty item strives to make people laugh, even if only for a brief moment. Yet, novelty lines continue to be some of the most profitable lines for stores and manufacturers and that's no passing fad.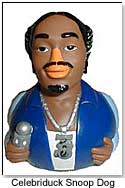 There is no limit to what the imagination can conceive and zany novelty concepts come from wild imaginations. Craig Wolfe, president of Celebriducks (ToyDirectory) decided to put celebrities on the torsos of rubber ducks. "The wilder it is the more we like it," says Wolfe. The company maintains that it can make anyone or anything into a duck. And they've nearly done so. Professional basketball star, Allen Iverson was one of the first to be made into a duck, complete with tattoos. Snoop Dog, Moses and other historical or pop icons have followed.
Some say the rationale behind novelty items is really one that twists reality, merging different concepts together to create a "novel" idea. "Everyone had a [rubber] duck growing up," says Wolfe. Couple that with the public's fascination with celebrities, adds Wolfe, and the combination "strikes a nerve with people" that's irresistibly funny.

David Wahl, public relations manager for Accoutrements: Outfitters of Popular Culture agrees. He says people enjoy a product that combines themes from both adulthood and childhood. The Edgar Allen Poe and William Shakespeare action figures are able to reflect adult interests, yet in a playful manner. Similarly, products from Accoutrements' retro line are little blasts from the past that humorously tug at the strings of nostalgia, like the Wiggly Hula Girl, who decades ago danced on dashboards everywhere.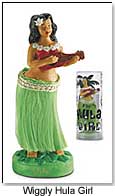 If a novelty item somehow succeeds in being functional, then it has gone beyond its call of duty. Some novelty items are purchased because of their ability to spice up the dull grind. "We sell things that aren't necessary for living but they're the reason that you live," says Wahl. He often spots novelty items on desks and in cubicles, strategically placed to break up daily routines with laughter. And nothing seems to break up office monotony like launching a tiny pig across one's desk from a Pig Catapult.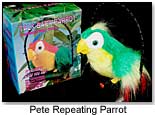 In the purest sense, novelty items are as timeless as laughter. With such high stress living, adults need their own method of play, asserts Suzanne Fenton from One Stop Toy Company. "The only reason novelty toys are around is to break the stress," says Fenton. One Stop Toy Company decided to sell Pete the Repeating Parrot ($4.75, wholesale) when Fenton showed it to her boss and the entire office burst into laughter. Occasionally, a product's ability to seem fresh and inspire laughter, even decades after it first premiered, makes its appeal timeless.
That is, some jokes just never get old. Fenton says One Stop's Remote Control Fart Machine ($5.29, wholesale) never fails to send boys and even grown men, rolling on the floor with laughter. Products that break up the uniformity of life seem to be the best sellers and novelty items are really toys for adults, maintains Fenton. "Kids love them too but adults get the biggest kick. We all need to have fun no matter what age."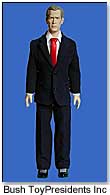 Classic laughter and celebrity fascination seem to be sure novelty hits. But some products can unintentionally become novelty items due to a celebrity theme. The co-founders of Toypresidents Inc. (ToyDirectory) created a line of presidential action figures ($29.95) inspired by an elevated level of patriotism in recent years. The objective was to create a product that gave equal recognition to Democrats, Republicans, and all presidential figureheads throughout history. However, political figures are an easy target for jokes. "We certainly knew that there would be a segment of the population that would order this as a gag gift or novelty," says Dwayne Crosby, vice president of sales and marketing for Toypresidents.
Whether cynical or serious, this is election year and Toypresidents is filling orders at every level. Both Democratic and Republican election committees will use the product for their campaigns and the Clinton Library ordered figures for the library's inaugural opening.
Some of the potential for novelty items to fly off shelves lies in their affordability. If nothing else, novelty items are quick, easy, cheap amusement. Jim Weigl, president and owner of Virginia Toy and Novelty Company (ToyDirectory), has been in the novelty business for six years. He says for retailers, the profit margins on novelty items are usually higher than for traditional toys. He attributes this to the impulsive demands of both parent and child.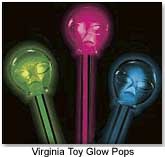 Parents will often buy dozens of glow in the dark necklaces ($2.49-2.99) or glow in the dark lollipops ($2.49-2.99) made by Virginia Toy and Novelty Company, to entertain kids at a family barbeque or gathering. A child's attention span is so short that instead of investing in a costly toy that may entertain kids for a minimal time, Weigl says novelty items promise to entertain for just as long, at less than half the cost.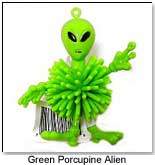 Dean Mottes, owner of Sav-On Closeouts (ToyDirectory) echoes Weigl's opinion. The company's novelty section is one of the most trafficked areas of the company's website. Mottes says even the most basic products can inspire amusement at minimal prices. "[Novelty products] excite kids and are a low cost for parents. All across the board it's a fairly steady market," says Mottes. The company's green porcupine alien (.59, mspr; .10, wholesale) satisfies a playful curiosity associated with the phenomenon of aliens but it's also a squishy character that kids can throw around without hurting anyone.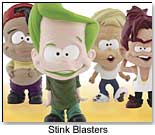 Even when parents may not approve of the product, kids can afford to buy it with their own allowance. Some of the smelliest novelty products on the market right now are Stink Blasters ($4.99). Twenty four different characters, like Garbage Truck Chuck or Barfing Ben are delivering their stench to households everywhere. "Parents hate these toys but at the price point, kids can buy them themselves," says Jacqueline Vong, promotions coordinator at Spin Master Ltd.