In the evergreen Infant and Toddler market segments, book publishers and media content providers are eyeing products for the youngest children as fertile ground for new cultivation.
Venturing further into the early learning and speech market, addressing storytelling and social awareness needs of babies and young walkers, manufacturers are taking advantage of digital format advances to press new editions of the tried and true as well as the latest products developed in conjunction with current early learning theories.
Vicky Rideout, vice president of the Kaiser Family Foundation, senses that younger and younger kids are using or exposed to digital media like the Internet and DVDs. Recognition of this trend in developing appropriate programming is "important to do because we know how critical these very early years are to children´s development," Rideout says.
From classical music CDs to cognition and speech stimulating DVDs, the Infant and Toddler market is experiencing significant growth in products that profess to upgrade a child's learning capacity by utilizing real world objects and situations to cultivate the child's awareness.
William Staso, author of " Brain Under Construction," states that the age group 8 months to 18 months is a crucial time for brain development. The au tho r suggests that a young toddler's experiences can be arranged to help improve cognitive and adaptive skills. The use of regular household items in Staso´s activities is preferred.
However, experts do not all agree that the "one to three" years are essentially more crucial to development than later years.
"…We really don´t know much about brain behavior connections in young children," notes Kathy Hirsh-Pasek, a professor at Temple University who specializes in infant language development and cognitive learning. "The real news of brain development in the past 10 years is not on critical periods, but on the brain´s new-found plasticity."
Still, the Toy and Hobby industry is betting on the desire of parents to buy with an eye toward enhancing their child's learning curve.
"The toys can´t hurt," says John Colombo, professor of psychology at the University of Kansas , noting that general stimulation has been found to be good for the growth of young minds.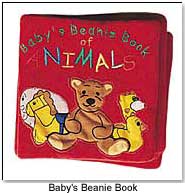 There will always be the soft first books for baby to handle. Beanie Books by Imagiix ($6.95;ages: 6-12 Months), are soft plush with bright pictures. Easy to grab and washable, baby gets a first look at animals and toys.
But here are some of the latest products to address the perception that a child's learning curve can be enhanced:
Let´s Go Read! 1: An Island Adventure, by Riverdeep ($29.99;ages 3-6 yrs.), helps build early reading skills through active exploration of more than 175 carefully sequenced lessons that also expand their vocabulary as they learn words in the context of pictures, sentences, and books. Students apply and practice reading skills through record and playback feature within storybooks, which requires a microphone.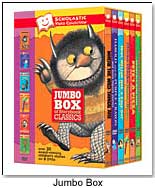 The Jumbo Box of Storybook Classics, by Scholastic ($69.95; ages 2-4 yrs.) includes authors Kevin Henkes, Maurice Sendak. Stories include "Chicka-Chicka Boom Boom," "Harold and the Purple Crayon," "Miss Nelson Had a Field Day" and "Pete's A Pizza." This extensive DVD 6-pk set features celebrity narrators and actors include Meryl Streep, Sarah Jessica Parker, Chevy Chase and John Lithgow.



The trend toward bundling complementary formats together is producing new hybrids like the magazine/video offered by


Cobblestone Publishing. BabyBug and

LadyBug

Magazines

($30.97 each ) are board-books filled with colorful pictures, simple stories and rhythmic rhymes. Together with the Video/DVD NoodleBug

Animal Friends

($12.95 DVD/VHS; ages18 months and up ), children can play, sing, and jump along to the DVD and then revisit the same characters in a more reflective setting with the magazines.

The CD/Book "What's The Name of That Song" ($9.98 VHS/$12.98 DVD; ages 2 and up) is another mixed media package by Sony, which commemorates "Sesame Street's" 35th anniversary with 17 classic songs paired with a star-studded roster of guests, including The Dixie Chicks, Queen Latifah, Diana Krall, Patti LaBelle, Diane Schuur, Vanessa Williams, Nathan Lane, REM and many more. Superhero Grover embarks on a mission to discover the "one special song the world can sing together." The set includes not only the 50-minute special but a 22-minute feature "for parents" about fun with music, some short segments from " Sesame Street " and other features. The cover of the package opens into a board book with lyrics to the songs.

Still, the economy plays the tune to which retailers are dancing the most these days. Stephanie Kernochan, infant media buyer for The Right Start, says that impulse buys, non-technical items, and lower price points are key factors in most consumer purchases right now.