Play is a way for preschoolers to gain many of the important tools they will use in life. Play enhances problem-solving and engineering skills, helps improve motor development and memory enhancement and teaches kids how to express their feelings through words as well as action. It also teaches kids how to cooperate and socialize with others. Here´s a selection of toys that´ll have preschoolers mastering essential skills such as cooperation, visualization, imagination and mental computation.
Prairie Livin'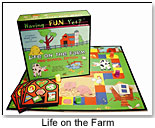 Easy to learn and easy to play, the preschool version of Life on the Farm, Preschool Edition ($20) by We R Fun (ToyDirectory) is the newest version of the board game that is ideal for preschoolers and teaches kids to take turns. This enjoyable game is perfect for floor-play, since it is actually a huge five-piece foam puzzle, featuring farm scenes, bright colors and a soft feel. Players take turns drawing cards and matching colors to move their way along the board. The first person to fill a barn with farm animals wins. The game encourages preschoolers to work cooperatively-and play by the rules.
The Sandbox Will Never Be the Same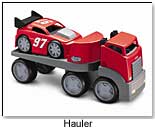 Rugged Riggz (ages 3 to 10 years, $10 to $20) by Little Tykes (ToyDirectory) enhances problem solving skills and improves motor development. The Cement Truck has a turning mixer; the Tow Truck has a hook to haul any Rugged Riggz vehicle; the Semi has storage and working doors in the trailer; and the Fire Truck has a moving bucket and water hose. Each rugged hauler—Race Car Hauler, Motorcycle Hauler and 4x4 Hauler—has a realistic cab-over-engine design that teams with pivoting, interchangeable trailers and soft rubber wheels that won´t scratch furniture or the floor. Rugged haulers also include additional vehicles for haul or independent action play.
This Land is Your Land
At 35" x 25", eeBoo´s United States Map ($19.95) is a large easy-to-read wall map. Original art by well-known and loved children´s book illustrator Dan Yaccarino includes a rich assortment of over 150 illustrations of industry, landmarks and wildlife. Laminated for extra sturdiness and grommeted for easy hanging, this map is perfect for home or as a teaching tool in the classroom. It includes a sheet of 50 stickers to personalize the map (i.e., I live here, my grandma lives here, I want to go here, I´ve been here, etc.). EeBoo´s new 15" x 11 1/2" This Land is Your Land Learning Puzzle version of the U.S. map (ages 5 years and up) is a 45-piece wooden U.S. map that offers the same great illustrations in the form of a puzzle.
Growing Like a Weed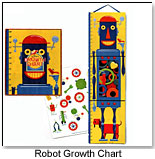 EeBoo (ToyShow) also offers a number of illustrated and heavily laminated growth charts that fold up and fit inside a sturdy gift box. The charts come with stickers for marking birthdays or other important occasions. New this year are the Fireman Keepsake Growth Chart ($17.95); Castle Growth Chart ($17.95); and Robot Growth Chart ($17.95).
Tune Kids into the Classics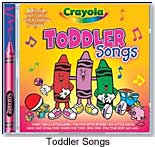 Madacy Kids (ToyShow) offers four new collections of children´s songs with all new arrangements on CD. Preschoolers will have hours of fun listening to catchy favorites like "The Farmer in the Dell," "The Itsy Bitsy Spider," "Hickory, Dickory, Dock" and "I´m a Nut." Available in "Silly Songs," "Storybook Favorites," "Toddler Songs" or "Animal Songs," each CD includes 20 songs and activities such as sing-along lyric booklets, dot-to-dots, drawing games, mazes and coloring pages (ages 2 and up, $5.98).