---
New & Notable Toys: Balloons
Check out these new and noteworthy toys.
Balloon Blast™ by ALDO LLC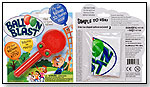 Balloon Blast® is a new toy that makes you enjoy flying your balloon high in the sky. It is fun and open to many different activities both indoor and outdoors! Makes any balloon an instant kite. Now it also includes a MICRO - KITE !! AVAILABLE IN RED AND GREEN ! 1/18/2013 (Price: $19.99; Age: 3 and up) [Add to my Inquiry Basket][?]



Balloon Helicopter by TOYSMITH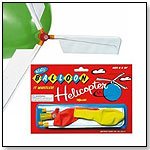 Classic Whistle Balloon Helicopter. Inflate the balloon and attach it to the propeller. It whistles while it flies. Each propeller comes with two balloons. 11/4/2011 (Price: $4.99; Age: 4 and up) [Add to my Inquiry Basket][?]



Party Pumper by PUMPONATOR INC.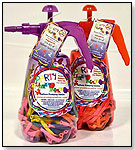 The Party Pumper comes filled with assorted balloons, including the magic twisty animal balloons. Use the pump to fill the balloons with water or air. Eliminates the mess of traditional water balloons that have to be filled up at the sink or outside using the garden hose. Even young children can easily fill their own balloons. Available in Purple or Red.
— As of 05/18/2011 this product had 4.4 out of 5 stars from 13 reviews on Amazon.com. Pros: Easy for kids to use; kids like filling the balloons with air as well as water; eliminates the mess created by using the sink or hose to fill balloons. Cons: Two customers received defective product. (

Watch Video) 3/7/2011 (Price: $19.95) [Add to my Inquiry Basket][?]



Air Swimmers Flying Fish - Clownfish by WILLIAM MARK CORP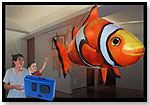 These helium-filled clownfish balloons are remote controlled to "swim" through the air. The infrared remote functions include climb, descend, and tail fin control. Up to a 40 ft range. 57 inches long, 36 inches high. Launch date: 2011.
— As of 10/14/2011 this product had 3.3 out of 5 stars from 16 reviews on ToysRUs.com. Pros: Entertaining. Cons: Flimsy; hard to balance; does not work well in areas with AC, fans, or open doors or windows. (

Watch Video) 2/22/2011 (Price: $41.99) [Add to my Inquiry Basket][?]



Tie-Not by TIE-NOT INC.
Tie-Not is a patented tool and method made of recycled materials that helps kids and adults tie water balloons in seconds. Tie-Not is made in the USA. The tool is packaged with balloons and hose adapter. "There isn't currently a tool to tie water balloons in the marketplace. This is a chance to offer a new and innovative products to your customers," Laura Sikorcin, owner, Tie-Not Inc., told TDmonthly. Launch date: 2010. 3/10/2010 (Price: $4.99; Age: 8 and up) [Add to my Inquiry Basket][?]



Rocket Balloons With Pump by SCHYLLING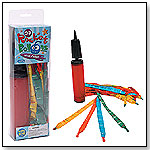 This bright set features 30 multi-colored balloons plus a pump.
— Randy Austin reported that Rocket Balloons were popular sellers during the summer of 2008 at her store, The Gifted Child, in Lenox, Mass.
— "Rocket Balloons were fabulous [last year] and we have people waiting for them now," said Eric Masoncup, owner of Geppettos Toy Box in Oak Park, Ill., of his top-selling outdoor item during a March 2010 survey of best sellers.
— Two of 37 retailers named Rocket Balloons are a best-selling outdoor toy in spring 2010. 9/9/2008 (Price: $7.99; Age: 3 and up)



18" Plastic Balloon - Round by MISTER BALLOON


This non-latex, non-allergenic balloon is sold flat. It is refillable, durable and easy to inflate with the use of a helium tank. A heart-shaped version is also available. 8/17/2007 (Price: $1.49; Age: All Ages) [Add to my Inquiry Basket][?]



Tweety Birthday Balloon by BRODY'S BALLOONS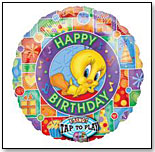 This 28" licensed singing balloon need only be tapped to hear Tweety sing "Happy Birthday." Other varieties of the mylar, helium balloon (gas not included) include Princess Birthday, Pooh Birthday and Elmo Birthday. 1/9/2006 (Price: $6.90; Age: All Ages) [Add to my Inquiry Basket][?]



Balloon Time® Party™ Create-A-Face Sticker Kit by WORTHINGTON CYLINDERS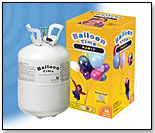 This Special Edition decorating and entertainment kit is perfect for kids' parties. The kit contains thirty 9" balloons, 120 feet of ribbon, an 8.9 cubic feet canister of helium, and more than 200 facial feature stickers for making funny-face helium balloons. 4/21/2005 [Add to my Inquiry Basket][?]



Bubble Balloons by TK INNOVATIONS, INC.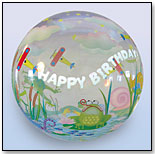 Bubble Balloons are the most beautiful, longest lasting, fastest selling balloon. Pop resistant and made from stretchy plastic, they inflate wrinkle-free with a smooth seam (like a beach ball) offering a brand new look for consumers. In fact, Bubbles may inflate twice their recommended size before they pop. 24" Bubble Balloons float for 3-5 weeks, no special equipment needed, non-leak self sealing valves, refillable, ribbon attached, and packaged individually in a Moist-Pak. 12/8/2004 [Add to my Inquiry Basket][?]



THIS BANNER IS AN AD:
---
---