---
New & Notable Toys: Pretend Play



Check out these new and noteworthy toys.




My Home Office by FISHER-PRICE INC.
Better grab a latte to go, that report is due this morning and there's a call with the dog across the street after naptime. With the Fisher-Price® My Home Office set, your preschooler is the boss of their own workstation at home, the local coffee shop, or the moon. This 8-piece pretend play set includes a pretend laptop, 4 fabric apps to attach to the computer screen, a wood smartphone and headset for all those important business calls, and a to-go cup for kids to sip their favorite beverage. Urgent call from the cat: the busy business requires immediate attention.

Preschoolers ages 3 years and up can work from home or anywhere with this 8-piece pretend office play set
Pretend laptop and 4 fabric apps that attach to computer screen to work on different projects
Wooden smartphone and headset lets kids take all their important business calls
Break time! To-go cup lets kids sip their favorite beverage
Play set comes in gift-ready package that's great for storage, too


SKU #: GMN43




8/17/2020




Cinema Box by Moulin Roty by MAGICFOREST LTD


Get your tickets and your popcorn ready, the show is about to begin! With the Cinema Box from French toymaker Moulin Roty, children are given the pictures and they supply the story! Armed with a flashlight (batteries included) and five different rotating discs in the themes of Valiant Knight, Cowboy, Pirate, A Thief and Super Hero colorful images are shone on the box cover – which doubles as the screen – and the child tells an amazing story about each adventure. Also included is a movie poster so the child can fill in the date and time of the show and sturdy tickets that can be sold and then reused many many times for many many shows! Best of all Mom, all items fit back in the box and can be tied shut with the attached ribbon. Clean up is a breeze! Look for other items in Les Petits Merveilles such as Nighttime Shadow Puppets, Puppet Theater Curtain, Storybook Flashlights, and Hand Shadows. Imported Exclusively by Magicforest.
Attributes:
· Creative & Imaginative Play
· Storytelling
· Dexterity
· Scheduling
· Part of Les Petits Merveilles Collection by Moulin Roty

3/31/2015 (Price: $40.00; Age: 3 and up) [Add to my Inquiry Basket][?]



Pink Super Deluxe Kit by MINI-PLAY MAKEUP, INC.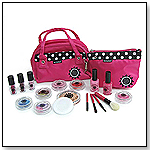 Our Super Deluxe Kit offers even more makeup for countless hours of fun and NO mess for anyone! We've added all the extras to this Super Deluxe Kit! Real Brushes and real compact and puff add a real-life experience to our silky-smooth play makeup that looks and feels like the real thing. Glitter Gloss, Lip Rollers and Nail Polish complete the Super Deluxe Kit. It comes complete with a washable cosmetic case and mini-clutch purse so her play makeup can go anywhere with her! 3/6/2015 (Price: $59.99; Age: 3 and up) [Add to my Inquiry Basket][?]



PlayTape Classic Road Series Black by INROAD TOYS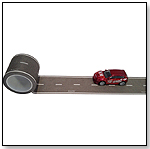 Printed to look like a road, PlayTape Classic Road Series is a roll of removable tape that's perfect for playing with die-cast toy and model cars like HotWheels® and Matchbox®. PlayTape is the fastest way to create roads for imaginative play, display, or decoration. PlayTape has been specifically designed to bring hours of imaginative entertainment at minimal cost and maximal convenience. With a single roll of PlayTape Classic Road Series, you can create a road or a whole city. Use the toy cars you already have to drive on PlayTape. Use the blocks and toy buildings you already have to build a town through which PlayTape traffic flows. Create places real or imaginary. The possibilities are as endless as a desert highway. Everyone loves tape. Now you can legitimately play with it. Drive on! 8/28/2014 [Add to my Inquiry Basket][?]



Sprouts® Shop It by LEARNING RESOURCES INC.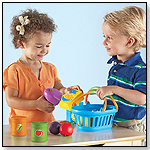 Growing grocers, get ready to go to work! Includes everything to stock and run your own pretend store—a shopping basket, 7 play food items, and a price/bar-code scanner with sound. Features modern design with rounded parts. Coordinates perfectly with New Sprouts® Ring It Up! (LER 9229) and all New Sprouts® play food. Basket measures 8½"L x 7"W x 4"H. 5/29/2014 (Price: $24.99; Age: 2 and up) [Add to my Inquiry Basket][?]



Doorway Theater by HABA USA/HABERMAASS CORP.
Raise the curtain! Put on a true production with the HABA Doorway Theater! This whimsical set can adjust to fit in different sized door frames. The curtain dimensions are 67" tall and 31" wide, but the poles extend a bit further for larger door frames. Easily set it up and you are ready for hours of puppet fun. 4 telescopic rods fit into the edges of the curtain, giving it a neat and taut appearance. Which play will your little ones perform first? The Doorway Theater stimulates children's imagination and creativity! The theater is wonderfully detailed with a cute porthole at the top for a puppet to make a surprise appearance or introduce the next act, a vibrant red curtain that comes with tie backs to unveil the show, and a little pocket window to display the name of the act! Perfect for ages 18 months and up. This item works perfectly with all of the HABA hand puppets! Puppets are sold separately. 5/14/2014 (Price: $47.49; Age: 1 and up) [Add to my Inquiry Basket][?]



Everyday Princess™ Collection by NEAT-OH! INTERNATIONAL LLC


No crown required.™

Neat-Oh! knows that every little girl is a princess, every day. The Everyday Princess line is a collection of dolls and play environments. They're toys devised to encourage imaginative play – and to empower young girls to design and control their own creative realm.

There are 3 dolls in the Everyday Princess Line, Emma, Sophie and Haley, who all have bean bag chairs, Bucky and Lucky the ponies, and Buddy and Dottie the dogs.

Also in the product line are a dollhouse-themed backpack that comes with an Emma doll and opens into a play arena, a 60 Doll Butterfly Chateau that neatly holds the entire collection – and transforms into a doll house for a whole new play experience, and a regal, life-sized, 54"-tall fairly castle that can be customized and expanded. 1/23/2014 [Add to my Inquiry Basket][?]



Kidoozie Little Doctor Kit by INTERNATIONAL PLAYTHINGS LLC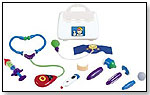 This doctor's bag comes complete with everything kids need to make sure their patient is on the road to recovery and to make their trip to the doctor a good experience. Kit includes electronic stethoscope, blood pressure gauge with arm cuff, reflex hammer, thermometer, squeaking syringe, auriscope, laryngoscope, pretend bandage, and doctor bag. Batteries are included. Surface clean. 9/26/2013 (Price: $22.99; Age: 2 and up)



Princess Dreams™ Sandbox by BE GOOD COMPANY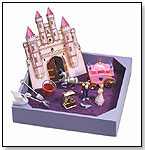 Includes 10" x 10" x 2" colored sandbox, 20" x 20" no mess play mat, ultra fine sand, prince and princess, horse drawn carriage, magic castle, hope chest, jewels and treasure, swan, glass slipper, wish bucket, grooming rake, digging shovel. 9/26/2013 (Price: $29.99; Age: 3 and up) [Add to my Inquiry Basket][?]



Dreamy Dress-Up Wings™ by DOUGLAS CUDDLE TOYS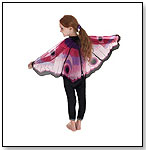 Butterfly Wings w/Glitter Eyes, Pink. Comes in several different designs. Encourages creative play. 2/26/2013 (Price: $16.99; Age: 3 and up) [Add to my Inquiry Basket][?]



Tiered Special Occasion Cake by MELISSA & DOUG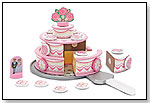 Any little host will be proud to present these three layers of "delicious" yumminess. This fabulous cake can be topped with a bride and groom for a formal pretend wedding or with a flower bouquet to celebrate any special event. Serving and assembling this confection is easy with all the wooden layers, a selection of toppings, a server and decorative cake plate included in the "bakery" box.
— As of 1/17/2013 this product had 4.8 out of 5 stars from 36 reviews on Amazon.com. 1/18/2013 (Price: $34.99; Age: 3 and up)



Tool Set, Pink by GREEN TOYS INC.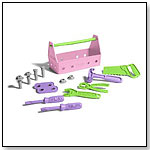 Any project is possible with the whimsical, Green Toys Pink Tool Set. Constructed from 100% recycled plastic milk containers that save energy and reduce greenhouse gas emissions, this trendy tool kit makes any fix-it job an opportunity to go green (and pink and purple) too. The groovy 15 piece set includes a tool box, phillips screwdriver, flat screwdriver, hammer, saw, wrench, pliers, 2 two-hole connectors, 2 nails, 2 bolts, and 2 nuts. No BPA, phthalates, PVC, or external coatings.
— As of 1/17/2013 this product had 4.8 out of 5 stars from 37 reviews on Amazon.com. Pros: Eco-friendly; durable; helps encourage interest in building. 1/18/2013 (Price: $29.99; Age: 2 and up) [Add to my Inquiry Basket][?]



Dolly's Pram by ELVES AND ANGELS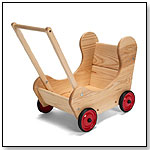 Take your favorite dolls or stuffed animal friends for a ride in our new Pram. Sturdily constructed of hardwood and pine it is built for busy afternoons filled with play and sure to be a hit with young mommies and daddies alike. Launch date: January 2013. 1/11/2013 (Price: $129; Age: 1 to 8) [Add to my Inquiry Basket][?]



Sushi Selection by HAPE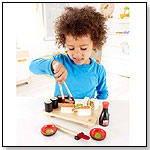 Playing with new foods encourages kids to try them. Watch a real sushi chef (Itamae) in action. Roll sandwiches or filled lettuce leaves into sushi shapes. 1/4/2013 (Age: 3 and up) [Add to my Inquiry Basket][?]



Cupcake Set by KIDKRAFT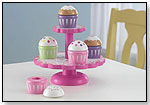 Our Cupcake Stand with Cupcakes is a perfect kitchen accessory for any young chefs. ids will love putting the cupcakes on display for the whole world to see. 6 pretend cupcakes – mix and match the tops and bottoms to make new color combinations. Made of composite wood products. 1/4/2013 (Price: $29.99) [Add to my Inquiry Basket][?]



Pony Royale™ Dressing Carousel Playset by RAZOR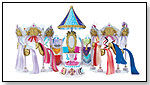 This beautiful tented carousel is adorned with intricate royal details and opens up to two-feet wide, revealing a dream closet fit for a Princess Pony. The playset features display areas not only for her Change-It-Up Hair™, but for her Mix-It-Up Fashions™, too, making it easy for the Princess Pony to appraise her pony wardrobe and decide on just the right fashion for the royal occasion. The Styling Center, with three mirrors and storage for her hair brushes, jewelry, and Saddlettes™, lets girls add the finishing touches. The Dressing Carousel comes with two Princess Pony skirts, which also dress the windows as fanciful curtains.
Awards: 2012 Dr.Toy Best Picks 12/14/2012 (Price: $29.99; Age: 3 to 12) [Add to my Inquiry Basket][?]



Tinga Tinga Tales Create-A-Creature Game by COLORFORMS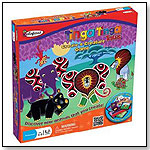 Colorforms, an iconic play product, once again brings classic Colorforms® to life with the Tinga Tinga Tales™ Create-A-Creature Game. Using African artwork from the loveable Disney Junior TV Show, Tinga Tinga Tales™, players use their imagination to tell stories about the unique creatures they create. So 2 to 4 players can take turns spinning the wheel to see which body part to select from the 32 pieces. When all players have collected a pair of legs, a tail, a head, and two ears and arranged them on a scene card, players take turns telling imaginative stories about how their creatures were created. Every generation will enjoy playing with the reusable pieces as they bring to life never before seen animals. Once the hilarious creatures are formed, the Create-A-Creature Game promotes imagination and creativity through the story each player tells about the new animal. The stories of how each animal came to be change every time as numerous animal combinations are created.
Awards: 2012 Dr.Toy Best 20 for $20 12/14/2012 (Price: $13.98; Age: 3 to 8) [Add to my Inquiry Basket][?]



Mythical Realms® Areion by SAFARI LTD.®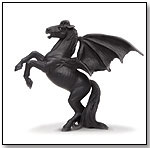 The NEW midnight-black, winged Areion from Safari Ltd® has one of the fiercest spirits of all. Stare into its untamable brown eyes and let it show you the way to the mythical world. This hand painted replica measures 5.5" L x 4.25" W x 5.25" H (13.75 x 10.75 x 13.25 cm) and is suitable for ages 3 and up. All Safari Ltd® products are 100% guaranteed and lead free to ensure children's safety. Visit www.safariltd.com to explore educational information in five languages and to view and purchase Safari Ltd® 2013 introductions and all other products. Launch date: January 2013. 11/16/2012 (Price: $11.99; Age: 3 and up) [Add to my Inquiry Basket][?]



Frolicking Foals Pocket Barn by REEVES INTL. INC.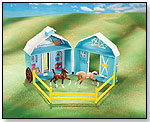 Loads of fun in a small package! Open up the barn to play with the two adorable foals, and use the fencing to create a corral. The Pocket Barn has hinged loft doors and sliding front doors, and is easy to take along, making it a great item for travel and on-the-go play. 10/1/2012 (Price: $14.99; Age: 4 and up) [Add to my Inquiry Basket][?]



Twelve Timbers Indoor Play Tent by TWELVE TIMBERS


This great Indoor Play tent comes in 2 burlap and 6 canvas fabrics. Tent poles can be ordered in many colors or stained. Support poles are 57" tall to the top point. The tent is 40" deep and can go from 30 to 36" wide. Easy to assemble, this tent is for indoor play. Made in the USA. Launch date: 2012. 9/7/2012 (Price: $62.95; Age: 3 and up) [Add to my Inquiry Basket][?]



Flower Set by PLANTOYS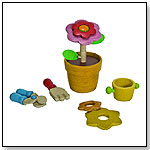 Make a seed blossom into a beautiful flower. This set includes all the tools kids need to build a flower: seed, soil, watering can, shovel, garden shears, stackable stems, 2 leaves, and 4 interchangeable flower petals. Launch date: August 2012. 6/27/2012



My Very Own Kitchen Set by AMERICAN PLASTIC TOYS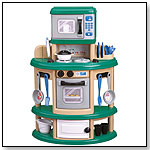 My Very Own Kitchen offers plenty of play features in a compact size. This 19-piece kitchen set includes a microwave, range, grill area, conventional oven, dish organizer and shelf space. Accessories include cups, dishes, silverware, pots, pans, cooking utensils, a pitcher, a cell phone and a colorful label sheet. Measures 19.25"L x 8.25"W x 28.75"H assembled. 6/22/2012 (Price: $19.99) [Add to my Inquiry Basket][?]



Complete Cook Set by ALEX BRANDS


Young chefs will enjoy this 9 piece play cookware set and find that it's just the right size for them to stir up some fun. Set contains oven mitt, pot holder, whisk, measuring spoon set, wooden spoon, saute pan, 4 1/2" pot with lid and sauce pan.
Awards: 2012 Dr. Toy Best Classic Toys 6/19/2012 (Price: $25.95; Age: 3 to 5) [Add to my Inquiry Basket][?]



Campfire Kids Campfire by INSECT LORE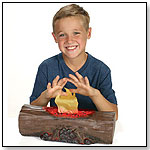 The Campfire Kids Campfire brings the great outdoors...indoors. Gather 'round the campfire and enjoy the night by the woodsy firelight. This simulated fire features a fan-powered flickering flame that is safe and cool to the touch. Glowing "embers" and realistic log design make this the natural "hotspot" for indoor campers. The no-heat firelight looks real, but feels cool. Includes 4 AA batteries. (

Watch Video) 3/26/2012 (Price: $24.99; Age: 3 and up) [Add to my Inquiry Basket][?]



Fruits Food Set by ANATINA TOYS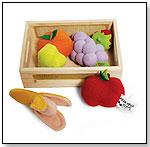 These cute pretend fruits are made of polar fleece, and come in a sturdy pine box. Includes a tomato, banana, grapes, strawberry, orange, and a lemon. Anatina paint is NON TOXIC, the wood is FSC CERTIFIED, and the fabric is RECYCLED. 3/19/2012 (Age: 4 and up) [Add to my Inquiry Basket][?]



Dantoy Tea Time by THE ORIGINAL TOY COMPANY
Includes a teapot and 4 cups. Dishwasher safe. Packed in a net bag. Ages 3 years +. 2/24/2012 (Price: $10.00; Age: 3 and up) [Add to my Inquiry Basket][?]



Prince Lionheart Play Mat by PRINCE LIONHEART INC.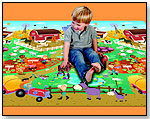 Finally, a well-designed play mat that lasts through the developmental stages of your child! Our play mats have been designed to cushion and delight babies during tummy time, entertain toddlers for play time, and encourage young learners of all ages to engage and explore. Search for the hidden characters, count the creatures, sound out letters, or master the road rules: the only limit is their imagination. Reversible: engaging art on both sides; Water-resistant, wipes clean; Soft & cushiony ; Non-toxic. "The play mat lasts through multiple developmental stages of a child - from baby to kindergarten," Lea Janowicz, marketing director for Prince Lionheart, told TDmonthly. Launch date: February 2012. (

Watch Video) 12/15/2011 (Price: $29.99; Age: 0 to 6) [Add to my Inquiry Basket][?]



Everythingland Mailbox by METAMORPHIC TOYS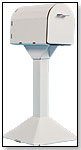 The Everythingland Mailbox is a kid-sized mailbox that will fit standard cards and letters. Made from sturdy 275# corrugated cardboard with white paper linerboard the mailbox can be decorated using paint, markers, crayons, glued on paper, fabric, photographs, beads, stones, seashells and sculptural media. The mailbox is made personal and important to them and when the art project is complete the mailbox is a great prop for pretend play or daily family communications. "The design details of our product sets us apart; material selection, shape, fit, scale and function separates our toys from other corrugated cardboard toys as well as other toy mailboxes," David Berglund, president of Metamorphic Toys, Inc., told TDmonthly. Launch date: August 2011.
Awards: 2012 Dr. Toy Best Green Toys, 2012 Dr.Toy Best 20 for $20 12/8/2011 (Price: $19.95; Age: 2 and up) [Add to my Inquiry Basket][?]



Easy Bake Ultimate Oven by HASBRO INC.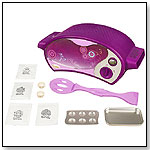 The classic oven has been updated to be light bulb-free and comes with yummy mixes and pans for cooking up all kinds of sweet treats. Oven comes with baking pan, cupcake pan, pan pusher, chocolate chip cookie mix, red velvet cake mix, pink frosting mix, rainbow sugar crystals package, paper cupcake wraps and instructions/recipe booklet.
— As of 10/18/2011 this product had 5 out of 5 stars from 4 reviews on ToysRUs.com. Pros: Easy, fun.
— As of 10/18/2011 this product had 3.9 out of 5 stars from 22 reviews on Amazon.com. Pros: No assembly required; very easy; Cons: Does not include many mixes; mixes make small quantities of food; extra mixes are expensive. 10/19/2011 (Price: $49.99; Age: 8 to 10) [Add to my Inquiry Basket][?]



Playsilks by SARAHS SILKS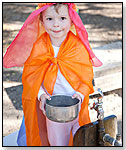 Playsilks are simply pieces of beautiful colored cloth that are used to make capes, skirts, and doll carriers, over and over again in different combination. Blue silks can be spread on the floor to "sail" boats on; green can be grass for horses to "graze" on. These toys are sustainable, eco-friendly and reusable so moms feel good about having them around the house. Sarah's Silks is proud to be Green America certified. Launch date: July 2011.
Awards: 2011 Green America 10/5/2011 (Price: $14.50; Age: All Ages) [Add to my Inquiry Basket][?]



Little Helpers Broom Set by SCHYLLING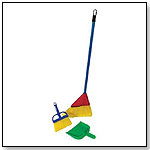 This Little Helper Broom Set has three pieces, sized for kids. Includes a Broom, a Hand Broom and a Dust Pan.
— As of 09/09/2011 this product had 4.2 out of 5 stars from 91 reviews on Amazon.com.
— Ginger Milligan, co-owner of Fantasy Island Toys in Fairhope, Al., told TDmonthly in September 2011 that they sell 2-3 dozen of the Schylling Little Helpers Broom Set each month. "We sell those every single day. It's one of those things we're never out of," she said. 9/12/2011 (Price: $8.99; Age: 3 to 5)



Royal Pink Princess by LITTLE ADVENTURES LLC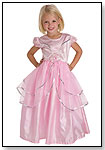 This classic style has a beautiful layered pink skirt. The pink velvet bodice, decorated with silver sequin and accented with a blossomed pink flower, will make any princess feel majestic. "We use only soft, durable clothing-quality fabrics, which makes all of our dress ups comfortable. The seams and hems are completely finished and there are no itchy underskirts or fabrics, adding to the comfort," Andrea Farrell from Little Adventures told TDmonthly. Launch date: February 2011.
— Kim Emigh, vice president of e—commerce at Growing Tree Toys in State College, Pa., told TDmonthly in a December 2011 survey that she sells a few brands of costumes, but that Little Adventures tends to do the best because of their relatively lower price point. 8/5/2011 (Price: $29.99; Age: 3 to 8) [Add to my Inquiry Basket][?]



Classic Princess Dress by ALMAR SALES COMPANY INC.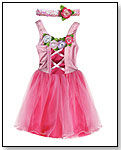 The Classic Princess Dress is made of velvet stretch material, has a lace up ribbon corset with flowers and comes with a matching head wrap. This dress is available in either Pink & Fuchsia (PA105F) or Pink & blue (PA105B) in sizes (S) small, (M) medium & (L) large. It's an "Affordable, High-Quality dress," Rachel Scharfman, brand marketing manager at Almar Sales, told TDmonthly. Launch date: January 2011. 5/27/2011 (Price: $24.99; Age: 3 to 8) [Add to my Inquiry Basket][?]



Dinosaur Train House Tent by PACIFIC PLAY TENTS INC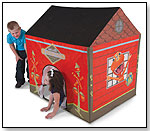 Sturdy spring steel construction makes for long lasting fun in this Dinosaur Train themed tunnel. Assists in developing cooperative play. Great for muscle development. Stimulates the imagination for creative playtime. (

Watch Video) 3/8/2011 (Price: $89.90; Age: 3 and up) [Add to my Inquiry Basket][?]



My Little Mailbox by MANHATTAN TOY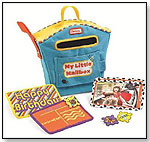 This fabric mailbox comes complete with three postcards—two with windows to hold family photos, Velcro-like stamps and rotating red flag. Mailbox and postcards are made of heavy fabric material to assure durability for play. Carry handle can also be used to hang mailbox on child's door. Launch date: January 2011. 1/26/2011 (Price: $30.00; Age: 2 and up) [Add to my Inquiry Basket][?]



Workbench with Constructions by BOIKIDO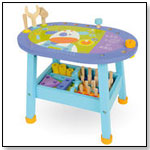 This easy-to-assemble wooden workbench is perfect for pretend DIY projects. It comes with 13 geometric shapes, 4 wheels, 14 screws, 6 nails, 12 nuts, 4 square nuts, 1 hammer, 1 screwdriver and 1 wrench. Build whatever you like, use your imagination, the sky is the limit. Instructions for 5 construction projects included. It's been tested to meet European and U.S. safety standards. 12/27/2010 (Price: $59.99; Age: 3 and up) [Add to my Inquiry Basket][?]



by QUIRK BOOKS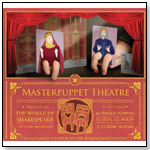 Contents include: Sixty finger-puppet cards featuring Shakespeare's most famous characters, including Hamlet, Lady Macbeth, King Lear, Othello, Shylock, and Falstaff. Twelve stand-up sets of castles, forests, balconies, and battlefields. A 96-page "folio" of classic scenes—from Hamlet's "To Be or Not to Be" soliloquy to Romeo and Juliet's classic balcony serenade. Once you've finished staging the Bard's entire canon, you can mix and match masterpuppets to produce your own Shakespearean mash-ups. Perhaps your Romeo will fall in love with Lady Macbeth. 11/2/2010 (Price: $14.95) [Add to my Inquiry Basket][?]



Adventures on Misty Island by MEGA BRANDS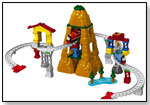 Based on the movie Thomas & Friends: Misty Island Rescue, Thomas and James must travel through the mysterious mountains of Misty Island. Build and rebuild to new heights as Thomas and James race on unfamiliar tracks from sea level to high up in the mountains. Take Thomas and James through eerie tunnels to get to their destination. This set includes fun accessories such as a lake break-through barricades and rock slides. (

Watch Video) 10/29/2010 (Price: $49.99; Age: 3 and up)



Star Wars Jedi Projector by UNCLE MILTON INDUSTRIES INC.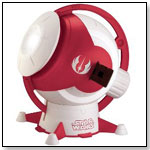 This product projects 24 images on your wall or ceiling, and includes exclusive images of Clone Wars vehicles with a synchronized audio tour narration on CD. Also features bright, clear projection with a focus dial, narration by Captain Rex. Dimensions: Length: 8.5 "; Height: 6.0 "; Width: 8.5". Product Weight: 2.0 Lb.
— As of 10.25.10, this product was listed in the top 30 best-selling toys and games on Target.com. 10/26/2010 (Price: $34.99; Age: 6 and up) [Add to my Inquiry Basket][?]



B. Zany Zoo by TOYSMITH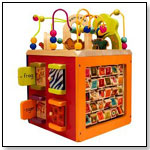 Features include doors to open, friends to find beautifully illustrated animals from A to Z, loopty-loo routes for you to wind through, zigzag paths to race up and down, spinners to spin, and a beautiful display box with gift tag.
— As of 10.25.10, this product had 5 out of 5 stars from 20 reviews on Target.com and was listed in the top 30 best-selling toys and games. PROS: Durable and fun for infants and toddlers. 10/26/2010 (Price: $54.99; Age: 0 to 4) [Add to my Inquiry Basket][?]



THIS BANNER IS AN AD:
---
---