---
New & Notable Toys: Wooden Toys
Check out these new and noteworthy toys.
Balancing Tree by PLANTOYS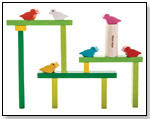 Help develop fine motor skills. Toss the dice to see what color you get, then choose an animal that have the same color as the one you rolled. The player that can balance the animals on the boat using the pincers without making it fall is the winner. The set consists of a boat, 6 pairs of animals, a dice, and a pincers. Ideal for 1 to 4 players. 12/30/2015



Slice and Bake Cookie Set - Wooden Play Food by MELISSA & DOUG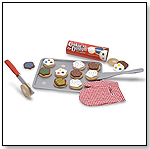 This colorful wooden set includes 12 wooden, sliceable cookies and 12 toppings, wooden knife, spatula, cookie sheet and a kitchen mitt for safe, "low-calorie" play! The cookies store in a durable dough tube.
— Molly Hungerford, manager at Leapin' Lizards Toy Company in Bend, Or., told TDmonthly in a March 2015 survey that Melissa & Doug's wooden play food is one of her store's best-selling eco-friendly toys. 3/30/2015 (Price: $19.99; Age: 3 and up)



My First Loom by HAPE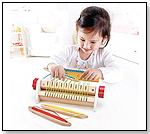 Make the shuttles go zip and zoom as you weave your very own design. Talk about the way cloth is made. Look at different kinds of fabric. 11/13/2014 [Add to my Inquiry Basket][?]



Balance Boat - Endangered Animals by BEGINAGAIN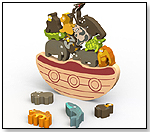 Kids develop dexterity, patience and pretend play skills with the BeginAgain Balance Boat. Inventing their own games and stories, kids will stack the brightly colored endangered animals as high as they can, balancing them atop the 6"x12" wooden boat. The animals are also perfect pocket pals, starring daily in pretend adventures. Made from eco-friendly rubber wood with non-toxic, child-safe stains, each of the 15 pieces in this playset is double-sided and one inch thick. Recommended for ages 3+, the Balance Boat includes a 14" x 12" wood tray for storage and display.

9/22/2014 (Price: $35.00; Age: 3 and up) [Add to my Inquiry Basket][?]



Lincoln Logs Collector's Edition Homestead by K'NEX BRANDS

The BIGGEST Lincoln Logs® set ever created - over 330 parts, including real wood Lincoln Logs®, just like you remember! Includes a frontiersman figure, 2 horses and a buildable covered wagon that really moves. Packaged in a beautiful, silver-accented tube for durable storage 8/28/2014 (Price: $99; Age: 3 and up) [Add to my Inquiry Basket][?]



Tree Top Adventure by MANHATTAN TOY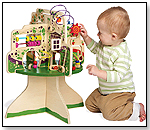 This wooden activity center is packed full of exciting features! Includes 4 quadrants with a variety of activities: 6 tracks with animal-themed gliders, 6 bead runs with colorful wooden beads, a spring flower and more. Adult assembly required. 4/28/2014 (Price: $99.95) [Add to my Inquiry Basket][?]



Apple Ball Roller by PURE PLAY TOYS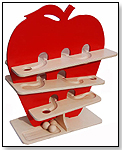 An apple a day makes everyone play! With Pure Play Toys' Wooden Apple Ball Roller, kids love watching the large wooden balls meander along the "worm tracks" and through holes in the brilliantly colored apple. This toy's large size makes it a perfect center piece for retailers, homes and preschools. Unlike most marble or ball run toys, Pure Play Toys' Wooden Apple Ball Roller has been engineered to be safe for children under 3 years old. Comes with three 1-1/2" diameter wooden balls - too large to pose a choking hazard. Measures 24"H x 20"W x 8-1/2"D. Safe for ages 18 months and up. 4/7/2014 (Age: 2 and up) [Add to my Inquiry Basket][?]



KEVA Trebuchet by MINDWARE

Build your own medieval siege engine from pre-drilled planks, a little glue and the help of easy, step-by-step "blueprint" instructions. Then let the fun and experimentation begin! What travels farther: a marshmallow or a piece of macaroni? Alter the counterweight to adjust the trebuchet's hurl, and practice knocking down a field of target planks using the two included balls.
— In a February 2014 survey, Julie Steinbach, owner of Rainbow Toys in Falmouth, Maine, told TDmonthly that this Trebuchet from Mindware was among their best-selling wooden toys.
— Tye Steinbach from Thinker Toys in Portland, Ore., told TDmonthly in a May 2015 survey that this is one of their best-selling activity kits. 2/27/2014 (Price: $29.95; Age: 7 and up)



Croc Pile by AREAWARE


A set of five stackable wooden crocodiles. 6/18/2013 [Add to my Inquiry Basket][?]



Rainbow House by HABA USA/HABERMAASS CORP.
Discover the possibilities! Your little one will love the Rainbow House Pegging Game from HABA! Stackable, colorful fun! 19 parts, 1 peg base with 3 pegs. 5/23/2013 [Add to my Inquiry Basket][?]



Brio Farm Railway Set by SCHYLLING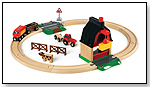 This rural railway set has the classic Brio quality and features a barn with loading crane, farm engine with wagon, farm tractor with trailer, farm animals and hay bale.
— In a February 2014 survey, two out of 10 retailers told TDmonthly that Brio Trains were among their best-selling wooden toys.
— Patti Tepper-Rasmussen, owner of Learning Tree Toys, Games & Books, Inc. in Oklahoma City, Ok., told TDmonthly in an August 2014 survey that Brio was one of the store's best-selling brand of collectibles.
— In a February 2015 survey, Sue Hottel, co-owner of No Kidding (aka Sand Castle Toys Inc) in Mattapoisett, Mass., told TDmonthly that Brio trains are her some of her store's best-selling wooden toys. 4/29/2013 (Price: $59.99; Age: 3 and up)



Rubber Band Paddle Boat Toysmith by TOYSMITH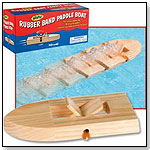 Wind up this 6 inch wooden boat and watch it paddle across the water. Each boat includes three rubber bands. Powered by an ordinary rubber band, this old-fashioned paddle boat zips across bathtub, swimming pool or pond-inspiring pure delight. A simple, time-tested classic, it's crafted of varnished pine with rubber band-driven paddle wheel. Simply wind paddle, place boat in the water, carefully release, and watch it go.
— Mary Porter Green, owner of Curiosity Zone in Ashburn, Va., told TDmonthly in a February 2013 survey that the Rubber Band Paddle boat was her best selling wooden toy. 2/13/2013 (Price: $6.99; Age: 5 and up) [Add to my Inquiry Basket][?]



Fairy Tale Castle by ELVES AND ANGELS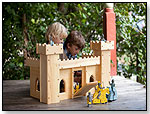 Solid and stately, this castle is built to withstand battles and sieges. Free-standing, with a functional drawbridge to secure the castle from intruders, there's plenty of room inside to organize jousting tournaments or set up a great hall for a royal feast. Launch date: January 2013. 1/11/2013 (Price: $149; Age: 4 to 12) [Add to my Inquiry Basket][?]



Conductor Carl 100 Piece Wooden Train Set by BRYBELLY HOLDINGS INC.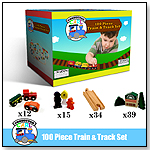 This is the Conductor Carl 100 piece piece train set. Wooden train sets are great for any curious child. Children can build train sets from scratch and then role play with the various characters. Children have to use problem solving skills to build their set and will act out real world situations with the pieces. It's fun and enjoyable for kids and parents alike," Yi Sun, Graphic Designer at Brybelly Holdings Inc. told TDmonthly. Launch date: October 2011. 11/21/2012 (Price: $49.99; Age: 3 to 12) [Add to my Inquiry Basket][?]



Blossom Cottage by BIGJIGS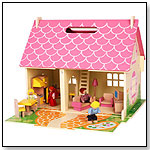 Blossom Cottage is a wooden doll house that comes complete with a family of dolls, cat, dog and all the furniture kids need. It has a convenient carry handle in the roof so that it is easily transportable and the front folds down to make the garden. 11/8/2012 (Price: $119.95) [Add to my Inquiry Basket][?]



Fishing Hole Size Sorter by P'KOLINO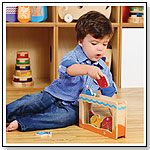 Match the color of the hole to the fish and drop in. The diving fish bounce on the base and create a drumming sound. Easily remove the fish through the open back for endless play. 8/9/2012 (Price: $24.99) [Add to my Inquiry Basket][?]



Boxset - Dollhouse by DIGGIN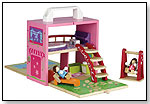 Boxsets have all the fun without the mess. Boxsets are beautifully designed wooden playsets that fold open for creative, imaginative play. When play time is over, all the pieces store nicely into the compact box which is easy to store. Includes two dolls, chaise lounge, Two tables, bathtub, wash basin, piano, piano bench, bed, stairs, balcony, and swing. 8/3/2012 (Price: $49.99; Age: 3 and up)



Moulin Roty Large Tool Box Set by MAGICFOREST LTD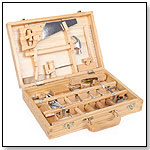 Kids can create useable, meaningful wood projects with these real tools. Sized to be fully functional, yet easily used by children. An inter-generational gift that builds skills and relationships. 14 impeccable, real tools, including a hand saw, hammer, gimlet, sanding block, plane, pliers, mallet, chisel, Phillips screwdriver, flat screwdriver, c-clamp, ruler, square ruler, and spirit level, stored in a beautifully printed wooden tool box. Please note that this is a working tool kit with sharp-edged pieces. It should only be used under direct adult supervision. 8/3/2012 (Price: $74.99; Age: 6 and up) [Add to my Inquiry Basket][?]



Safari Cubes by SMART GEAR LLC


A fun safari animal puzzle that's shaped like a cube. Promotes problem solving skill and hand-eye coordination. Slide individual cubes on pegs to create images. 8 unique images to view in all. Made of renewable rubberwood and non-toxic paint. 7/20/2012 (Price: $19.99; Age: 2 and up) [Add to my Inquiry Basket][?]



Pull String Tops by JACK RABBIT CREATIONS INC.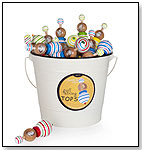 These classic pull string tops are made of wood and painted with multicolored stripes. $24 for bucket of 12. Launch date: 2012. 6/27/2012 (Age: 3 and up) [Add to my Inquiry Basket][?]



The Un-block by AHA! CONCEPTS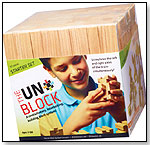 The Un-block is a system of interlocking blocks and connectors that stimulates both the left and the right sides of the brain simultaneously, improves gross motor skills, and challenges the pathways through which the mind relays information. Made of Ash Wood, kids can build anything they can imagine. "The Un-Block has a system of interlocking blocks and connectors that resist falling apart even when your masterpiece is knocked over, unlike ordinary building blocks that will fall apart if moved the wrong way," Joe Azmani, CEO/President of Aha! Concepts LLC told TDmonthly. Launch number: 2011.
Awards: Creative Child Magazine Top Toy of the Year 2012 (

Watch Video) 6/21/2012 (Price: $38.80; Age: 7 and up)



GeoBlocks by GEOTOYS LLC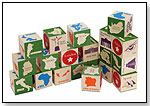 One of a kind handcrafted wooden blocks to help childred become geography whizzes. GeoBlocks have country names in English and native languages, capitals, national icons, and a world map puzzle. Made in China from FSC-certified wood and non-toxic inks. Ages 2+. Launch date: June 2012. 5/21/2012 (Price: $40.00; Age: 2 to 5)



Peg Stilts for Kids and Adults by PEGSTILTS.COM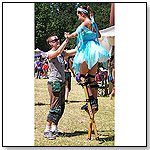 Stilt walking is great for co-ordination, cognitive and physical development, balance, confidence, self-esteem, strength, and trust building, and is an extremely interactive activity. Kids' Peg Stilts are recommended for ages 8+ and/or for users under 5ft 2in tall. Kids stilts are available in heights of: 1', 1.5', 2', 2.5', and 3' tall. All stilts have adjustable nylon webbing straps that include Velcro. Straps are located at the toe, ankle, and knee; Knee also has a padding cup to increase stability and comfort. Re-claimed mountain bike tires are used on the peg bottom to increase traction and to absorb shock. Stilts are handmade with care and attention to detail by PegStilts.com and can be used by kids of most sizes. All PegStilts.com products are woman veteran handmade by Kricket Caffery in Portland, OR USA. 4/10/2012 (Price: $140.00; Age: 8 and up) [Add to my Inquiry Basket][?]



THIS BANNER IS AN AD:
---
---