---
New & Notable Toys: Magic Sets
Check out these new and noteworthy toys.
Fantasma Toys Magic Coloring Book by SCHYLLING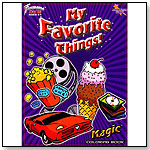 The Magic Coloring Book has become a favorite with children's magicians for good reason: it's quick, visual and completely deceptive. Ours is printed exclusively for Fantasma and is offered at a great price. First, the magician shows blank pages. Next, the pages show pictures of some of the things the magician likes most, "favorite things," cars, ice cream, popcorn. The pictures are in black and white. Somehow they don't seem real enough. A bit of magic and they are now the magician's favorite things in full color. Oh, and did we mention, we've also hidden card images in the book, so it can be used with card magic. Instructions for the book and for the card tricks are included.
— Joe Berardoni, owner of Pun's Toys in Brynn Mawr, Pa., told TDmonthly in a September 2011 survey that "the best-selling novelty item is the magic coloring book from Schylling, but only because I love to demo it. Very seldom does that not result in a sale. I can sell a couple of dozen in any particular month." 9/12/2011 (Price: $15.99; Age: 5 and up)



Dangerous Book for Boys Magic Kit by UNIVERSITY GAMES


Based on the best-selling book, these tricks inspire and teach an assortment of simple magic. The Magic Kit set contains a magic wand, a vision box, a ball and vase, cups and a ball and easy-to-follow directions. 5/14/2010 (Price: $9.99; Age: 3 and up) [Add to my Inquiry Basket][?]



MystiFlyers by Nowstalgic Toys, Inc.


Millions of Mystiflyers have been sold nationwide since the 1950s in the specialty toy and hobby market. The Mystiflyers card trick comes with magicians thread & wax, a card, and full instructions. Also includes a wooden stand with 3 removable rattles. (

Watch Video) 3/17/2010 (Price: $5.99; Age: 3 and up) [Add to my Inquiry Basket][?]



Magic Tricks R 4 Kids - Volume 1 by WILL ROYA & CO. INC.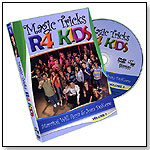 On this DVD series, professional Las Vegas magicians Will Roya & Joan DuKore teach some of the most amazing magic tricks that kids will be able to perform for family and friends with little or no practice. From the basics of magic to some of their all time favorite tricks, kids will be able to watch, learn and perform along with 20 other kids! Lessons include: Rules of Magic, Linking Paper Clips, String Surprise, Jumping Rubber Band, Up the Nose, Coin Thru Hanky, Vanish #1 (Confederate Method), Vanish #2 (Rubber Band Method), Vanish #3 (Pant Pocket Method), Vanish #4 (Shirt Pocket Method), Disappearing Wrapper, Straw Challenge, Static Straw, Sticky Straw. Bonus Trick: Penetrating Coin. Extras: Interview with Will & More! Running time: 84 minutes. DVD is not Regionally Coded.
— "A fun and easy way for kids to learn magic, along with other kids! A top notch product, highly recommended," said Dan Rodriguez, Society of American Magicians Past President and Co-Founder of the Society of Young Magicians.
— "The Magic Tricks R 4 Kids DVD series is an excellent resource for enterprising magicians planning their own lessons or classes for kids. I urge you to buy it and get ready to take your magic classes to the next level!" raved Al Jensen, International Brotherhood of Magicians Las Vegas Ring President 4/7/2009 (Age: 7 and up) [Add to my Inquiry Basket][?]



Deluxe Magic Set by MELISSA & DOUG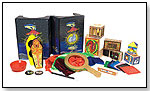 The Deluxe Magic Set is unlikely to disappear from the hearts and minds of budding magicians. Providing a comprehensive play experience, the Magic Set comes with 54 pieces in a wooden chest that doubles as a magic table with a secret compartment. It includes instructions to perform standard and new tricks alike. The set is 14" x 9.5" x 3.75" in dimension, but the social, presentation and motor skills it helps kids develop might be boundless.
— "We have tons of Melissa & Doug...they have some wooden magic sets that have done great. Anything magic sells," said Bill Rayment, co-owner of Toy Crossing in Harbor Beach, Mich.
— Idanna Smith, owner of Juggles in Wakefield, R.I., said she liked Melissa & Doug's new magic kits at Toy Fair 2007. 2/19/2007 (Price: $29.95; Age: 8 and up)



Confoundingly Crazy Crate-O-Mystery by FUNDEX GAMES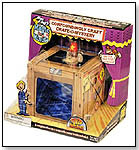 Make your friend's arm disappear. Make a monkey appear. Multiply your money. Render your friend powerless to break a cookie. Read minds. These can all be done with just the use of one crate. Contains everything to perform 10 colossal tricks, trading cards, and bonus DVD. Confoundingly Crazy Crate-O-Mystery is one of many Magic in a Minute tricks, teaching children magic through the nationally syndicated comic strip including Mac King the magician and his trusty sidekick Lewis the Monkey. Launch date: Feb 2006 11/28/2006 (Price: $20.00; Age: 6 and up) [Add to my Inquiry Basket][?]



Street Magic Wallet by FIRST FOR MAGIC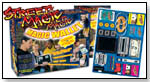 Not only can kids use the Street Magic Wallet to perform up to 50 tricks and illusions, they can also use it as a wallet. It comes with an illustrated and colored instruction booklet, so that anyone can master all its secrets. However, if kids want to make sure there's always enough money in it, they're on their own. Launch Date: 2006.
— Michele Gietz, purchasing manager at Where'd You Get That in Williamstown, Mass., said First For Magic has "great ideas for kids done by really great magicians.
— "Probably magic. We get our magic items from First For Magic. These are things boys are more interested in," was the last-minute gifts' comment given by Teri Soelter, owner of Teri's Toybox in Edmonds, Wash.
— Eight out of 48 retailers with whom TDmonthly spoke cited magic as a hot trend with customers in their stores. (

Watch Video) 11/22/2006 (Price: $14.99; Age: 8 and up) [Add to my Inquiry Basket][?]



Marvin's Magic Box of Tricks by MARVIN'S MAGIC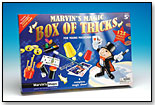 Magic made easy! An exciting collection of 125 easy-to-perform magic tricks, with clearly illustrated instruction booklet, making it the perfect start for any budding magician! 12/20/2005 [Add to my Inquiry Basket][?]



Instant Magic 150 Tricks by INTERNATIONAL PLAYTHINGS LLC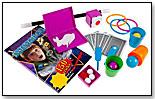 This magic kit includes the materials and written instructions for tricks that range from easy to somewhat difficult. It comes equipped with an enchanted wand, easy instructions, cups and balls, cards, rope tricks, coin tricks and much, much more. Also included is an easy-to-understand instruction booklet with step-by-step illustrations for the up-and-coming magician to share with no one. 11/4/2005 (Price: $19.99; Age: 7 and up)



Mental Photography by CALIFORNIA CARD COMPANY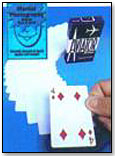 The magician begins the trick with a deck of cards that are blank on both sides. As the routine goes along, the magician begins "printing" the cards´ faces. But then the cards don't have backs. The cards are shuffled. Now they have backs but no faces. Suddenly, the cards have backs and faces. The magician cuts the cards once more and they all turn blank again. 10/26/2005 (Price: $19.95; Age: 10 and up)



ACME Portable Hole by MAGIC CITY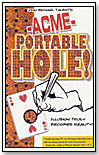 Wile E. Coyote often tried to catch the Road Runner with an ACME portable hole. The deck uses the concept of this hole that could be placed anywhere. The spectator chooses a card and the magician draws a hole with a marker on the back of the deck. The magician then peels off the hole, shuffles the cards and throws the hole into the deck. The hole then appears on the card that was chosen. It was created by John Talbot. 10/26/2005 (Price: $14.95; Age: 7 and up)



P.D.A. Deck by ADAM GRACE
The P.D.A. stands for "Personal Deck Assistant." Based on the principle created with the Invisible Deck, this allows a magician to ask a spectator for his or her shopping list and the requested items appear on the blank cards. It comes with a booklet of instructions on how to put the deck together; the magician creates the deck with his or her own handwriting. It was created by Adam Grace. 10/26/2005 (Price: $14.95) [Add to my Inquiry Basket][?]



Magic Squiggle Worm by SORCERY MANUFACTURING


Perform the Magic Fuzzle magic trick with the Magic Squigle Worm. This easy to use fake worm mystifies young children and brings chuckles to adults as well. The critter magically appears to be alive. 6/28/2005 (Price: $9.97; Age: All Ages)



Believe In Magic! Believe In Yourself! Magic You CAN DO! by MAGICFRANK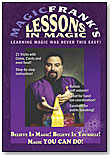 The "Believe In Magic! Believe In Yourself! Magic You CAN DO!" DVD is the third DVD in MAGICFRANKS "award-winning" video series. It consists of 21 tricks with coins, cards and even some snacks. You will find the secret of how to believe in yourself along with ways to vanish, change and even shatter coins. You will also learn how to "play with your food" along with learning some awesome card tricks with a regular deck of cards. You do not need any "special tricks;" this is all with regular items in the home! As we say here at MAGICFRANK"S "Learning Magic Was Never This Easy!" This is awesome for any beginner magician. 12/22/2004 (Price: $19.95)



Royal Magic Set: Secrets of the Great Magicians by FUN INC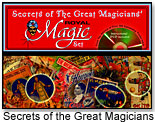 The ever popular and expertly crafted, Royal Magic Set: Secrets of the Great Magicians by Fun, Inc. ($25.00 - $30.00, Ages 8 and Up) includes over 100 classic tricks for beginners: cards, chain escape, magic wand and penetration frame and features pictures and posters of many of magic´s most prominent practitioners of yesteryear, including Houdini, Cardini, Kellar and Herrmann. Printed instructions are included, as well as an instructional DVD.
12/10/2004 [Add to my Inquiry Basket][?]



Magician´s Hat by ELOPE INC.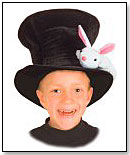 This hat is high-quality, lined and size-adjustable with a hidden pocket where a child will find a secret fortune the first time he or she opens it. 12/10/2004 (Price: $19.99) [Add to my Inquiry Basket][?]



THIS BANNER IS AN AD:
---
---