---
New & Notable Toys: Trains & Rail Roads
Check out these new and noteworthy toys.
Thomas & Friends™ Track PlayTape® by BACHMANN TRAINS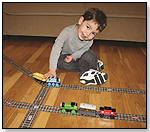 PlayTape® in 50' and 25' rolls can be torn to any length to create track layouts matching a child's imagination. See why the award-winning Track PlayTape® provides hours of railroading Fun that Sticks™!

2/16/2015 [Add to my Inquiry Basket][?]



LEGO City Trains - High-Speed Passenger Train by LEGO


Travel around the city in no time with the motorized LEGO® City High-speed Passenger Train! Operate the 8-channel, 7-speed infrared remote control to power around the curved tracks at top speed. This streamlined, super-efficient train has a high-speed front profile and electricity contact points on top. Lift off the roof of the front car to place the driver inside at the cool dashboard and open the passenger cars to access the seats and tables. Wait for the train with the traveler at the way station, and pedal safely across the crossing with the cyclist once the train has gone past. Includes 3 minifigures: train driver, traveler and a cyclist. 9/22/2014 (Price: $149.99; Age: 6 to 12)



Thomas & Friends™ Wooden Railway 5-in-1 Up and Around Set by FISHER-PRICE INC.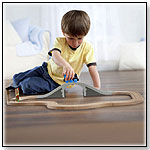 Create up to 5 different layouts with this 20-piece play set. Includes Thomas, 17 pieces of track, a bridge and a tunnel.
— Grafton Stein, owner of Toys on the Square in Hummelstown, Pa., told TDmonthly in a May 2013 survey that Thomas the Tank Engine toys are their best-selling licensed products.
— In a February 2014 survey, three out of 10 retailers told TDmonthly that Thomas & Friends sets from Fisher-Price were among their best-selling wooden toys.
— In a February 2015 survey, Sue Hottel, co-owner of No Kidding (aka Sand Castle Toys Inc) in Mattapoisett, Mass., told TDmonthly that Thomas & Friends trains are her some of her store's best-selling wooden toys. 2/26/2013 (Price: $50.00; Age: 3 and up)



Bucket Top Mountain Train Set by KIDKRAFT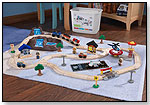 Our bucket top mountain train set lets kids explore an entire world. When playtime is finished, storing this train set is a breeze – everything comes packaged in a convenient bucket. Molded mountain with two waterfalls and a lake – mountain doubles as the lid of the bucket the train set comes in. 61 pieces include fire truck and police station; airport with helicopter, helipad, airplane, and runway; townspeople, trees, and other accessories. Compatible with Thomas & Friends® wooden train sets and Brio® smart, sturdy construction. 1/4/2013 (Price: $49.99) [Add to my Inquiry Basket][?]



Conductor Carl 80 Piece Wooden Train Set with Table by BRYBELLY HOLDINGS INC.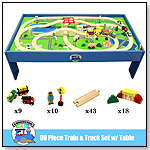 This is the Conductor Carl 80 piece piece train set with table. Wooden train sets are great for any curious child. Children can build train sets from scratch and then role play with the various characters. Children have to use problem solving skills to build their set and will act out real world situations with the pieces. It's fun and enjoyable for kids and parents alike. This Conductor Carl Train Set includes 43 pieces of track, 9 vehicles, 10 people/signs, 18 trees and houses, and of course the Conductor Carl table. Launch date: October 2011. 11/21/2012 (Price: $119.99; Age: 3 to 12) [Add to my Inquiry Basket][?]



Transportation Train Set / 124 Pieces by BIGJIGS

Set contains 124 pieces. How do you want to travel today? This set gives lots of choices. Catch a Hi- Speed Train at the station, if that is too fast, what about a slower ride on the local line. If you want to go by car to the airport to watch the planes and helicopters don't forget to fill up at the petrol station before you go. Also included brightly colored houses, buildings, people, tunnel, trees, and vehicles. 11/8/2012 (Price: $149.95) [Add to my Inquiry Basket][?]



Brio® Classic Figure 8 Set by SCHYLLING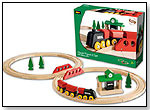 A classic starter set for the 2 year + child with all wooden details. Take the classic inspired engine out on an adventure along the tracks. Stop by at the all wooden station and continue along the tracks passing by trees and a crossing bridge. Lots of fun for the youngest drivers. Launch date: August 2012. 10/5/2012 (Price: $49.99; Age: 2 and up)



HABAland Train Building Blocks by HABA USA/HABERMAASS CORP.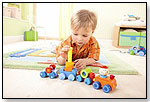 The attractive colors and grinning conductor on this train set are sure to impress. Train cars connect via magnets. Toot, toot, the locomotive arrives at the station with its three wagons transporting an interesting load: two small stacking games and a drum with a little bell. The conductor and load are removable. Material: PEFC certified beech wood. Non toxic, water based stain. Made in Germany.
Awards: 2012 Dr. Toy Best Green Toys
— Wooden trains and block sets were mention by two retailers surveyed by TDmonthly in February 2013 as best selling wooden toys. 5/18/2012 (Price: $51.29; Age: 1 to 3) [Add to my Inquiry Basket][?]



Railway - Figure 8 set by PLANTOYS


This 29-piece set features two-sided tracks that can be a single railway or flipped to become a single roadway. Includes colored track and rail connector for loop expansion. Trains have non-magnetic connectors for added safety. Tracks are made out of PlanWood® 1/20/2012 (Price: $40.00)



Thomas & Friends Wooden Railway – James the Red Engine by LEARNING CURVE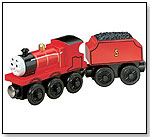 James likes to think of himself as a really splendid engine. This can occasionally lead to grandiose ideas about the sort of work suitable for such a noble creature, which invariably lands James in trouble. This engine measures 6" x 1.5" x 2".
— Items from the wooden railway system were top sellers at Totally Thomas' Toy Depot in San Diego, Cal. in the summer of 2010, according to Cindy Wyatt, president. "Since the Misty Island Rescue Movie is just making its debut, we expect to see our sales soar on Dash the Logging Engine and his buddies Bash and Captain," she said.
— Thomas is a big hobby for little kids. Though she doesn't sell a lot during the year, ''I bring it in at Christmas time,'' said Jeanne McCullough, owner of The Children's Store in Boise, Idaho. 7/28/2010 (Price: $21.99; Age: 2 and up)



Chicago's own Metra Passenger Train Set by WHITTLE TOY COMPANY


This wooden set features Chicago's own Metra Passenger Train. All Whittle Train toys are designed for use on Brio and Thomas track systems. 6/16/2010 (Price: $52.49; Age: 3 and up) [Add to my Inquiry Basket][?]



New York City Subway Wooden Railway 42 Street Shuttle Loop and Terminal Set by FAY GRAPHIC DESIGN LTD.


Munipals' first train and track set is a great starter set for any subway fan. The set comprises two 42 Street Shuttle cars and 19 track pieces, enough to build ovals, loops, and straight shuttle runs over 6' long. Being the only IRT shuttle in the system, the real 42 Street Shuttle carries nearly a quarter million people every week. It runs on tracks only 20' beneath the street, with each of the three shuttle trains making an average of 360 runs each day. (

Watch Video) 10/16/2008 (Price: $34.95; Age: 3 and up) [Add to my Inquiry Basket][?]



Tracktion Deluxe Station Set by KIDS TOUCH LEARNING


Tracktion Deluxe Station Set is a great way to introduce the love of trains to your child. Simple snap-together double-sided tracks make it easy for all ages to design their own. Set includes total 110 pcs: 2 train sets with real working head lights, multicolored tracks and more accessories. All pieces are easily stored in the convenient carrying case. 8/7/2008 (Price: $39.99; Age: 3 and up)



The Polar Express™ G-Gauge by LIONEL ELECTRIC TRAINS


Set includes: locomotive; coal tender; passenger coach with two opening doors; observation car with "disappearing hobo" feature and opening door; three Polar Express figures; G-Gauge track (55" x 72" oval); RC remote controller (with two AA batteries included); easy-to-repack storage box. Operate this train using a 9.6 volt rechargeable battery (not included) or use six conventional C batteries (included).
— Cynthia Phillips Strinich, owner of Phillip's Toy Mart in Nashville, Tenn., told TDmonthly in a Summer 2012 survey that Lionel train sets were among her best selling collectible items. 10/18/2007 (Price: $129.99; Age: 4 and up) [Add to my Inquiry Basket][?]



Alphabet Train Track by SSCM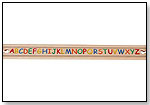 Fashioned to be added to an existing train set, this track is made in the USA of high-quality maple wood. It features a colorful display of the alphabet and is 16" long. The depth of engraving and the glossy, non-toxic, bright colors make the letters very visible. "It's a unique product with engraved colorful letters [to help kids] play and learn," a representative of SSCM told TDmonthly. 8/29/2007 (Price: $14.99; Age: 3 to 8) [Add to my Inquiry Basket][?]



Cab Ride From Kansas City to Chicago by A-TRAINS.COM


Travel on-board an Amtrak P-42 "Genesis" locomotive pulling the Southwest Chief between Kansas City and Chicago. See the entire line, and listen to the comments of the crew as they point out railroad and historical features along the way. 7/23/2007 (Price: $19.95; Age: 12 and up) [Add to my Inquiry Basket][?]



Peanuts Starter Train Set by LGB OF AMERICA INC.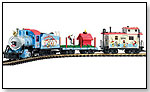 Trains are popular with adults and kids alike. This Peanuts Train starter set includes a steam locomotive, several Peanuts cars, and a full circle track.
— At Giggles Toys and More in Bozeman, Mont., adults enjoy train sets by LGB, reported Owner Shanna Frieling. 6/4/2007 (Price: $319.99; Age: 8 and up) [Add to my Inquiry Basket][?]



Roller Coaster Theme Park by MAXIM ENTERPRISE INC.

This park takes a fun spin on the traditional train set with elements of an amusement park that include a motorized track, a merry-go-round that spins the horses and plays a song, and a musical Ferris wheel. It is compatible with other fine wooden railway sets. This set "has multiple accessories that come with the set rather than having to be purchased at a later date," Kris Millington, vice president of marketing and development for Maxim Enterprise, told TDmonthly. Also, "it has a self-feeding motorized track that allows the coaster cars to be brought up the track to start their ride down." Launch date: June 1, 2007. 3/1/2007 (Price: $200.00; Age: 3 and up) [Add to my Inquiry Basket][?]



Wooden Railway Set by MELISSA & DOUG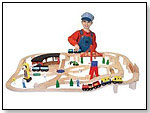 Melissa & Doug's Wooden Railway Set provides children with the complete train toy experience. Watch the trains roar by on a system kids help design themselves, complete with cranes, switches and T-junctions. The set comes with 138 pieces, bridges, dozens of curved and straight tracks, trestle bridges, workers, trees, a big Roundhouse, as well as roundtable. The set also comes with a lifetime warranty.
— "There are train sets — a lot of companies make them — but Melissa & Doug hold up the best," was the enthusiastic endorsement given by Susan Pruett, owner of Kilmarnock Toy Store in Kilmarnock, VA. 2/19/2007 (Price: $80.00; Age: 3 and up)



115 UP Big Boy BRASS 4-8-8-4 by PRECISION CRAFT MODELS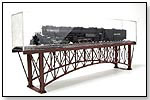 Part of the Museum Brass Collection, the limited edition Big Boy is an extraordinary, awe-inspiring creation that features an authentic design, paint and color schemes as well as a full digital sound system for the robust chuff and whistle. It has brass bells, chains and factory-installed figures, and comes with a heavy-duty wooden exterior box and a beautiful display case with roller bearings and power input. Launch date: Early 2007. 12/19/2006 (Price: $2995.00) [Add to my Inquiry Basket][?]



THIS BANNER IS AN AD:
---
---