---
New & Notable Toys: Yo-Yos
Check out these new and noteworthy toys.
Star Wars Yo Men High Performance Character Yo-Yos and Action Stands by YOMEGA


The newest, coolest way to play and display your yo-yos with the most popular characters from the Star Wars Universe! Yomega Yo Men include a Star Wars Yomega Fireball yo-yo, cradled in a highly detailed Action Stand sculpted in the character's likeness. Each yo-yo features a bold Star Wars character image and logo, plus Yomega's patented transaxle system that allows for high speed and smooth spins. Star Wars Yo Men Wave 1 includes Darth Vader, Clone Trooper, Yoda and General Grievous.

2/12/2014 [Add to my Inquiry Basket][?]



Revolution by YOYOJAM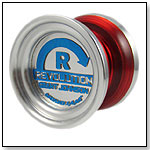 The Revolution features YoYoJams all new "Solid Spin" high grade aluminum axle system. Machined specifically for YoYoJam this axle is completely unique in construction. It brings the metal rimmed yo-yo together as if it was a completely solid metal body resulting in a very stable yo-yo. This new construction also allows for two bearing sizes to be used as users progress from your first throw to the most complex string tricks. The Revolution ships with a standard bearing installed which allows the yo-yo to be more responsive for beginner to intermediate play. When users are ready to move on to more complex tricks, simply change to the Speed bearing included in the package to move up to an unresponsive yo-yo capable of the most complex string tricks. The Revolution features a tough polycarbonate body with machined aluminum weight rings. It has a comfortable fit in the hand and a smooth, stable spin at all times. 8/7/2012 (Price: $56.00) [Add to my Inquiry Basket][?]



Raptor yo-yo by DUNCAN TOYS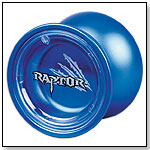 The Raptor rips through the competition yo-yo scene as an affordable, high performance yo-yo. Raptor features a large ball-bearing and SG Sticker response for professional unresponsive yo-yo play, as well as interchangable/removable side caps for added weight. Disclaimer: Raptor is for experienced yo-yo players and is unresponsive. Meaning that it does not return to the hand when users tug the string. To bring the yo-yo back to the hand one must do a "bind". Instructions are included. 4/5/2012 [Add to my Inquiry Basket][?]



Yo-yo by EOLO SPORT INC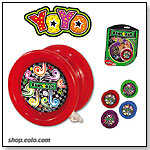 Impress friends and family with the colorful Funtrix Yo-yo from Eolo Sport. Available in three different colors. Includes an instructional DVD that shows original and funny tricks, with more than 30 movements. Launch date: March 2012. 3/19/2012 (Price: $7.99; Age: 6 and up) [Add to my Inquiry Basket][?]



Astrojax MX by Astrojax USA – Active People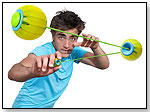 The three dimensional skill based toy is orbiting to the next level with the Astrojax MX. This version presents the futuristic, aerodynamic SPORT, and the eye catching POP as the first ever Modular Astrojax. What's this mean? Not only are these two styles vibrant with color, but with a simple pull and click kids can easily change out their mantles, cores, string buds, and strings. Launch date: January 2012. (

Watch Video) 12/29/2011 (Price: $19.99; Age: 8 and up)



F.A.S.T.® SpeedDial® by YOYOFACTORY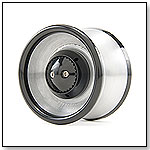 This high-performance, heirloom-quality yoyo features more than 100 adjustable settings, a hot-rod paintjob and laser graphics. Launch date: 2009. 11/25/2008 (Price: $50.00; Age: 8 and up) [Add to my Inquiry Basket][?]



Hardwood Yo-yo by AERO-MOTION INC.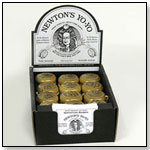 The Yo-Yo is an ancient toy which, after thousands of years, continues to be a popular item. The Newton's Yo-Yo is offered in an array of color and natural wood finishes. Display Newton's Yo-Yo in Sir Isaac Newton's or Classic Corrugated Cardboard Displays. 7/27/2007 [Add to my Inquiry Basket][?]



Throw Yo by THE PENCIL GRIP INC.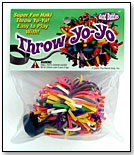 This rubbery yo-yo is sure to bounce back as kids practice their eye-hand coordination. (

Watch Video) 4/20/2006 [Add to my Inquiry Basket][?]



Yo-Stick by PLAYMATES TOYS INC.

The yo-yo of the future has arrived with the introduction of the revolutionary Yo-Stick.
Yo-Stick is 15" long and its retractable string features spring-activated recoil. Anybody can pick up Yo-Stick and control twists, turns, and tricks with just a flick of the wrist. Yo-Stick updates classic yo-yo tricks like "Walking the Dog" and "Around the World" for the twenty-first century, while introducing awesome new effects and action like the mesmerizing "Freestyle Ace" and the mystifying "Nervosa." 2002 U.S. National Yo-Yo Champion Brent Dellinger has traveled from coast to coast in support of the arrival of Yo-Stick. 1/28/2005 (Price: $12.99)



Flip N Flyer by STELLAR TOYS


The 'Amazing Gyroscopic Flying Disc' is unlike anything else on this planet! Fun for ages 7 and up, the Flip N Flyer is an exciting Free-Style 'Spin-Sport' which combines the Dynamics/Physics of a Gyroscope, flight characteristics of a Frisbee (tm), with Hybrid rebounding techniques of a Horizontal Flying Yo-Yo. Three toys in one! (

Watch Video) 9/1/2004 (Price: $9.95; Age: 7 and up) [Add to my Inquiry Basket][?]



THIS BANNER IS AN AD:
---
---