---
New & Notable Toys: Puppets
Check out these new and noteworthy toys.
Fingerlings by WOWWEE GROUP LTD.
WowWee's Fingerlings 11/7/2017



Mini Monk Seal by FOLKMANIS INC.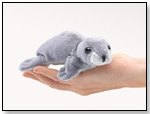 An endangered species worthy of attention, the MINI MONK SEAL finger puppet is so sweet and soft that she'll swim to the depths of your heart. 12/30/2015 (Price: $6.49) [Add to my Inquiry Basket][?]



ThumbThings Handmade Finger Puppets by FINGER PUPPETS INC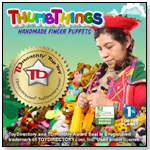 Over 200 characters to collect - New Characters all the time!
Awards: 2015 TDmonthly Top Toy Award 6/3/2015 (Price: $3.99; Age: 3 and up) [Add to my Inquiry Basket][?]



Dinosaur Hand Puppets by GEOCENTRAL


These detailed Tyrannosaurus and Triceratops puppets are sure to bring out the imagination. Kids will have fun for hours. The assortment contains 2 of each of the 2 styles. 5/14/2014 [Add to my Inquiry Basket][?]



Googalops Guzly Puppet by MANHATTAN TOY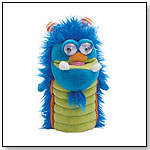 Googly eyes is not his only quality, but makes it more exciting for this out of this world creature. Guzly is super silly for a friendly monster, bright colors and an extra-long tongue makes kids smile just by looking at him. Turn playtime into Guzly time with the Googalops Guzly hand puppet.
— In a June 2014 survey, Joel Dinkins from Doodlehopper 4 Kids in Falls Church, Va., told TDmonthly that Manhattan Toy made their store's best-selling puppets.
— In a June 2015 survey, Ava Allen, owner of Be Beep A Toy Shop in Columbia, S.C., told TDmonthly in a June 2015 survey that Manhattan Toy was their best-selling plush/puppet brand. 8/9/2012 (Price: $30.00; Age: 3 and up) [Add to my Inquiry Basket][?]



Puppet-on-a-Stick™ by EDUCATIONAL INSIGHTS INC.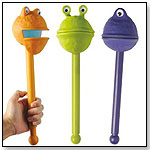 Three oversized puppets on sticks inspire dramatic play with silly faces, movable mouths and endless possibilities.
Awards: 2012 Oppenheim Toy Portfolio Gold Toy Award Seal; 2012 Oppenheim SNAP (Special Needs Adaptable Products) Award. 5/25/2012 (Price: $23.99; Age: 4 to 10) [Add to my Inquiry Basket][?]



Beleduc Snake Glove Puppet by HAPE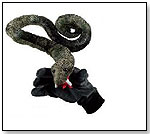 This coiled Snake is made of iridescent fabric and features a tail that rattles. All glove puppets are made of polyester and cotton and are machine washable in cold water. Launch date: 2012.
— Grafton Stine, owner of Toys on the Square in Hummelstown, Pa., told TDmonthly in a June 2013 survey that Beleduc hand puppets are their best-selling puppet. "We sell tons of them," he said. 1/19/2012 (Price: $9.95; Age: 3 and up) [Add to my Inquiry Basket][?]



Wear Me Puppets by ANATINA TOYS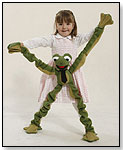 These puppets are hand-made in Bolivia. Kids slip their hands and feet into the puppet, so that their motions make the puppet move too. There are 5 different characters to choose from, including four animals and one clown. (

Watch Video) 3/29/2011 (Price: $29.99) [Add to my Inquiry Basket][?]



Puppet Heap Playthings by PUPPET HEAP LLC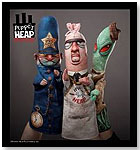 This line of hand puppets features charactes from Puppet Heap's short films "Mother Hubbard" and "I Knew an Old Lady Who Swallowed A Fly." "We're very excited about the launch of Puppet Heap Playthings™," said Paul Andrejco, Puppet Heap's founder and CEO, "Putting the magic of Puppet Heap's creative team into the hands of a wider consumer audience is what this new branch of the company is all about." 1/12/2011 [Add to my Inquiry Basket][?]



Elk Finger Puppet by LUCUMA DESIGNS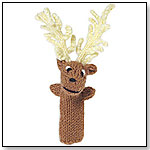 This detailed finger puppet is made from synthetic wool by Peruvian women artists. It measures approximately 3." Choose from over 100 finger puppet designs in synthetic acrylic, cotton, alpaca wool, or organic cotton fibers. 8/11/2010 [Add to my Inquiry Basket][?]



Aurora Brites Puppets by AURORA WORLD INC.


These playtime puppets from Aurora all have sound, bright colors and a shimmery shine in the details. Kids will appreciate all the different animals available including Giraffe, Lion, Elephant, Tiger, Monkey, Zebra, Mutt, Kitty (image attached), Pony, Cow, Piglet and Lamb (10", MSRP: $12.99) 7/9/2010 (Price: $12.99; Age: 3 and up) [Add to my Inquiry Basket][?]



Duck Puppet by APPLE PARK LLC


Kids can bring Ducky the Picnic Pal to life with this 8" x 8" hand puppet. The toy is also available in Monkey, Lamby, Cubby and Bunny versions. (

Watch Video) 6/29/2010



Flamingo by SUNNY & CO. TOYS, INC.


These big beautiful birds are 38" tall from the control to the bottom of the puppet's feet. The flamingo puppet is available in pink, orange and rainbow colors. (

Watch Video) 6/16/2010 (Price: $23.95) [Add to my Inquiry Basket][?]



Ballerina Hand Puppet by MELISSA & DOUG


A flexible and animated hand puppet from Melissa & Doug, this little ballerina's name is Tina Prima. Her recital-ready outfit is made of realistic satin and tulle. One hand can operate the puppet's mouth, while a detachable rod controls an arm or leg to allow her to pose, dance, and move as a child's imagination sees fit. The puppet can be used easily by right- or left-handed kids.
— "Melissa & Doug puppets always do well," said Susan Castor, owner of Air Fun in Pentwater, Mich., in late spring 2010. "The Ballerina and Cowgirl are most popular."
— Two of 43 retailers told TDmonthly in May 2010 that their top-selling puppets are supplied by Melissa & Doug. 6/10/2010 (Price: $19.99; Age: 3 and up)



PUPPET TREE by JONTI-CRAFT INC.


Young puppeteers can hang their puppets on the 16 branches of this puppet tree. Each branch is 8" long, allowing for maximum puppet storage. The unit is 11" W x 11" D x 48" H, and is made of rich maple and sturdy birch wood. The puppet tree's ultra-violet KYDZTuff finish "is as tough as a gym floor and allows marks from common items to be simply wiped away," Jonti-Craft Marketing Associate Melissa Gustafson told TDmonthly. 5/20/2010 (Price: $65.30; Age: All Ages) [Add to my Inquiry Basket][?]



Floppy Flower Push Puppet by TOYSMITH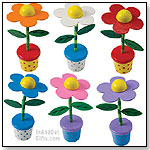 These wooden party favors are 4.5" tall and come in a set of four in various colors. Kids can push on the base and watch the flower move.
— These little puppets were on the top-10 best-seller list at My Club Tabby in Lake Charles, La., in spring 2010, as reported by Owner Natalie Comeaux. 3/25/2010 (Price: $10.00; Age: 3 and up) [Add to my Inquiry Basket][?]



Fun With Spot - Spot Hand Puppet by KIDS PREFERRED INC.


Grownups can have fun with Spot as they read aloud or create their own adventures indoors or on-the-go. This soft plushy puppet has his familiar brown spot on his body as well as a brown tip on his tail. Launch date: Spring 2010 2/19/2010 (Price: $16.00; Age: All Ages) [Add to my Inquiry Basket][?]



THIS BANNER IS AN AD:
---
---