---
New & Notable Toys: Bath
Check out these new and noteworthy toys.
Tubby Table with Tubby Buddy Activity Sets by TUBBY TABLE TOYS

The New Tubby Table is the first and ONLY activity table for the bathtub that keeps water and toys INSIDE the bathtub and not on the bathroom floor. Parents and grandparents love this gift item because it has 3 different play areas for their kids to keep them entertained and focused during bathtime, AND it makes bathtime a calm and more peaceful experience for parents because the play is kept inside the tub. Grandparents often will purchase one Tubby Table for their home and another for their grandchild's home. It's unique, useful, and fun and at the right "gifting" price point of $39.99. The add-on activity mats + toys also make a perfect second gift for a birthday at only $14.99 each. 8/3/2015 (Price: $39.99) [Add to my Inquiry Basket][?]



Tomy Pirate Bath Ship by TAKARA USA CORP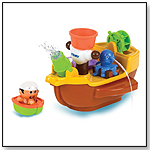 Ahoy there, ship mates! Sail the high seas and have lots of bathtime fun with Pirate Pete aboard the Pirate Ship. Pirate Pete can climb the mast for a bird's-eye view over the bubbles. His playful Octopus is ready to give a quick squirt to any unwelcome visitors. For a more masterly blast of water, Pirate Pete merely needs to activate his big red cannon at the helm of the ship. Enemy gaining ground? Quick--add more water to the big spinning wheel for extra power. And if all else fails for our loveable Pirate, he can climb into the getaway dingy and launch himself into that wet and bubbly ocean. Man overboard! Pirate Bath Ship is great bathtime fun! No batteries required.
— Elizabeth Royall, buyer of Wonder Works in Charleston, S.C., told TDmonthly in an April 2015 survey that this Pirate Bath Ship was their store's best-selling bath toy. 4/29/2015 (Price: $19.99; Age: 1 and up)



ALEX TOYS® USA Map in the Tub by ALEX BRANDS


Learn about the United States while soaking in the tub! 74 colorful foam puzzle pieces float and stick to the tile wall when wet. Includes all 50 states, weather and landmark pieces to layer on and a suction cup mesh storage bag. SMALL PARTS. Not for <3 years. Launch date: Spring 2015 2/3/2015 (Price: $20.00; Age: 3 and up) [Add to my Inquiry Basket][?]



SPLUSHY™ Characters by NEAT-OH! INTERNATIONAL LLC


Love me wet, Love me dry SPLUSHY™ characters go from beach to bath to bed! No more need to keep soft toys away from water – kids love to get wet and so do their SPLUSHY friends! Each hand sewn friends, made from the softest most colorful plush fabric, comes with a removable hoodie. Machine washable, anti-microbial filling. 2/3/2015 [Add to my Inquiry Basket][?]



Gelli Baff 2-Pack by PLASMART INC.


Turn water into goo – and back again for unique bath time fun. Gelli Baff® is a completely harmless powder that soaks up to 400 times its own weight in water. Sprinkle Gelli Baff® powder evenly over the surface of bath water and let the goo magically form for about 2 minutes. Stir well, climb in, and have fun. When the fun is done, add the dissolver, and the goo disappears. 9/24/2014 (Price: $14.99; Age: 5 and up) [Add to my Inquiry Basket][?]



Peppa Pig Bath Squirters - Peppa, Suzy Sheep and Ducky by FISHER-PRICE INC.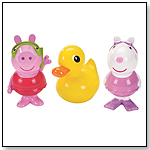 Fisher-Price Peppa Pig Peppa, Suzy Sheep and Ducky Bath Squirters
Make a splash in the bath with Peppa, Suzy Sheep and their ducky friend! Just fill these bath squirters with water & give them a squeeze! Ages 3+
— In a May 2014 survey Sherri Stone, manager of Toys & Co. in Charlotte, N.C., told TDmonthly that Peppa the Pig is their store's best-selling license. They sell 12-18 Peppa the Pig products each month. 5/19/2014 (Price: $11.99; Age: 3 and up)



Sesame Street Elmo Bath Adventure Steamboat by HASBRO INC.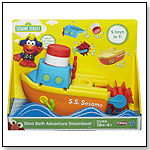 Take off on a watery adventure with the Elmo Bath Adventure Steamboat! There are 5 different toys in one 1 for unlimited, imaginative bath-time play. Includes boat toy (4 pieces) and 1 Captain Elmo figure.
— In a May 2014 survey, two out of 11 retailers told TDmonthly that Sesame Street was their best-selling license. 5/19/2014 (Price: $16.99) [Add to my Inquiry Basket][?]



SoapSox by SOAPSOX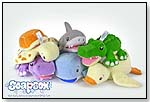 SoapSox is an adorable deluxe bath aid used to bathe children...and adults! Each character is created using soft terrycloth for the exterior and porous sponge for the interior. To entertain children during bath time, each SoapSox character has a fun uniquely designed entry for its soap pockets, which can be filled with your favorite liquid or bar soap. "Finger pockets" are conveniently built into each character for better handling and extra scrubbing power. When you begin to scrub using the soap filled SoapSox, suds form and soap is released from our patented SoapSox pocket. While your child is entertained by the characters' vibrant colors, textures and functionality, he or she is also getting clean.



4/7/2014 (Price: $18.00)



ELC Stacking Cups by INTERNATIONAL PLAYTHINGS LLC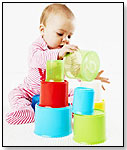 Ten cups to stack or nest are great companions to water and sand play.
— Patti Tepper-Rasmussen, owner of Learning Tree Toys, Games & Books, Inc. in Oklahoma City, Okla., told TDmonthly in an April 2013 survey that these stacking cups are among her store's best-selling bath toys. 4/22/2013



Submarine by GREEN TOYS INC.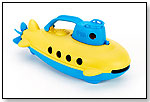 Take the helm of the Green Toys™ Submarine for a nautical journey to help protect the planet. Submerge it underwater to explore the terrain at the bottom of the tub, and let it resurface to scan the horizon in search of the next earth-friendly adventure. Made in the USA from 100% recycled plastic milk jugs that save energy and reduce greenhouse gas emissions, this sturdy watercraft features a spinning rear propeller, a flat bottom for added stability, and the classic handle and wide-mouth opening combination for plenty of scoop-and-pour fun. The cabin can be opened for easy cleaning, while the whole vessel is also dishwasher safe. No BPA, phthalates, PVC or external coatings, and also meets FDA food contact standards. Packaged with recycled and recyclable materials and printed with soy inks.
— Teresa Derry, owner of Annie's Toy Chest in Cocoa, Fla., told TDmonthly in an April 2013 survey that this was the store's best-selling bath toy.
— In a March 2015 survey, two out of 10 retailers told TDmonthly that Green Toys is their best-selling brand of eco-friendly toys.
— Taka Andrews, owner of Miller's Toys in Mamaroneck, N.Y., told TDmonthly in an April 2015 survey that the Green Toys submarine was one of their store's best-selling bath toys. 4/22/2013 (Price: $14.99) [Add to my Inquiry Basket][?]



Soft Shapes Tub Stickables - Zoo Animals by INNOVATIVEKIDS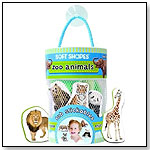 Soft Shapes® Tub Stickables are made entirely of child-safe foam. These huggable, squeezable, touchable favorites are designed to get kids learning while playing in the bath. Perfect for bath time, playtime, anytime fun and learning, These fun filled sticker sets contain 20 chunky foam bath stickers that float in water and stick to the tub, packaged in a reusable tote-along tube that suctions to the wall. Other sets include Mermaids, Trucks, and Pirates. 10/23/2012 (Price: $14.99; Age: 2 and up) [Add to my Inquiry Basket][?]



Angelcare Bath Support by ANGELCARE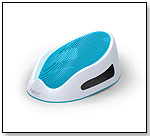 Angelcare is proud to introduce the new soft touch bath support. Ergonomically designed for baby's safety and comfort, the bath support is made of durable plastic that keeps it shape. The soft touch material makes for a comfortable and slip free bathing experience. Hygienic, easy to clean, and quick to dry, the bath supports also have a convenient storage hook. The bath support is recommended for babies aged 0-6 months, and up to a maximum weight of 30lbs. No assembly is required. Launch date: August 2012.
— As of 09/13/2012 this product had 4 out of 5 stars from 1 review on Amazon.com. Pros: Stationary (doesn't slip); Supports babies' head; easy to clean and dry. 9/7/2012 (Price: $29.99; Age: 0 to 1) [Add to my Inquiry Basket][?]



Viking Ship Squirter by HABA USA/HABERMAASS CORP.


This little pirate ship has a colorful red and white striped sail, and squirts water in the bathtub. 7/20/2012 [Add to my Inquiry Basket][?]



Mr. Bubble® Foam Soap™ by THE VILLAGE COMPANY LLC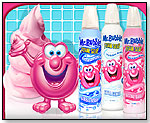 Mr. Bubble Foam Soap will whip up bath time fun. Kids can use their imagination to make all kinds of fun shapes with silly floating foam. Safe and gentle, it washes thoroughly and leaves skin soft and smooth.
— Katie Roo, manager of Be Beep A Toy Shop in Columbia, S.C., told TDmonthly in an April 2012 survey about bath toys that they sell about a dozen units of Mr. Bubble Foam Soap each month.
— In an April 2013 survey about best-selling bath toys Kate Noreen, manager of MudPuddles Toys & Books in Sherwood, Ore., told TDmonthly that "Mr. Bubble stuff has sold really well. It's that classic name, but it's thick foam so it's really fun to play with." 4/20/2012 (Price: $3.50) [Add to my Inquiry Basket][?]



Plui by KID O PRODUCTS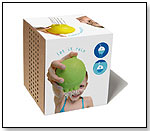 The Plui bath toy is a vinyl sphere with one nozzle at the top and several at the bottom; dunk Plui underwater to fill it, and then watch the "rain" come out. Kids control the flow of water by covering or uncovering the top nozzle. 4/11/2012 (Price: $12.00; Age: 2 and up) [Add to my Inquiry Basket][?]



Octopus Ring Toss Fountain by SKIP HOP INC.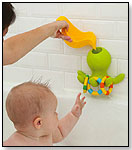 This wall mounted octopus keeps little ones happy two ways: pour water in the top of his head and it sprinkles down from his arms, or when baby is older he or she can play a challenging game of ring toss. Octopus suctions to wall and turns upside down to drain. Soft, no-bump material. BPA-free and Phthalate-free. 3/15/2012 (Price: $13.00; Age: 1 and up) [Add to my Inquiry Basket][?]



Snug-Tub® Duck by KEL-GAR, Inc.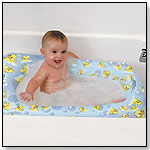 Provides infants-toddlers a soft, padded and secure space to bathe. Fun, bright colors stimulate interest and attention. Suction cup makes it easy to hang and store. Contoured headrest makes washing hair easy. For children who can sit up unassisted up to approximately 24 months. (

Watch Video) 10/6/2011 (Age: 1 to 2) [Add to my Inquiry Basket][?]



Dr. Seuss by Trend Lab Licensed Character Hooded Towels by TREND LAB, LLC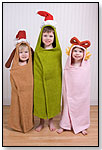 There's no one alive that's Youer than You!" Children can transform into their favorite Dr. Seuss Character with these Character Hooded Towels. 27"W x 36"H; fits up to size 3T. Launch date: 2010. 9/13/2011 (Price: $29.95; Age: 0 to 3) [Add to my Inquiry Basket][?]



Thermobaby Aquababy Bath Ring by JUVENILE SOLUTIONS, INC.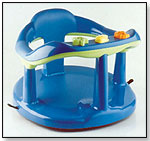 The Aquababy is suitable for babies 7-16 months when the child starts to want to sit up. The Rounded shape gently supports the child while giving it freedom of movement. Features include a non slip seat Extra large suction cups for excellent stability (Not suitable for non-skid surfaces). No assembly or accessories needed. Contains no BPA, Phthalates, PVC or Lead. Pkg: Boxed. Case Pack: 3 Units per color. Min order: 12 units, colors can be mixed White/Blue,White/Black,Blue/Green, Lilac/Plum,Dark Pink/Light Pink.
Awards: 2011 Babble.com Best Bath Award 8/10/2011 (Price: $36.00; Age: 0 to 1) [Add to my Inquiry Basket][?]



Spa Baby Tubs by SPA BABY TUBS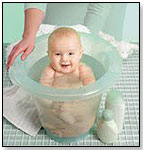 Now made in Canada, our non-toxic, eco friendly bath comes with a non-slip mat for comfort and security. New York magazine has called Spa Baby "a soothingly womb like hot tub for infants." It is the "largest upright tub on the market to last infants the longest," Brandy Cameron, President of Spa Baby Tubs, told TDmonthly. Launch date: February 2011. 6/27/2011 (Price: $37.99; Age: 0 to 1) [Add to my Inquiry Basket][?]



Bath to Go by LAMBS & IVY

These unique Bath to Go gifts are perfect for baby's bath. Each design includes a hooded towel with appliqué, three squirt toys, two wash cloths and a re-useable bath bucket. The terry cloth is 100% Cotton and the squirt toys are baby safe. 3/22/2011 (Price: $16.75; Age: 0 to 3) [Add to my Inquiry Basket][?]



Natural Rubber Toys & Teethers by NOVA NATURE DISTRIBUTING INC.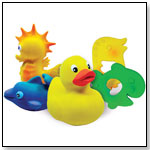 These natural rubber baby toys and teethers are made from the rubber tree sap and hand-painted with non-toxic paints. These toys are water-resistant and are completely PVC, BPA and Phthalate free. Babies can chew and mouth safely. "Our natural rubber toys and teethers are made in Spain since 1952," Olek Zhylin, manager of Nova Nature Distributing, told TDmonthly. 12/7/2010 (Price: $10.50; Age: 0 to 2) [Add to my Inquiry Basket][?]



Spiffies by DR PRODUCTS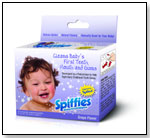 Spiffies wipes, which contain the natural cavity-fighting ingredient xylitol, have been found to significantly reduce the development of cavities in kids. The individually-packaged wipes come in child-friendly flavors, so kids actually enjoy using them.
Awards: 2010 National Parenting Center Products for Babies award 10/27/2010 (Price: $6.99; Age: 0 to 3) [Add to my Inquiry Basket][?]



Organic Cotton Splash Toy by iPLAY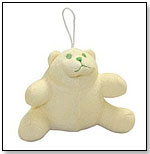 These water-friendly toys come in colorful and fun animal shapes designed to make bathtime fun. Each set comes in a reusable mesh bucket with a handle and zipper closure. The toys are made from organic cotton and feature a string loop to hang dry. 9/7/2010 (Price: $5.99; Age: 0 to 2) [Add to my Inquiry Basket][?]



Organic Cotton Bath Puppet by I play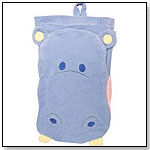 This soft organic cotton terry mitt doubles as a bath mitt and entertainment puppet. It includes a hanging loop to dry. 8/25/2010 (Price: $8.00; Age: 0 to 2) [Add to my Inquiry Basket][?]



Tower of Squirters Bath Toys by MUNCHKIN INC.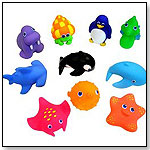 These 10 water-squirting sea characters are designed for under-water bubbles and bath games. The squirters come in a clear canister that makes storage easy.
— As of 8.24.10, this product had 4.5 out of 5 stars from 34 reviews on Target.com and was listed in the top 30 best-selling toys and games. PROS: Safe and entertaining. CONS: Some parents complained that the toys collect mold inside. 8/24/2010 (Price: $9.99; Age: 1 and up)



WaterBlocks Seaport by JUST THINK TOYS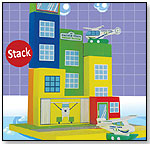 WaterBlocks brings classic block play into a new watery environment. The bathtub and pool are the perfect places to create floating towns, bridges, waterslides, ball runs, towers and more. The "sticky" viscosity of water creates a helpful cling between blocks, and the movement, buoyancy and flow of water add an engaging twist to classic block play. 7/26/2010 (Price: $19.99; Age: 4 and up) [Add to my Inquiry Basket][?]



Eieio Light-Up Bathtub Ducks by MUD PIE

Kids can light up bathtub time or water play by touching the silver sensors on the bottom of these light-up polka dot ducks. The yellow parent duck measures 3" x 3.5," while the blue and green baby ducks are each 1.75" x 2." 7/8/2010 (Price: $13.50; Age: 1 and up) [Add to my Inquiry Basket][?]



Wett Giggles Animal Soaps - Ophelia by WETT GIGGLES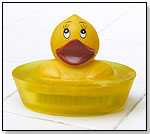 Wett Giggles combines soap, a rubber ducky or other animal, and a scrub brush in one sweet-smelling package. Each colorful, handmade bar of soap features a rubber animal head poking out the top. As the soap is worn away from the bottom, a scrub brush is revealed to get all those hard to reach places. Wett Giggles scent options include pineapple, watermelon, blackberry and lemon (in the case of Ophelia). Animal options include a hippo, bear, cow, frog and others.
— Lee of Mom Fuse found the scent of the soap to be a big hit with her 18-month-old. "I mean, the kid really likes this soap!" she cried. Though the toy element and scrub brush add value, Lee felt the product was expensive compared to plain soap.
— Sarah, Mahayla's Mommy, observed that her daughter could "easily hold onto the toy end of the soap while she's soaping up without constantly dropping the slippery soap into the tub." This innovative feature of Wett Giggles helped foster her daughter's independence. 4/22/2010 (Price: $10) [Add to my Inquiry Basket][?]



Boat Squirties by ELEGANT BABY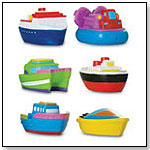 Elegant Baby's Squirtie Bath Sets are designed to be simple and safe. The soft water squirters for bath or pool time are brightly colored, easy for little ones to hold, and free from phthalates. This gift set contains six individual boat-shaped water squirters.
— "What we sell time after time is the Bath Squirties from Elegant Baby," Cheryl Richmond, owner of Punkin Doodles in Havre, Mont., told TDmonthly in March 2010.
— "The more water you can squirt, the better," said June Hargrove, owner of Black Forest Books & Toys in Charlotte, N.C., in spring 2010 of what makes a popular bath toy in her store. 4/16/2010 (Price: $16.00; Age: 0 and up) [Add to my Inquiry Basket][?]



Motor Boat Murray by WOW TOYS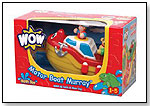 A bright smiling motor boat, cheerful skipper and faithful canine companion are designed to bring fun and interest to bath time. The two characters come out of the boat, which floats in the bath or rolls along on its hidden, friction-powered wheels for out-of-water playtime.
— Mary Sisson, owner of Kazoodles in Vancouver, Wash., told TDmonthly Wow Toys is a top seller in her bath department. "We've done well with the water-centric Wow Toys. The ones that are boats are really good."
— Out of 39 retailers surveyed in March 2010, two named Wow Toys as their best-selling line of bath items. 4/16/2010 (Age: 2 and up)



Submarine Wind Up by TOYSMITH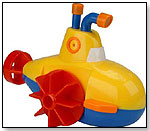 With no batteries or complex machinery to worry about, Toysmith's Wind Up Submarine automatically dives and resurfaces. The submarine is 7" in length, and its enclosed gears are designed to ensure a long life in and out of the water.
— "One thing we sell consistently is the Wind Up Submarine from Toysmith," said Mary Sisson, owner of Kazoodles in Vancouver, Wash., of the most asked-for bath toy in her store in spring 2010.
— Out of 39 retailers who participated in a March 2010 survey of best selling bath toys, three told TDmonthly Toysmith supplies their top items. 4/16/2010 (Price: $5.49; Age: 5 and up) [Add to my Inquiry Basket][?]



Rubber Duckies Multicolor by SCHYLLING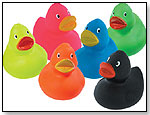 Classic ducks with a collectible twist, these phthalate-free bath floats come in six bright colors. The ducks are sold separately, ready to populate a host of toys for bath, pool or hot tub.
— "We do a lot of rubber duckies," said Wendy Bricht, owner of Chatterpillar Toys, Gifts and Balloons in Frazier Park, Calif., when asked about her best-selling bath toys in a March 2010 survey.
— Four of 39 retailers said in spring 2010 that rubber ducks are the best seller in their bath department. 4/16/2010 (Price: $2.49; Age: 3 and up)



Deglingos Bath Ducky - Ronronos the Cat by GEARED FOR IMAGINATION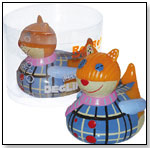 This version of Ronronos has all the style and personality of the plush Deglingos pal formed into a sleek rubber ducky for bathtime. Launch date: 2010. 3/3/2010 [Add to my Inquiry Basket][?]



Tinti by CHALLENGE & FUN INC.

Children can change the bathwater to vibrant colors using these all-natural dye packs that won't stain the tub. They are preservative and chemical free. Each pack contains two blue and one red. 2/9/2010 (Price: $2.95; Age: 3 and up) [Add to my Inquiry Basket][?]



Spa Time Baby® Cape by SPA TIME BABY


The original Spa Time Baby Cape has a waterproof panel to keep parent dry while bathing baby. The patented Spa Time Baby Cape, easily worn by the parent, is designed as a safe and convenient alternative to bathing and drying baby. It has received the following awards: 2008 Mom's Best Award; 2009 PTPA (Parent Tested Parent Approved); 2009 iParenting; 2008 Baby Planner's Seal of Approval; and 2008 Best Products Media Guide by Orca Unlimited, LLC. Launch date: June 2008. 10/29/2009 (Price: $38.95; Age: 0 to 3) [Add to my Inquiry Basket][?]



12 Ducks in a Tub by TRUMPETTE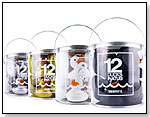 Each see-through pail contains 12 rubber ducks, ready for bath time or display. Black, white, gold metallic and silver metallic are available. 10/27/2009 (Price: $30.00)



Lil Love Bug - Bubble Bath Vapor by KARISSA & CO.
This special bath vapor is infused with herbs that help soothe little ones when they're feeling unwell. (

Watch Video) 10/21/2009 (Age: All Ages) [Add to my Inquiry Basket][?]



Angel Baby Shampoo & Body Wash by EARTH MAMA ANGEL BABY


This clinically tested castile soap is made with pure, organic ingredients and is free from phthalates, artificial preservatives and synthetic surfactants. It comes in three sizes: 50 ml, 160 ml (shown) and 1 liter. 10/12/2009 (Price: $10.95)



Peititen Cushion Baby Tub-Bed by WORLD INDUSTRY CO. LTD.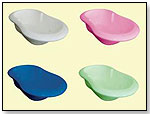 Designed for versatile use as a cradle, bathtub and crib for babies, the Peititen Cushion Tub-Bed features a cushioned floor and wall for comfort, with an antimicrobial surface that makes it safe for even newborn babies. Available accessories include a cradle and baby tub stand. It is available in white, pink, blue, cobalt and light green. The company makes both round (shown) and neckrest types. 7/30/2009 (Age: 0 and up) [Add to my Inquiry Basket][?]



Organic Mommy & Baby Wash Mitts - Frog/Duck by RICH FROG INDUSTRIES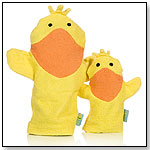 These organic terry cloth bath mitts come with a matching baby mitt so kids can join in the bathtub fun. Designed to offer bath time fun for kids and adults, the mitts are made with 100-percent organic cotton and non-toxic low impact dyes, and produced under Fair Trade. Launch date: January 1, 2009. (

Watch Video) 7/15/2009 (Price: $15.95; Age: All Ages) [Add to my Inquiry Basket][?]



Duck Loofah Bath and Body Scrubber by LOOFAH-ART LLC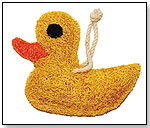 Loofah-Art products are made with 100-percent, all-natural loofah (a sustainable agricultural crop) and dyed with vegetable dyes, making them bio-degradable, eco-friendly, non-toxic and compostable. With natural fibers, they are designed to not scratch surfaces, and with whimsy designs, aim to encourage children to care for their skin. Launch date: July 2008. 6/11/2009 (Price: $3.99; Age: All Ages) [Add to my Inquiry Basket][?]



Big & Small Chime Ball by SASSY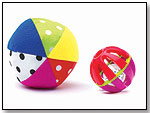 This set has two different balls for baby to grasp, roll and hold. One is a ball-within-a-ball that chimes with every move. The sturdy plastic outer ball has generous cutouts to make gripping easy for little hands. Rattling and rolling inside it is a smaller inner ball with a bold polka dot pattern on one side and mirror on the other. A larger squishy plush ball rounds out the pair. It has bold, solid colored stripes in a velvety fabric interspersed with cheery polka-dot stripes in silky fabric. All are in high-contrast, bright colors to stimulate baby's vision. The ball has an inner layer of crinkle fabric to make crunchy sounds when baby grabs it. It chimes when rolled, thrown or shaken. Launch date: July 2009. 6/3/2009 (Price: $9.99; Age: 0 to 3) [Add to my Inquiry Basket][?]



Froggy by MINDWALK INC.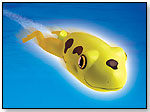 Kids can line up the arrows on Froggy's belly and watch him spin through the water from one end of the pool to the other. He uses 2 AA batteries. The "patented random direction makes him zip in random directions," Doug Rubel, CEO of MindWalk, told TDmonthly. Launch date: 2009. 4/27/2009 (Price: $7.95; Age: 5 and up) [Add to my Inquiry Basket][?]



Lil' Rinser by SPLASH GUARD LLC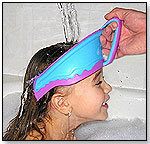 This ergonomically engineered, visor-like guard is designed to keep water, shampoo and conditioner residues out of the eyes and ears of little kids during bath time, in order to eliminate tears due to stinging, soapy eyes. It has a soft-grip handle and soft contours to fit gently against a child's head, plus a rim that directs water away from the face. This distinctive bath tool comes in four colors: yellow, purple, sky blue, and green. 4/17/2009 (Price: $9.99; Age: 1 and up) [Add to my Inquiry Basket][?]



Water Bugs - Floating Bath Toys with Net by BOON INC.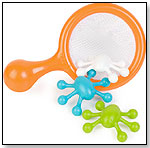 Kids can scoop up these colorful critters as they glide across the water. The set includes three floating bugs and a mesh net in modern styles and colors. Launch date: November 30, 2008. 3/23/2009 (Price: $7.99; Age: 1 and up) [Add to my Inquiry Basket][?]



Catalog Request Form
THIS BANNER IS AN AD:
---
---