Resembling something that's a cross between a UFO and a classic spinning top, the I-Top ($10.00) by itoys, inc. is a dramatic reinvention of a toy that most have grown up with. The modernized top calculates statistics at space-age speed and has digital lighting that sends quick and appealing statistics and messages much in the way that a blimp displays its text. Additionally, there are eight modes and four addicting games to choose from: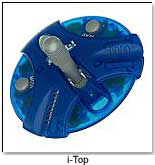 In one game, players can challenge each other to achieve the maximum number of revolutions before I-top stops. In another game, players compete for spinning speed. In yet another game, players attempt to get closest to a random number displayed by the I-Top. There is also a game in which the I-Top assumes the role of a psychic and may be asked yes or no questions, before one spins for the "answer."
The I-top is palm-sized and has a spindle that retracts with the simple push of a button. It comes in modern translucent tones of black, blue, green, purple or red.