For a more recent report on this trend, check out the following update.


A FEW WORDS ABOUT BRATZ
Enormous sales have indicated that kids can't get enough Bratz merchandise. Now MGA Entertainment has teamed up with publisher, Grosset & Dunlap, to make some great reading material that is sure to get tweens coming back for more.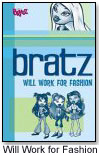 For starters,the book, Bratz Will Work For Fashion ($4.99), follows the adventure of Cloe, who, because of her impressive painting, has been invited to an art gallery's grand opening. This presents a challenge to Cloe since she needs a "rockin' new party dress that she can't afford. She therefore must find a job and get a new dress before the party, or else suffer the consequences of, heaven forbid, being seen in public wearing an old dress.
Bratz All-Night Mall Party ($4.99) finds the Bratz crew trapped in the mall after hours. At first they are freakin' but soon enough they realize that since the mall is one of their favorite places, it's not such a bad place to be trapped. Thus, the adventure begins!
Lil Bratz Makin It Up! (Ages 3 and up; $12.99) is much more than just a book. It is a day in the life of the Bratz prior to their going to a movie. Of course, since the Bratz are known for being stylish wherever they go, they must first get decked out and made up. The book comes with four of the same shades of lipstick that the Bratz wear in the book!