Everyone knows that children are curious. Even at a very young age they are eager to understand how the world around them works. From inquiring about how the mail gets to their house, to wondering where the food in the grocery store comes from, or even questioning what happens to the trash after the garbage truck takes it all away, kids just want to know. And they want to know now.

To help them answer these and many other questions Laurel Hill Entertainment (ToyDirectory) is proud to introduce "Adventures with Wink & Blink," a new, award-winning, live-action video series that School Library Journal calls "delightful." A hit with children ages two and up, "Adventures with Wink & Blink" offers a unique blend of kid-friendly characters, colorful graphics, engaging music and real, on-location footage. With visits to places like a garbage truck factory, a working fire station, and the veterinarian at the zoo, this series takes children on exciting, behind-the-scenes adventures to places most kids would never experience firsthand themselves.
To achieve a fresh, contemporary experience for today's youth, Laurel Hill Entertainment developed the fun-filled Wink & Blink characters with the direct input of parents, teachers and children. Inspired by great comedy duos like Laurel & Hardy and Abbott & Costello, Wink & Blink provide a special brand of non-violent, age-appropriate entertainment that the whole family can enjoy and parents can trust. As a result, girls and boys quickly identify with Wink & Blink, two new friends specifically created to guide kids on many exciting adventures. In fact, Wink & Blink's first video, "A Day in the Life of a Garbage Truck," was recently honored as a Kids´ First! All-Star, the highest rating awarded by the Coalition for Quality Children's Media.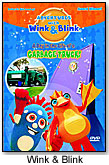 In "A Day in the Life of a Garbage Truck!," kids' fascination with trucks becomes a means to teach children about safety, recycling, and the environment. In this video, Wink and Blink take three curious kid adventurers on an exciting journey from a factory where garbage trucks are made, to a ride on the route with a professional garbage truck driver, and finally to a landfill where big machines reign supreme. Along the way, Wink & Blink introduce many new concepts, vocabulary words, and learning tools. And to satisfy curious kids, the company has many other videos on the way, including "A Day in the Life" adventures to the fire station, the train station, the grocery store and the zoo.
According to Laurel Hill president Robert Rasmussen, "Our mission is to bring a creative, kid-oriented and interactive approach to reality-based live-action programming. Wink & Blink are unique, energetic characters who were created to inspire a lifelong desire to learn about the world by engaging the innate sense of curiosity in all children." And that's what this series is really about: empowering children with knowledge.