With a focus on fun as well as school curriculum, interactive and electronic learning products for kids of all ages have become extremely popular in recent years. The following is a preview of this year´s newest offerings.
Move Over Alex Trebek...There´s a New Host in Town!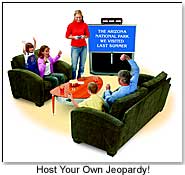 Bring all the sights, sounds and action of America ´s favorite quiz show to life with Educational Insights, Inc.´s (ToyDirectory) Host Your Own Jeopardy! ($399; ages 8 and up). Developed in cooperation with the producers of the award-winning TV show, and specifically designed for custom-made games, this new edition comes with everything needed to create and host Jeopardy! games for family and friends or all-night study sessions. Categories and clues are displayed on the television screen and players buzz in using wireless remotes. The host directs the game from an easy-to-use wireless controller and players´ scores are automatically updated on an electronic scoreboard. Kids can test their knowledge, reflexes and memory skills...or cram for the big exam. Just plug in one of the 20 pre-programmed game cartridges with questions ranging from beginner to champion difficulty levels or use the blank cartridge to store up to 12 custom-made games (i.e., Where does Uncle Paul live?, What is the Capitol of Alaska?). The game also features three wireless remotes, a keyboard and a comprehensive guide.
Learn to Write Step-By-Step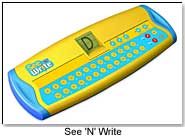 Educational Insight´s See ´N´ Write (Ages 6 and up, $39.95) introduces children in preschool and early elementary to write the easy way: By example. Kids can get a head start on handwriting with this interactive trainer as they learn to write letters, one stroke at a time, after seeing them created on the high-resolution LCD screen. A "Write" function displays letters slowly as they form, so children have a step-by-step model to follow. A "Game/Ghost-Writing" function challenges young learners to identify letters that form and fade from the screen. See ´N´ Write makes learning the basics (uppercase, lowercase, basic print, cursive) fun! This portable learning center walks kids through the stages of handwriting while encouraging self-paced, independent learning.
Turbo Charge Learning and Studying Skills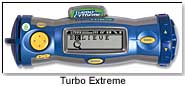 Turn the old "drill-and-kill" study me tho d into fun, action-packed games and activities that make learning more effective than ever before! Available this fall, the all new Turbo Extreme handheld ($34.99; ages 6-9) learning system from LeapFrog is the only expandable handheld that reinforces multiple core curriculum--all on one platform. Students will enjoy using these technology-based learning gadgets to master everything from math, science and social studies to spelling. Tied to state and national curriculum standards, this beneficial tool coincides with the curriculum elementary and middle school students. Featuring a new design and an expanded screen, the Turbo Extreme platform offers game play through the well-known "twist & slam" action of the LeapFrog Turbo Twist line. Studying for tests can be fun, fast and effective with Turbo Extreme´s fast-paced, arcade-style, animated play. With Turbo Extreme, kids feel confident and prepared to succeed in grade and middle school. Add-on cartridges ($9.99) offer multi-player learning games that are tailored to each player´s skill level.
No All-Nighters Necessary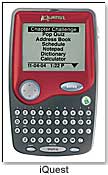 The iQuest handheld ($49.99; Grades 5th-8th) has a sleek new look and even more features. This cool, talking handheld is the ultimate learning device for junior high, combining fast-paced quiz games with PDA functionality that revolutionizes the art of studying. Whether riding on the bus or waiting in line for lunch, this hip, portable device helps kids choose from the Chapter Challenge or Pop Quiz modes to study exactly what they need to know for a test. iQuest features questions based on over 260 of the most commonly used classroom textbooks and prepares students for tests in math, science, social studies-and even the SAT/ACT and PSAT. Kids can keep busy schedules on track and put the "dog ate my homework" excuse to bed with Iquest´s personal organizer complete with dictionary, notepad, scheduler/calendar, address book and more. Now available in two new colors (purple and black), each iQuest comes with three changeable faceplates and a carrying case.