TDmonthly Magazine reaches millions of readers on the Internet and has 26,500+ retailer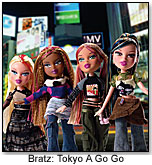 subscribers. You are our audience and our goal is to enhance your business, so we decided to prepare categorical retailer buying guides for the holiday season. We've compiled this information into several TDmonthly Top 10 Most Wanted Lists based on items consumers will want most for the holiday season.
Researchers at TDmonthly Magazine surveyed consumers, interviewed retailers, and read archived articles written for principal business publications. Through this, we discovered not only what sells best but why! In this month's issue of TDmonthly Magazine you'll read about seven categories with products in each category listed 1-10, specifying which products will have the highest demand for the holiday season. With a few bonus recommendations, that's over 70 best-selling products! You need these commodities in your store, and/or on your Web site!
We´ll be expanding this categorical research in the coming months, but you can take advantage of it today - before it becomes a service exclusive to our paid members. To read the TDmonthly Top 10 Most Wanted Lists, click on the links below.
TDmonthly´s Top 10 Most Wanted: Arts_&_Crafts_for_the_Holiday_Season
TDmonthly´s Top 10 Most Wanted: Action_Figures_for_the_Holiday_Season
TDmonthly´s Top 10 Most Wanted: Exergaming_Video_Games_for_the_Holiday_Season
TDmonthly´s Top 10 Most Wanted: Toys_for_Girls_&_Boys_for_the_Holiday_Season
TDmonthly´s Top 10 Most Wanted: Mini_Dolls_for_the_Holiday_Season
TDmonthly´s Top 10 Most Wanted: Dolls_for_Tweens_for_the_Holiday_Season
TDmonthly´s Top 10 Most Wanted: Film_Inspired_Action_Figures_for_the_Holiday_Season