Be prepared for the holiday shopping rush with these timely released products. This is the second in a series of two sections that will feature products to stock-up on in time for the holiday season. Make sure to read our archived August issue, which featured the first part of the "Holiday Preview."
Vicale Corporation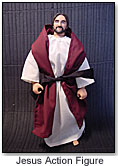 Build you own personal action hero online on the Herobuilders website, a division of the Vicale Corporation, who has the first on-demand stylized action figure website. Artists at Herobuilders hand-paints every item, reflecting the high quality and care they put into their products. Through their website, you can customize your action figure on every detail, such as the body type, race, hair and eye color, and what cool clothing you want it to wear. You can dress it like a body builder, beach lover, or to the nines in a tuxedo outfit. Its price is based on the number of additions you make to the action figure.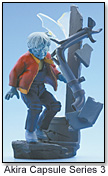 Diamond Comics Distributors, Inc.
Available for shipment beginning September 2004 is the new Akira Capsule Toys Series 3, offered exclusively in North America by Diamond Comics Distributors, Inc. Based on the popular sci-fi manga and anime, "Akira," by Katsuhiro Otomo, these trading figures are a part of the "DX" line, meaning they are larger in size and full of exceptional details. The painted figures in this series come in cool opaque capsules and stand approximately 3 inches tall. This set is a definite must have for all "Akira" and manga/anime fans. Diamond Comics Distributors, Inc. has been around for over 20 years and is the world's largest distributor of English-language comics.
Mezco Toyz, LLC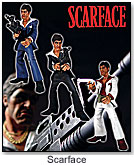 Out this fall are Scarface figures by Mezco Toyz, LLC, based on the widely popularized 1983 movie written by Oliver Stone. The Universal Studios Consumer Products Group granted this license to Mezco Toyz. In "Scarface," Al Pacino stars as Tony Montana, a head criminal whose extravagance and paranoia lead him to his own death. The figures will be in a 10-inch scale roto-cast, portraying Tony Montana in several scenes of the movie. Look out for more figures in the 4-10 scale, cold cast busts, statues, and in the exclusive Mez-itz line.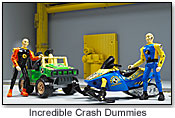 Hot Wheels (Mattel, Inc.)
Hot Wheels revives a popular 80's and early 90's icon, the Incredible Crash Dummies, with the new motto "Crash Dummies crash so kids don't have to." They were used in public service announcements to showcase the impact of a car crash on a human-like dummy. With a Saturday morning block on FOX Box, the Incredible Crash Dummies cartoon will do stunts to promote buckling up to stay safe. Hot Wheels presented a whole line of figures and vehicles, such as the Incredible Crash Dummies Crash Figure. The Crash Figure rides on a skateboard and when you crash him into a wall, his body will split into many pieces. He can be easily put back together and rolled into another crash test. ($4.99; ages 3 and up)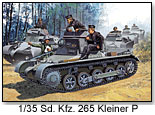 Dragon Models USA, Inc.
Dragon Models USA, Inc. produces an award-winning line of plastic model kits. In August 2004, Dragon Models USA, Inc. will introduce a new model called 1/35 Sd. Kfz. 265 Kleiner Panzerbefehlwagen I, Early Version. Based on the Panzer I Ausf. B chassis, this replica command vehicle has an updated superstructure with excellent details. Features include opening hatches, photo-etched parts, decals by Cartograf, two tank crews, and a commander's cupola with upgraded tools. ($27.95)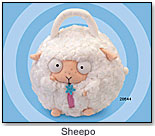 Bestever, Inc. (ToyDirectory)
Bestever, Inc. introduced its latest plush license, Sheepo, nationwide in July 2004. Sheepo is a cartoon character from Korea's Everland theme park. Due to a lab mishap, Sheepo was born without a wool coat, so he zips on a fluffy wool coat to blend in with the other sheep. With this new plush line from Bestever, Inc., you can get a Sheepo duffle bag, handbag, pencil case, key chain, pens, slippers, and more! The sheer variety of items available will appeal to all types of children with different interests. "The Sheepo license is whimsical and cute and it opens a whole new door in functional plush for Bestever," said Sandy Willens, the managing director for Bestever, Inc. Bestever, Inc. has been a manufacturer of plush gift items for over 30 years. (prices range from $3 - $24 each)
G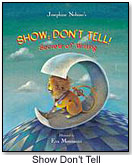 ingerbread House
Praised for being "visionary" and "the missing link in process writing", Josephine Nobisso presents her new book this fall, "Show; Don't Tell! Secrets of Writing" published by Gingerbread House. This 40-page interactive book features sound, scratch and sniff patches, and touch and feel patches, giving children writing tips in a comic book format. Coming from a family who only spoke Italian, Josephine Nobisso learned to speak English with the aid of her schoolteachers and by constantly reading. Now she has a copyrighted method to teach writing and numerous award-winning books. ($22.95; ages 7 and up)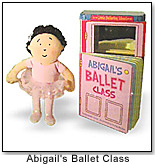 The Straight Edge, Inc.

Add the most recent edition to the Abigail's Adventures book series by The Straight Edge, Inc. Abigail's Ballet Class is an interactive book that comes with an Abigail doll that can be used while your child reads the story and after the book closes. Just open the door located behind the pages of the book and you will find Abigail in the Little Ballerina School. Children will enjoy this book because it incorporates reading and imaginative play, both activities parents encourage in their developing children. The moral of the story is to "try it, you might like it," a significant value to learn at a young age when new experiences are abundant. ($11.99)

Reader's Digest Children's Publishing (ToyDirectory)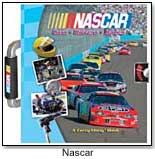 For all NASCAR fans, Reader's Digest Children's Publishing came out with the first three children's books based on NASCAR racing in June 2004. This exciting collaboration has Harold Clarke, vice president and publisher, Trade Publishing, for The Reader's Digest Association, Inc. "delighted that we will be creating books based on America's second most-watched spectator sport." Since "more than half of all kids 7-12 years old are NASCAR fans" according to Mark Dyer, vice president of licensing and consumer products at NASCAR, "NASCAR Speedway Superstars," will attract a huge following of readers who want to learn more about the drivers. This 96-page book showcases NASCAR's greatest drivers, such as Richard Petty and Dale Earnhardt. It also contains many interesting facts about the cars, the various tracks, and the pit crews. Parents will approve of Speedway Superstars because it sparks their children's interest to learn more about NASCAR racing while encouraging reading at the same time. ($4.99; ages 8-12)
4Kids Entertainment, Inc.
In June 2004, 4Kids Entertainment, Inc. was awarded LIMA's Best Art Brand License of the Year for the Artlist Collection: The Dog. "From the moment we saw The Dog, we knew this was a special property that would captivate consumers nationwide," stated Alfred R. Kahn, Chairman and CEO of 4Kids Entertainment. The Dog, is a brilliant photo collection of more than 70 breeds of puppies, with new breeds still being added on. Each puppy is photographed with special lens that creates "strange ratio" images, where the heads are larger than their bodies, so you can focus on their precious faces. New products for 2004 include, Play Along's interactive Roll and Spin Around Dogs, infant products, watches, and apparel for the whole family.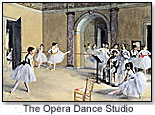 Because You See, LLC (ToyDirectory)

Introduce classic art pieces to children in an interactive way, with Art Magnetism by Because You See, LLC. Art Magnetism features famous artwork by artists like Vincent van Gogh and Edgar Degas. It "lets anyone hold a piece of amazing art in their hand, study it, and look at the original piece in a new way," states Cassie Moskowitz, maker of Art Magnetism. The unique thing about Art Magnetism is the magnetic pieces that can be moved around or thoroughly studied as a single piece. With "The Opera Dance Studio on the Rue Le Peletier" by Edgar Degas that came out in July, you can move most of the pieces, such as the ballerinas and the chair, to different sections of the picture. This elicits questions about the original placement of objects and the artist's style. Look out for the next piece, "Three Girls with a Dog" by August Macke. Art Magnetism is an educational activity for the entire family! ($14.50)

Noodle Head (ToyShow)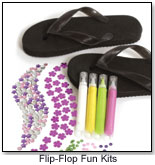 Get your feet noticed while strolling on the beach or at school when you decorate your flip-flops with the Flip-Flop Fun Kits by Noodle Head. Each kit comes with a set of black flip-flop sandals, 3D paints in bright colors, waterproof glue, and many different types of jewels and sequins. Use the paints and jewels on fingernails, toenails, and clothing too! Flip-flop sizes range from children's shoe sizes 12 to 6, and adult sizes 5 to 10. Everyone in the family can take part of this creative activity that brings out the fashion designer inside. (ages 4 and up)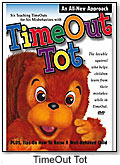 Pausitive Programs, LLC

Winner of the 2004 Parents' Choice Approved Award and the Dove Foundation Seal of Approval, TimeOut Tot: The Behavior Coach by Pausitive Programs, LLC is an interactive DVD that features a helpful squirrel puppet named Tot. Tot uses role-play to teach children in time out how to distinguish between acceptable and unacceptable behaviors, using lessons with catchy songs, contrasting both behaviors, and with interactive games. "Our DVD is the answer to every frustrated parent's disciplining dilemma," stated Ann R. Brazil, a mother of three and the creator of TimeOut Tot. The Volume 1 DVD focuses on six common misbehaviors: whining, tantrums, grabbing, biting, cutting in line, and pushing. It enhances the social and emotional development in children because it demonstrates how to play with others and how to deal with conflicts in an effective manner. ($19.99)

Wai Lana (ToyDirectory)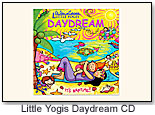 Send your child to a relaxing world of dreams with the Little Yogi's Daydream CD by Wai Lana. "We'll Wake You Up" is an upbeat song to gradually wake up your child and put him in a happy mood to be ready for the events of the day. Turn on "Keep Resting" when you want to lull your child for a nap or for the night. You can keep playing it while he sleeps to drown out any other distracting noises that may disturb him. Approximately 75 minutes long, the Daydream CD is based on yoga relaxation techniques to calm and sooth your child to sleep. ($14.95)
Genius Products, Inc.
Genius Products, Inc. currently has a multi-year licensing agreement with Copyrights at United Media, to create a complete music CD line based on the classic children's book "The World of Beatrix Potter." "This is one of the all-time children's classics, with more than 100 million books sold worldwide in the past 20 years alone" stated Klaus Moeller, Chief Executive Officer of Genius Products, Inc. In June 2004, Genius Products, Inc. announced that it will be adding a 2-CD package to the Beatrix Potter music collection. The CDs are a perfect companion to the book series as it contains uplifting songs and beats, inspired by characters such as, Peter Rabbit, Tom Kitten, Cotton-tail, and more.
OWI, Inc.
(ToyShow)
This year marks the 25th anniversary of OWI, Inc., a company that specializes in producing electronic robots and science kits. Coming in October is the Binary Player Robot, a battery-controlled robot that moves based on binary coding. Program the memory disk and you can make the wheels of the robot move forward, to the left or right, or to stop. You can re-program the disk to make a new pattern of commands to move the robot in any direction. Included in the kit are pre-assembled printed circuit boards, hardware, and a mechanical drive system. Learn the fundamental concepts behind robotic sensing and locomotion, while improving hand-eye coordination. (ages 10 and up)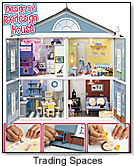 B-Bel Inc. (ToyShow)
Based on the hit TLC television show "Trading Spaces," a child can decorate an entire house with the Trading Spaces Design and Redesign House by B-Bel Inc. This creative kit is a two-story, four room model design house, and comes with over 150 pieces including furniture sets, battery-operated lighting fixtures, and the materials to paint, stencil, mold and weave. Children can paint colorful walls for the different rooms, mold some yummy food for dinner, hang a picture frame and more. They can decorate this house any way they want and when they get bored with it, they can start all over again! This is a great product for children who enjoy hands-on activities or those who aspire to be designers themselves. (ages 8+)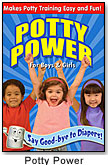 Thinkeroo (ToyDirectory)
"Potty Power" is the new DVD from Thinkeroo that makes potty training fun for both parents and kids! This 30 minute DVD is recommended for ages 18 months-three years. Potty training has never been more fun or easy with the simple steps and catchy sing-along songs. Charismatic host, Jessica Cannon, makes the process even easier. She also leads "Helpful Hints on Potty Training" at the end of the video and answers frequently asked questions including, "Is there a best age to begin potty training? And "How will I know if my child is ready?" ($14.95)
Learning Resources
Learning Resources newest Safari Express (Ages 4 +; $37.99) is sure to teach and delight children alike. This 127 piece set is not only motorized but it combines colorful coded instructions that allow children to build their very own train safari. Complete with farm animals, train head light, removable caboose, lights, stickers and flags, this safari is sure to provide for learning fun and excitement. Requires "AA" batteries.
Brass Key, Inc. (ToyDirectory)
Meet the Only Hearts Club doll line. Brought to you by Brass Key, Inc. each nine inch doll is different in personality, looks and theme. There is Taylor, Olivia, Lily, Anna, Brianna and Karina and their dogs, Patches, Sniff, Cupcake, Bubulina, Longfellow and Dotcom. The club also includes a fashion doll, which features the most up to date and contemporary fashions for young girls, plus there is a line of accessories and themes that have the club dolls dressed as ballerinas and soccer players. And for pet lovers there are three different sets of pets that include dog beds and toys. The Only Hearts Club doll line is brought to life in a series of books that tells the story from the beginning.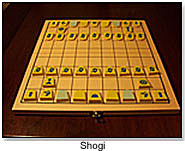 Elephant Chess Club (ToyDirectory)
Elephant Chess Club has introduced the newly redesigned board game Shogi ($19.95). A traditional Japanese board game that now uses symbols, designs and color to identify the playing pieces so that anyone can play, not just those who can read Japanese. The re-designed game is a challenging and intellectual pursuit.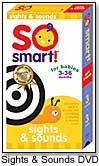 So Smart!
Winner of 30 national awards since their inception in 1997, So Smart! has just released the Sights and Sounds DVD ($16.98), a captivating and progressive learning experience for babies and toddlers. Sights and Sounds embodies large yet simple slow moving shapes and patterns that transform into familiar images. The DVD is choreographed to a ballet-like classical music soundtrack. The DVD includes parent-guided interactive storybook features and printable story cards plus an activity guide!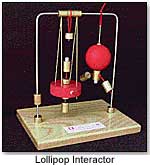 TekToy
Have you ever wondered how energy is transferred? Among human beings and the spiritual world alike? Well now you can discover through illustration and interaction what creates motion and transfers energy. Good or bad, physically or mentally, the award winning TekToy ™ Lollipop Interactor, a toy swing set that is not only interesting but a fun mystery as well. One of Dr. Toy's Products of Excellence: Smart Play, Smart Toy. (All ages)
ImagAbility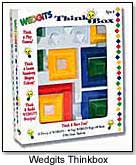 (ToyDirectory)
The WEDGiTS Think Box . (Ages 4+; $26.99) is the new learning-value product from ImagAbility "Great for Noodling, Doodling and Constroodling," this 15-piece building block set comes with a sixteen page wipe-off book and 3 dry-erase markers. It provides endless hours of fun and educational activities for pre-school through early elementary aged kids. There are numerous letter writing, number associations, mazes and design building ideas in this educational offering. The WEDGiTS Think Box™ is convenient for travel and its open-ended design allows children to create new designs virtually every time they play with the blocks.
Hunk-Ta-Bunk-Ta Music (ToyDirectory)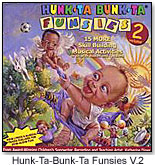 Winner of six national awards, such as National Parenting's Gold Award and the Parents' Choice Silver Award, Hunk-Ta-Bunk-Ta FUNsies 1 produced by Hunk-Ta-Bunk-Ta Music and sung by Katherine Dines, is a lively skill-building CD that sparks activity between babies and their parents. Dines is a successful children's recording artist and has added another volume to the set, Hunk-Ta-Bunk-Ta FUNsies Volume 2, which came out in May 2004. Children can dance to "Shake It Up!" and the "Bunny Hop!" Parents can interact with their children while listening to "Tug a Wiggle" and "The TickleBug." With 15 fun songs to choose from, children will be entertained for hours. "These songs and activities can be done anywhere, anytime," states Dines. "I'm hoping the songs will provide a catalyst for educational and creative fun between parents, caregivers and their young children." This CD is for babies (4 -18 months; $15.99).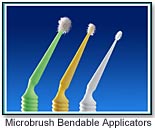 Microbrush International (ToyDirectory)
Regarded as an "essential tool" by hobby builders and artists alike, Microbrush Bendable Applicators by Microbrush International are applicators that can be bent into several angles to be used for applying paint, adhesives, solvents, and more onto hard to reach areas. The fibers on the applicators are non-absorbent and non-linting, and assured to not drip or spill any material you put on it. Microbrush International claims that the Microbrush applicator can "suspend solution as small as 1/8 of a drop." Available in three different sizes: regular, fine, and superfine.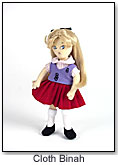 Alexander Doll Company, Inc.

Alexander Doll Company, Inc. introduced a new line of collectible and play dolls, based on the children's book, "The English Roses" that was #1 on the New York Times Children's Best Seller list. Gale Jarvis, president of Alexander Doll Company, states, "Like the book itself, the dolls are endearing, have a universal appeal and will be hopefully treasured b little girls all over the world for many years to come." The 6-inch Cloth Binah wears a pleated red skirt, a purple vest, a crisp white collared shirt, white socks, and black shoes, a traditional English schoolgirl outfit. Other Binahs are available in vinyl and larger sizes. Alexander Doll Company, Inc. has been designing and manufacturing hand crafted dolls for over 80 years.