Most parents know that young children have an abundance of energy and the more we encourage exercise, the healthier our children will be. In a world where youngsters need more activity than ever, Neil Crites and Grant Strawcutter are helping to give children and their families a leg-up by making activities fun and safe. Their Soft Play playgrounds are safer than traditional swing sets and monkey bars. These areas are in places such as restaurants and shopping centers, to give parents a break while their children play. Children can take advantage of these play areas while Mom and Dad have lunch or work out. Safety is the key and the bright colors and themes draw children to them like a pied piper. Twenty years of experience has made Soft Play LLC the leading manufacturer of contained playground. Soft Play's founders, Strawcutter and Crites had a passion for creating exciting, safe, contained playgrounds that provided an option to traditional playground equipment.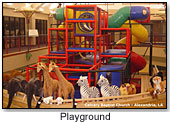 A Welcome Addition
For retailers, making shopping more convenient for the entire family means potentially higher revenues. For children, it turns shopping into an enjoyable experience. Safe, contained play equipment attracts families, enables children to stop and play while parents take a break, and fulfills today's customer expectations providing a total family experience. Soft Play has been involved with leading developers and retailers that are looking to attract children and their families to their establishments. If parents have an unruly child, they can take 15-20 minutes for the child to play and burn energy during the shopping experience. We work as a partner with our customers, designing the most creative play environments to suit their needs, while planning for theming, play activities, ADA accessibility and more. Bright, exciting playground equipment is the best advertisement for families with children. It's a relief and welcome addition for shoppers with children.
Safety First
Contained playgrounds are designed to literally "contain" children within the play system, preventing them from falling out of the play system by enclosing the play area. Our playground equipment is made up of commercial-grade rotomolded plastics, manufactured and designed according to the strictest standards, including ASTM f1918-98 Standard Safety Performance Specification for Soft Contained Play Equipment and CPSC Guidelines . Today, Soft Play is the leading manufacturer of commercial contained play equipment, frequently seen in restaurants, health clubs, shopping centers and family entertainment centers like Chuck E. Cheese's.
Expanding Market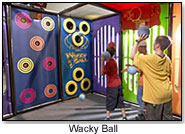 Accordingly, our market includes retailers and customers that are targeting the 2-12 segment of the market and their families. One of our most exciting play activities is Wacky Ball, an entirely active play event that can be sold alone or a part of a larger play system. Kids Corner is also a popular playground, designed just for tots ages 2-5. [We will] partner with companies looking to offer active, valuable play opportunities while increasing their revenues, traffic flow and repeat business. The Soft contained playground industry is expanding to accommodate entertainment that involves older children , tweens and adults . This enables active play for healthy children and adults, while enabling families to play together.