When Murray Bass and Sarah Nguyen formed the Chic Boutique doll company in 2003, they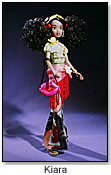 knew they were entering the market at a fiercely competitive time. Staying afloat would require a product line that would set them apart from the rest.
They hope they've found the key to success with the introduction of Hottiez, a collection of 10-inch dolls geared toward girls ages 4-9. The brainchild of Chic Boutique's president and designer Nguyen, each of the five dolls represents a different ethnicity.
"In the assortment, there's a Hispanic doll, an Asian doll, a Black doll and two Caucasians," explains Bass, the company's CEO. "Hottiez are five tween young ladies that are the very best of friends. They go to school together, shop together and have sleepovers."
One look at a Hottiez doll is all it takes to realize this is not your mother's Barbie doll. From her tummy-baring top, to her low-slung pants, on down to her chunky shoes, this doll looks like she could have just stepped out of the local junior high school.
Precisely the point, Bass notes.
"An important part of little girls' play value is emulating who they see. We are offering the girls the actual styles that their older sisters are wearing."
There's no doubt that the Hottiez collection will have to duke it out with competitors like Bratz and My Scene Barbie in the industry's current doll wars. Bass said Chic Boutique hopes to capture market share by offering not just a doll, but also a whole fashion experience.
Each Hottiez package ($14.99) includes a doll wearing a trendy outfit, a second outfit on a paper mannequin and a unique plastic mannequin that Chic Boutique has named a Dolliequin. The doll also comes with numerous tiny accessories that kids can store in a mini hatbox – a cell phone, CD player, a hairbrush, and more.
"The whole idea of the Dolliequin is for the little girl to display the many outfits that she has collected," Bass notes.
Designer Sarah Nguyen stresses that Hottiez are about much more than just looking good.
"The dolls represent a 'total package' – beauty brains and a social consciousness to better the world. We designed Hottiez to empower girls to action by stimulating their imaginations, fostering their creativity and encouraging them to dream big and pursue their goals to become anything they want to be."
On the back of the package is the "Hottiez Code," which includes statements like, "Be smart and stay in school," "Look after your friends," "Dream big," Respect the Earth," "Make your own style," and "Love yourself."
Although the young girls who play with Hottiez may not pay attention to the statements on the package, Bass said the company hopes their parents will.
"It's part of the overall presentation. We want to get the moms trusting us. We want them to come back and purchase more dolls. The way to do that is not just to offer a doll, but also their reason for being – the fact that they're best friends, shop together, have the Hottiez Code. It makes them more credible."
Future endeavors for Chic Boutique include a line of tween/teen cosmetic products, as well as kid and adult-sized Dolliequins.
When Hottiez debuted in Spring 2004, the company ran television ads, which Bass said will be back on the air this fall.