Some of the newest dolls will inspire imagination in young minds and can also become sweet play pals for any girl.
Not Your Grandmother's Rag Dolls
Manhattan Toy's Groovy Girls (ToyDirectory) line introduces three new Girls for the little athlete in the family. These posh playmates are all about encouraging and empowering girls who play sports. The sports-inspired H Girls ($10 each; ages 2 years and up) include Hadlee (gymnast), Harper (soccer) and Helena (Swimmer). These soft cloth dolls each measure 13 inches. Each comes with an outfit unique to her sport, as well as her own individual look. Groovy Girls are cuddly enough for a little pair of arms, but possess a more modern, hip attitude.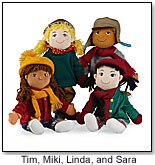 BRIO (ToyDirectory) introduces some new soft and cuddly dolls with personality and style. Tim, Miki, Linda and Sara ($17 each; ages 2 years and up) all possess a cheerful smile with unique hair. Measuring 12 inches, each doll has its own unique outfit made of quality fabric that will last through the years. All four dolls are machine washable.
BRIO's other new line of dolls provides detailed features that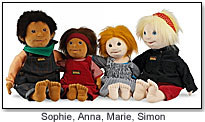 encourage a child's imagination. Sophie, Anna ($30 each; ages 3 years and up), Marie and Simon ($40 each; 3 years and up) each have belly buttons, realistic fingers and toes, and soft ruffled baby hair. The firm body makes it easy for children to undress and dress the dolls all by themselves. The doll's body is weighted to feel like a real baby. Sophie and Anna measure 16 inches tall, and Marie and Simon measure 20 inches. All four dolls are machine washable.
The Best Medicine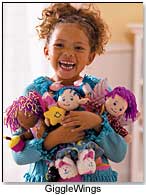 RC2 Corporation 's new line of soft dolls are designed to encourage children to achieve their emotional and developmental milestones. GiggleWings ($9.99; ages birth and up), a collection of guardian angel dolls, help alleviate children's common fears and discomforts, like nighttime noises, tummy aches and first-time jitters, with infectious giggles that realize the healing power of laughter. Just press their tummy and make them laugh. With whimsical characters like Annie Biotic, Lucy Tooth and Tommy Ache, GiggleWings reinforce the message that laughter is the best medicine of all. Each GiggleWing comes with its own guardian angel poem and "Wings Earned" date. There are 16 different GiggleWings characters in total, each with a name to fit a different emotion.
Develop Nurturing Skills Through Realistic Role-Play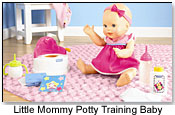 Fisher-Price's Little Mommy Potty Training Baby doll ($19.99; ages 2 and up) allows little girls to play Mommy, while learning the skill of using the toilet. Potty Training Baby comes with her own bottle, sippy cup, diaper, and of course, a potty that's just her size. The doll can be bottle-fed and will then tinkle in her potty and only her potty. She even makes the tinkle sound for play-acting that's true-to-life. By "teaching" Potty Training Baby to use the potty, little girls themselves can learn too.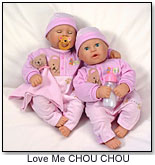 Zapf Creation's (ToyDirectory) Love Me CHOU CHOU ($49.99; ages 3 and up) offers realistic features that will promote empathy and care. Measuring 19 inches, Love Me CHOU CHOU challenges young ones by encouraging the little mommy to decipher what her baby doll needs. Love Me CHOU CHOU will kick her legs with delight, or she will kick her legs when she's unhappy about having her diaper changed. If Love Me CHOU CHOU cries, it's up to mommy to find out if she's wet or hungry. She drinks from her bottle and sucks her pacifier in a realistic fashion by moving her lower lip and chin. Love Me CHOU CHOU also comes with her very own baby blanket, which can soothe her to sleep. Love Me CHOU CHOU has jointed arms and legs, and is available in Caucasian and Ethnic versions.
Role-playing has never been more fun, in or out of the water, with Zapf Creation's BABY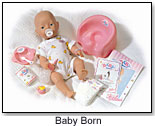 born ($39.99; ages 3 and up). Children can create their own "parenting" experience by utilizing BABY born's many life-like features. Children can take BABY born into the bath or pool, feed her with special food, give her a bottle with water, change diapers after they've been soiled and console BABY born when she cries real tears. Also included with BABY born are diapers and her own potty. Available in Caucasian and Ethnic versions, BABY born can perform all of these functions wi tho ut batteries.
Mad About Madeline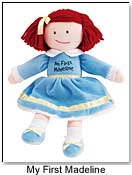 To commemorate the 65th birthday of the beloved children's book character, RC2 Corporation has come out with several new Madeline dolls. My First Madeline ($12.99 to $14.99; ages birth and up) includes a soft-plush doll and soft books designed for the smallest Madeline fan. For tho se parents who want to encourage French as a second language, the Talking Madeline Ragdoll ($24.99; ages birth and up) speaks five phrases in English and French. Madeline says, "My name is Madeline : Je m'appelle Madeline," "I love you : Je t'aime," "One, two, three : Un, deux, trios," and "Goodbye : Au revoir." The 18" Limited Edition Madeline ($79.99; ages 5 years and up) features poseable arms and legs, and a stylized face. This version of Madeline has a removable school uniform, which consists of a blue coat and yellow hat. An added bonus to this product is that Madeline can change out of her uniform and into any other available clothes that are compatible with the 18-inch doll.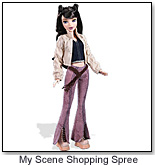 Shop 'til You Drop
Get ready for the ultimate shopping spree with Barbie's friends as they shop from retailers that make clothes, shoes and make-up that teens love, including jeans from Levi's, shoes from Aldo and make-up from Sephora. Mattel's My Scene Shopping Spree dolls ($14.99 each; ages 6 years and up) feature cool outfits in mini versions of the latest fashions and accessories. Shopping Spree Barbie dons hip-huggers from the original jeans maker, Levi's. Nolee wears sassy colors from Sephora, like lip gloss and eye shadow. And what girl doesn't love a new pair of shoes? Madison shops at Aldo for footwear that's funky, classy and everything in between. Also included in the new My Scene line are Delancey and Chelsea. Like Barbie, each doll has her own signature style.
Got Götz?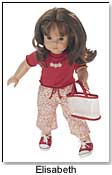 International Playthings (ToyDirectory), distributor for Götz play dolls, introduces the Precious Day Girls ($59. 95; ages 3 years and up), Jessica, Julia and Elisabeth, who all have faces that were designed by German artists. All Götz play dolls feature quality construction and cleaning ease. The dolls' hair is rooted and stitched directly into the scalp, resembling the natural structure of real hair. The Precious Day Girls are all machine washable, and have soft bodies, long hair and vinyl arms and legs.
Bébé Do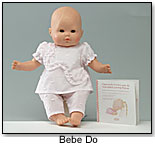 Soft-bodied Bébé Do ($50) by Corolle Dolls (ToyDirectory) has a beautifully sculpted face with a delicate, lifelike, newborn expression and eyes that open and close. Her translucent vinyl skin appears like that of a newborn baby, and she has extra padding where it counts to give her a "diaper bottom" profile. Each Bébé Do wears ruffle-trimmed pajamas and comes with a four-page booklet that shows make-believe moms how to care for their baby doll.