Article Synopsis

Mini Toy collectables are strong selling.
Miniature dolls are preferred over larger dolls.
Mini dolls based on book characters encourage children´s literacy.
When it comes to toys, mini is "in." Pocket-sized dolls and animals less than 9 inches tall that can be carried in a little girl's purse or bag remain super-popular these days.
According to a March 2004 NPD Group press release, sales of mini dolls will continue to be a strong-selling category in this year's toy market. It is human nature to collect things and once a child has a toy that belongs in a series of collectibles, the desire to complete that collection is irresistible.
The smaller the product, the easier it is to collect. Many parents or grandparents will stop to pick up a kid's meal at a drive-through restaurant just to add a specific toy to a series of mini doll collectibles.
For girls as young as three and as old as twelve, miniature dolls are considered "cool" and "cute." They prefer the mini size to larger toys, because they fit into little spaces: tote bags, pockets, bookshelves, desks, lunchboxes, dollhouses, and petite little hands. Precisely because the dolls are small, kids can collect more of them and take them anywhere. Fisher-Price´s Little People are classic portable playsets that let kids build their own mini neighborhood wherever they go. Larger toys take up too much space and create clutter--especially on road trips. "Mommy, can I take some of my little toy people with me to Grammy and Grandpapa´s house?" is a request parents won´t refuse.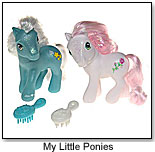 Miniature dolls are also less expensive when purchased one at a time, adding to the excitement and anticipation of the collecting process. The mini price of toys, such as My Little Pony and Strawberry Shortcake allow children to save and purchase miniature dolls with their own allowance or gift money. Moreover, these mini doll collections can be shared and compared amongst friends in benign collection competitions.
Marketing miniature dolls and toys that accompany various storybooks is another smart, synergistic move on behalf of publishers and toy manufacturers. When reading a particular book, it is great fun for children to collect mini dolls representing characters in that story. Children can act out scenes with their very own 6 1/2 inch dolls from the American Girls book collection and hardly notice that they´re learning history at the same time. Mini dolls and toys can contribute positively to the overall reading experience and, in general, parents and teachers approve of this technique because it promotes and encourages children's literacy. Mini dolls are just another example of how toys and games can help to make learning fun for children.
So, if there was ever a question of mini doll collecting going out of style, take it from the kids--mini dolls are a trend they don't want to end.