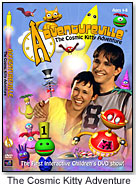 U-Pic Entertainment and Psychic Bunny Productions teamed to create Adventureville, a new interactive DVD that encourages children to make decisions as they watch. Executive Producer Avi Chesed is the "business arm" of the company. With a background in finance, he moved from Israel to the U.S. to pursue a business degree at USC. He took a film class for fun and discovered an affinity for children´s entertainment. He met his editor and co-creator Rick Castaneda while producing a five-minute short.
"After graduation I was toying with an idea of combining entertaining programming that had an educational twist with interactive technology. As a child I loved the " Choose Your Own Adventure" series as I could influence the story, and I believe that today´s youth could benefit greatly from using their imagination rather than sitting in front of the television blankly. However, books are like kryptonite to today´s average child, so we have to find more creative ways to allow them to immerse themselves in a story that is not only entertaining and inviting, but, as I like to say, hides the educational elements ´between the lines,´" Chesed explains.
The technology behind Adventureville is complex, but viewing and navigating is simple. "Episode 1: The Cosmic Kitty Adventure" is composed of sixty-five segments. All end with an opportunity for the viewer to choose. Two color-coded options are in every choice screen. The goal is to find Jason and Jenna´s lost cat Pepper.
"The 'Choose Your Own Adventure' series was fantastic, but it was hardly flawless. The characters appear
to fall to their deaths every few pages due to lack of story lines. The stories are usually violent and other than the fact that they stir a child´s imagination, are not particularly educational," says Chesed. There are no wrong choices in Adventureville. Geared to ages four to eight , the DVD re info rces positive values. Male and female protagonists make Adventureville appealing to both sexes. "We have educators on staff that monitor our every move and make sure that we are always on the educational track."
Adventureville is a town where future episodes will revolve, a new one every few months. "Due to the enormous task of combining animated characters and real footage all interacting in one scene, most of the work is done in the post-production facilities, where our animators and post-production designers spend countless hours," remarks Chesed. "We have ten episodes planned in the series, but something tells me that due to the amazing popularity and feedback that we are currently experiencing, more episodes will be in the works soon after."
Although parental assistance is discouraged, a Grown-Ups Tutorial and a Kids Tutorial are available on the main menu. He says parents appreciate that their child can effectively navigate through the educational product independently. For now, Adventureville is available only online in the United States . Chesed says they are still working on finalizing a distribution agreement they are comfortable with here. Overseas, it is available in many stores and may be the company´s primary market.
Chesed loves what he does and adds, "Every one of us could have chosen a different path that may have led to greater wealth or acknowledgement, but believing in what we do makes our decision so much easier."