Nestled in historic Old Colorado City is a workshop filled with elves. It´s a land of enchantment filled with storybook characters. For the collector, this mystical place is doll heaven. Jan and Bob Simpich created this business in 1952 after they married and moved to Manitou Springs from Missouri. Short on money, they created their first Christmas gifts for their parents from scraps on hand. With a background in art, this talented couple began to design unique clay and fabric dolls. Their unusual creations attracted the attention of countless people, and they realized their gift should be shared with more than their parents.
Today, their family members David, Debbie, and Reg join them in the process of producing five to ten new designs per year. Their retired dolls have a flourishing secondary market and a loyal group of collectors.
The couple emphasizes the importance of their carefully chosen artists. "Our production is made possible by our ´extended´ family of homegrown artisans. The dolls are completely handcrafted in America at our workshops in Colorado Springs. During our history, we have had upwards of one hundred employees, many of whom have been helping create Simpich art for decades."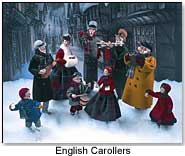 For inspiration they look to the classics from literature, the bible, and to their customers´ suggestions. Angels and Cloud Babies along with historical figures are fashioned in the distinctive Simpich style. Their best-selling dolls are the English Carollers. The dolls range in price from $115-$185 and are sold exclusively out of their shop and not wholesaled.
Although the collectible market is strong, they say the region has experienced a decline in tourism over the last five years. "This has affected our ability to connect with new customers. We continue to stay in touch with our existing collectors by way of newsletters, catalogs, and the Internet." The company's market is primarily domestically based, as international sales are less than one percent. Their average customer is a woman over the age of forty-five.
The greatest influence on their success is faith, which they describe as "the root of any flowering of artistic gifts and talents." They avoid current trends. True to their hearts, this family of artists has succeeded in bringing a variety of special characters and limited editions to curio cabinets throughout America. "Our mission is to create unique pieces of art that lift the human spirit."