I´ve been trying to live up to the Barbie ideal all my life and I still don´t measure up. Sure, Mattel has attempted to make her more realistic ... Why just a few years ago they went so far as to thicken her waist and decrease her bust.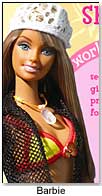 Big deal. Barbie is what now - 45 years old? When I received my first Barbie doll in 1965 she looked 16. By now, she should have aged like the rest of us, right? I suppose I have to give Mattel their due and say she has. She now looks at least 16-1/2. (Yes, I do see the opportunity for a "plastic" surgery joke here, but I felt it was a cheap shot, so I´m letting it go.)
Really if Mattel wanted to make Barbie more realistic, they should make her representative of some of us underrepresented middle aged women out here. For example, a potential new line of Barbies could include "Mood Swing Barbie." She would come with her own tiny electric fan to alleviate hot flashes and miniature prescriptions for Estrogen and antidepressants.
"Unsightly Facial Hair Barbie" would accessorize with her own small electrolysis machine for eliminating that annoying wee mustache.
Then there could be a "Spare Tire Barbie" who is at least 40 pounds heavier around the middle than original Babs, but who cannot seem to stop eating chocolate and mashed potatoes for the life of her. This one would include a talking feature and say the phrases, "Nothing fits me anymore" and "I´ll start working out tomorrow" when her string is pulled.
Additional ideas for new Barbies could include "Crows Feet Barbie" complete with a petite prescription for Botox; "Insomnia Barbie" who sports a deck of cards and a videotape of "Steel Magnolias"; and of course, the inevitable "Empty Nest Barbie." Initially, she would just cry a lot, but then she´d rally and move on with her life.
In all honesty, I can´t ignore the fact that someone at Mattel did leak some very true-to-life, contemporary news about Barbie to the media recently. This past February, front pages everywhere screamed the distressing headline, "Barbie Leaves Ken after 43 Years." The official spin on the story was that Ken couldn´t commit and so Barbie was moving on to greener pastures.
In true indomitable Barbie style, reports stated that she was thinking about selling her dream house and making a bold new career move. As recently as last week, rumors placed Barbie at a trendy new nightspot with gal pals Midge and Skipper. There were even whispers that old friend GI Joe might just have become a new flame
"Not true," says an unnamed source. "She´s not as carefree as reports make her out to be."
So I guess this means she´s sitting around in her sweats eating MoonPies and watching "The Bachelor" every night?
"No comment," says the source.
Too bad. I´d really like to know. Because that´s a Barbie I could relate to.