Article Synopsis

Bratz and Hottiez are giving the fashion doll industry a run for their money
Dolls represent the "total package: beauty, brains and a social consciousness to better the world"
Multicultural dolls tout a code of ethics designed to inspire young girls
Collectors still crave classics
When Bratz burst onto the fashion doll scene in 2001, the industry was forever changed. The 10 inch vinyls exude fashion sense and a hip, urban attitude that little girls want to emulate. Barbie has been struggling to keep her spotlight ever since.
"Bratz are giving the entire fashion doll industry a run for their money," says Murray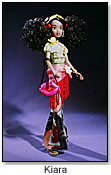 Bass, CEO of Chic Boutique, Inc.
"Bratz have sold like crazy," says Bass. "In my opinion, girls wanted dolls that emulated their older sisters. What Mattel was offering at the time wasn't what was out there in the real world. Bratz had the look."
With more than 30 years in the business, Bass acknowledges that the pristine image of Barbie has influenced doll design for decades.
But the success of Bratz means Barbie no longer has a solid lock on what is considered acceptable for the industry. As a result, doll designers have the opportunity to experiment.
Chic Boutique has recently introduced a new line of 10-inch fashion dolls called Hottiez. Bass teamed up with president and designer Sarah Nguyen to create the series of five dolls for Chic Boutique.
"Sarah had the vision to create a doll that really resembles today's kids," explains Bass.
Designed to be "fashion forward," Hottiez each come with two stylish outfits as well as two Dolliequins, plastic mannequins girls can use to preview fashions or store clothes and accessories.
"The Hottiez are about much more than just looking good," says Nguyen. "The dolls represent the 'total package' – beauty, brains and a social consciousness to better the world."
In addition to trendy fashions and fabulous hair, the multicultural dolls tout a code of ethics designed to inspire young girls. The box is covered with mottos like "Be smart and stay in school," "Look after your friends," "Respect the Earth," and "Make your own style."
"The indus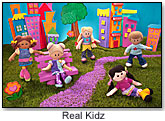 try did nothing to acknowledge ethnicity before Bratz," says Dave Helm, President of Molloy Toys, Inc. which offers the Real Kidz line of bi-racial dolls.
"Bratz are trying to reflect what is happening in today. We are a melting pot. We need to celebrate our ethnic backgrounds."
The five Real Kidz were created to represent the reality of bi-racial families in . Helm hopes the dolls will help start a dialogue about race, while giving bi-racial kids a toy with which they can identify.
"We've really been embraced by the biracial community," says Helm. "We're really happy with where we are now."
Currently Real Kidz are available through specialty stores and the web. Helm plans to expand the line with added fashions to allow dress-up play.
Recently the company launched family sets that include a mom, dad and biracial child. They hope to offer a complete line of separates later, so that children can build a doll family that resembles their own.
"We may still be a little ahead of the curve," says Helm. "The truth is ethnic kids still like playing with blond hair dolls. But that's slowly changing."
Of course, there is a place for classic style in the world of fashion dolls. Collectors still love mannequin-style dolls decked out in gowns.
"Even with all this stuff going on there are still stores selling classic clothes," says Robert Tonner, of the Tonner Doll Company, Inc. (ToyDirectory) "We try to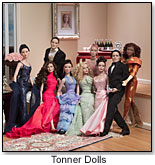 keep it young and bring in trends where we can, but mostly we keep it classic, with sustained good looks. Hopefully our dolls will still look good in five or ten years."
Tonner is continuing to focus on his popular Tyler Wentworth doll and the many fashions associated with the line. He has also had the opportunity to design specialty dolls, many based on movies -- Princess Amedila from "Star Wars," a line from Ella Enchanted, Halle Berry as "Catwoman" and characters from the movie " Chicago ."
Tonner believes the Bratz revolution has been important for the industry. "I think in a way it's long over due," he says.
"Anyone that tried to make a fashion doll competed with Barbie. Bratz didn't try to compete. They are completely different and that's what's important. Bratz gave us all a shot in the arm and pushed us to get a little more creative."
Read an update on the Fashion Dolls Wars in Playzak.
_____________
Other articles by TDmonthly Magazine: Doll Wars: Mattel's Flavas Take on Bratz in a Battle for Tween Girls' Dollars https://www.toydirectory.com/monthly/aug2003/flavas.asp and Flava of the Month or Here to Stay? Mattel has High Hopes for its New Hip-Hop Dolls https://www.toydirectory.com/monthly/Sept2003/flavas.asp