Whether you like your dolls to be glamorous, cuddly or whimsical when it comes to the world of collectible dolls, the new product market has something for everyone.

Shirley´s Creative Designs (ToyDirectory)

Darlene, The Busy Aerobics Doll is a favorite of collectors who visit Shirley´s website. Darlene has very long, variegated yarn hair, eyebrows to match one of the colors in the yarn, permanent ink facial features and an appliquéd leotard and sneakers. Shirley promises Darlene comes ready to do Jumping Jacks for you! Shirley´s other collectible styles include her African dolls designed in cloth, particularly the 24 inch, Adaobi the African Lady Bride Doll ($24.00). Adaobi wears a pretty bride dress with gold appliqué detail. Under the dress is a wrap skirt and panties. Her special hairdo is a yarn beehive with a long ponytail made of loops.

Fanciful Fantasy from Carpatina (ToyDirectory)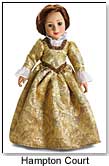 Carpatina Dolls are known for their elaborate fantasy costumes and attention to detail. New for the Fantasy Adventures® collection (Ages 8+) of 18" vinyl dolls is Elizabethan Ball and Hampton Court. They feature glamorous gowns and accessories created in luxurious fabrics, trimmed in gold and rhinestones. Carpatina also manufactures the Girlfriends Collection of outfits for the size of 18" cloth body dolls such as American Girl.

The New Girls in Town From LaBella: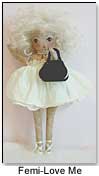 Three new SaltyDolls (Ages 8+) make a grand entrance to the Petite Collection (10 1/2 inches). Each doll has a special name, birthday, country and passion. Sophie-Wisdom, (lavender) hails from France. Her passion is photography and she was made after a special needs heart baby. Femi-Love Me, (chartreuse) is from Africa. Her passion is homeopathic healing. Angela is an angel/messenger (pink), from Russia. Her passion is ballet.

LaBella (ToyShow) creates positive, goal building dolls that are handmade. Special care has been taken to create them using old traditions and natural products from the earth. Each doll is "kissed" by an Angel, leaving behind a beauty mark. Dolls are stuffed with wool. Beautiful mohair locks are hand selected for the hair. Silk fabrics with a rolled hem, ruffle around each doll. They are embellished with the finest ribbons & trims from all over the world. A drop of Lavender oil gives each "Salty" an earthy essence. The SaltyDoll mini collection is designed for ages 8 and up.

Glam It Up With The Xenis Collection (ToyDirectory)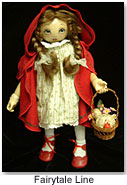 The Xenis Collection (Ages 8+) is a unique and highly innovative range of quality wood dolls from Canada that can only be described as exquisite!
Founded by Marlene and her daughter Tania in 1994, they fulfilled a dream to design and manufacture unique and exquisite handcrafted collectible wooden dolls--both musical and non-musical. The clothes are made from luxurious fabrics and natural fibers are used whenever possible. Hand painted heads and bodies are made from maple and assembled by skilled craftsmen who take pride in these creations.
For serious collectors, a register is kept of the first destination of each doll. The doll´s number appears on the certificate supplied with each doll and also on the registration card attached to each one.
New products include the Fairy Tale line which is a limited edition of 40 pieces per design. The dolls stand 15 inches high and have a fully articulated, wood body with an 18 note musical mechanism. They feature hand-painted faces on solid maple and are dressed in natural fibers such as: linen, cotton and silk.

Baby Your Collection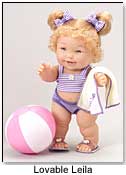 A doll collection would not be complete without a baby doll and JC Toys Group Inc. has the baby line to take your breath away. JC Toys Group Inc. is introducing a new and imaginative line of baby dolls: Lots to Love Baby Steps® ( 9.99; ages 3+). Showing off their cute little bellies, Lots to Love Baby Steps jumps on the scene as a fun loving doll that will surely create a stir among children and collectors alike. Within the collection there are a variety of expressions making each one uniquely charismatic.
The Lots to Love Baby Steps collection includes: Lovable Leila Beach Day – she loves being at the beach! Happy Hallie Mealtime – she loves to eat! Cute Chloe Sleepover – she´s a sleepyhead. Shy Shelby Bath Time – She can splash for hours. Fun Felisha – her middle name is fun. Playful Patti – Guess what she loves to do?

For That Whimsical SCUGGY Feeling:
The SCUGS, which stands for: Secret Community of Unseen Gunk Scroungers, is a new collectors Set designed to appeal to a kid's unique sense of fun. Each character has a strange and funny job, trait or behavior that explains some of the everyday phenomena that happen to humans. The collector cards, suitable for trading, have been added to allow kids to share something "scuggy" with their friends. The cards also serve to enhance the collectibility of the set of 10, by telling the story of the SCUGS, as a whole, as well as each one of the SCUGS creatures. These collectable dolls are designed for ages 3 and up and are apparently gaining favor with the ´tween´ market.