Children's Books

More than Elves and Candy Canes: Holiday Books for 2003
By Karen Mendez Smith
September 2003



Just like snowflakes, holiday books reflect the richness and diversity of the winter season.

WINTER WALK
New Board Books
WINTER WALK (ToyShow) by Ann Burg and Kelly Asbury is a snowflake-shaped board book from Harper Festival that little ones will want to savor. DISNEY'S COUNTING THE DAYS 'TIL CHRISTMAS (ToyShow), 24 mini-board books illustrated by Disney storybook artists, should keep kids busy thinking about the arrival of that magical day. DAVY'S CHRISTMAS GIFT (ToyShow) by Brigette Weninger (North-South/Neugebauer) is a magical treat. Junior fans of retro will eat up THE BERRY MERRY CHRISTMAS (ToyShow) by Laura Thomas and Tom Unguey, the latest in the Grosset & Dunlap Strawberry Shortcake series.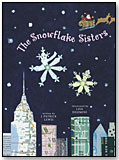 THE SNOWFLAKE SISTERS
New Picture Books
FELIZ NAVIDAD (ToyShow) (Scholastic/Cartwheel) by Jose Feliciano, with illustrations by Caldecott winning artist David Diaz, is a much-welcomed picture book version of the popular song. Two snowflakes hitch a ride with Santa in THE SNOWFLAKE SISTERS (ToyShow) by J. Patrick Lewis, with pictures by Lisa DeSimini from Simon & Schuster/Atheneum/Schwartz. The story of a small boy's very special Christmas gift is well told in MY PENGUIN OSBERT (ToyShow) by Elizabeth Cody Kimmel and illustrated by H.B. Lewis from Candlewick.

WE LOVE CHRISTMAS!
Another animal tale, in which a toy polar bear goes in search of a home, is THE CHRISTMAS BEAR (ToyShow) (Troll) byAnnie Mangan, with pictures by Joanne Ross. Also from Troll is A JOLLY HOLIDAY ADVENTURE (ToyShow), a hidden-picture art activity book by Robert Rath and Pamela Roller. North-South/Night Sky brings us the exuberant WE LOVE CHRISTMAS! (ToyShow) by Marilyn Janovitz. Rudolph also makes an appearance in RUDOLPH'S BRIGHT CHRISTMAS (ToyShow) by Don Williams, with pictures from the Artful Doodler (Random House/Golden).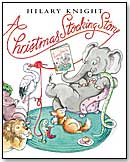 A CHRISTMAS STOCKING STORY
The holidays would just not be complete without THE NUTCRACKER (ToyShow), illustrated by Michael Hague from North-South/Seastar. 'TIS THE SEASON: A CHRISTMAS TREASURY (Chronicle) (ToyDirectory), is a classic illustrated edition by Cooper Edens. Award winners Karen Hesse and Brian Pinkney artfully present THE STONE LAMP: EIGHT STORIES OF HANUKKAH THROUGH HISTORY (Hyperion) (ToyShow). HarperCollins offers yet another classic: A CHRISTMAS STOCKING STORY (ToyShow), by Hilary Knight, in a freshly illustrated edition. More traditional tales are gathered in IT'S A MIRACLE! A HANNUKKAH STORYBOOK (ToyShow) by Stephanie Spinnier, with pictures by Jill McElmurry (Athenaum). An instant classic for fans of author/artist Mary Englebreit may well be ANNE ESTELLE SERIES: QUEEN OF CHRISTMAS (HarperCollins) (ToyShow), featuring her popular character. Cuddle up and spend a cozy evening with MY GRANDMOTHER'S STORIES: A COLLECTION OF JEWISH FOLKTALES (Random/Knopf) (ToyShow) by Adele Geras and illustrated by Anita Lobel.

A KENYA CHRISTMAS

O, CHRISTMAS TREE
Set in East Africa, A KENYA CHRISTMAS (ToyShow) by Tony Johnston, with art by Leonard Jenkins, is one of Holiday House's offerings for the season. THE LEGEND OF ST. NICHOLAS (ToyShow) gives us an unusual look at the legendary figure in this picture book biography by Demi, from Simon & Schuster/McElderry. SAINTS AND ANGELS (ToyShow), a fascinating set of biographies of religious figures, is presented by Kingfisher. O, CHRISTMAS TREE (ToyShow), by O'Neal and with art by Ande Cook, is another sterling effort from Augsberg. Kids count down to the big day in COUNTING CHRISTMAS (ToyShow) by Karen Katz (Simon & Schuster/McElderry) and in Zondervan's THE TWELVE DAYS OF CHRISTMAS (ToyShow) by Helen Haidle and ilustrator Laura Knorr. A calendar of special days on the Jewish Calendar that all ages will enjoy is certainly A SWEET YEAR: A TASTE OF THE JEWISH HOLIDAY (ToyShow) by Mark Podwal (Randm/Doubleday). The story of the Christmas carol comes from author Gwenyth Swain and illustrator Ron Himler in I WONDER AS I WANDER (Eerdman's) (ToyShow). Those who favor poetry will warm up to FATHER FOX'S CHRISTMAS RHYMES (ToyShow) by Clyde Watson, with art by Wendy Watson (Farrar).
Writer's Bio: Karen Mendez Smith has been involved in children's media for over twenty years as a literary agent, writer, and creator of animated television and film. Co-founder of Satori Organics and M/Path Press, she is a parent to eight children and five incredible grandchildren (and counting).

---
---