Anime and Manga Collectibles Step into 3-D
By Mark Vickery
September 2003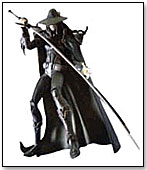 Vampire Hunter D
Freed from the confinement of two-dimensional comics and movies, several of the top manga and anime characters are now available as action figures. With all the detail and articulation any true fan could want, many of these figures represent the next wave of design for major collectibles.
Vampire Hunter D ($34.99), from Epoch Toycom (ToyShow) , was featured in both the 1985 classic of the same name as well as that film's incredible 2000 sequel, Vampire Hunter D: Bloodlust. This figure, developed by famed designer/sculptor Susumu Sugita, presents the half-human outcast D with the mysterious and deadly qualities for which he has become widely known and feared: his long, swooping sword and his talking left hand.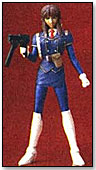 Katsumi Liqueur
Showing the company's feminine, but no less tough side, Epoch Toycom has also created the Silent Mobius action figure Katsumi Liqueur ($14.99), the sorcerer's daughter turned AMP lynchpin, who fearlessly goes to battle with the evil Lucifer Hawk. One of the most fascinating characters in all of Silent Mobius, Katsumi's action figure stands 6.5 inches tall in her full AMP uniform and comes complete with a war lance.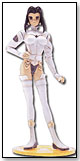 Motoko Aramaki
Also from Epoch Toycom is Man Machine Interface character Motoko Aramaki, now available in 3-D as a semi-articulated figure in a white body suit. Assist this hyper-advanced cyborg as she thwarts terrorism just like she did in Ghost in the Shell 2. Motoko stands 7 inches high and lists for $14.99

Ein
If plush dolls are more your style, check out adorable "data dog" Ein ($18.99) from Cowboy Bebop. Everyone's favorite illegal bounty-hunting Welsh Corgi, this Ein plush doll is eight inches from the bottom of his stubby legs to the top of his pointy ears.

Kero-Chan
Fans of Card Captor Sakura will enjoy the new Kero-Chan knitted plush doll ($14.99). Kero, the guardian of the Clow Book, is presented in his cuter, smaller form as a knitted plush, but he can still keep watch over your cards. Created by Top In (ToyShow), this doll stands eight inches high.

Oglop Bug plush doll
From the chronicles of eleven classic adventures to PlayStation video games and action figures, Final Fantasy has given fans of this saga everything they could want. Now, from Final Fantasy IX comes the hilarious four-inch tall Oglop Bug plush doll ($9.99).

Devil Man
Michael Lau's vinyl figures have created a collecting phenomenon, making his highly stylized six-inch anime and urban characters some of the most sought-after in the entire genre. His new Devil Man ($84.99) will surely be another must have for the vinyl addicted.
---
---