Sports Collectibles Announce Winter Lineups
By Justin Silves
September 2003






Alexander Global bobbleheads

The baseball season is winding down, and the shopping season – a sport in its own right – is on the horizon.

The collectible sports bobblehead doll is seeing a resurgence in popularity, and Bellevue, Washington-based Alexander Global, one of the leading producers of the loose-headed dolls, is right in the thick of it—producing collectibles for both retail and stadium events. The company's biggest recent seller has been the "Action Pose" bobbleheads, according to Brand Manager Mike Lewis. New for 2003, the quirky player replicas come complete with bases or outfield grass. The baseball line was released in April of this year, with football and hockey releases scheduled for later this year. Alexander Global is even planning to premiere NASCAR replicas.

Besides the Action Pose bobbleheads, Alexander Global is also working on a Fall release of NFL team sets that will include Green Bay, Miami and Buffalo, as well as the Raiders and 49ers. Each set, available in the teams' respective cities, will include 8 to 12 players.



Mike Piazza Babooshkah™



Texas Rangers Babooshkah™

"NFL collectors will probably have a really good time this fall," said Lewis, who mentioned fans should also keep an eye out for players in the popular throwback uniforms.

Bensussen Deutsch & Associates (ToyDirectory), another Washington-based company that develops sports collectibles specifically for stadium giveaways, has been receiving national attention since the release of its Babooshkah™ dolls in early 2003. The first set, Texas Rangers Alex Rodriguez, Juan Gonzalez and Rafael Palmeiro, was a huge success. New York Met Mike Piazza received a Babooshkah likeness in June, and Marketing Director Steve Avanessian says the dolls will soon be invading stadiums across the sports world. Commonly called matryoshka dolls, the nesting dolls consist of several smaller dolls inside one larger doll. Certificates of authenticity accompany the dolls, which will soon include a San Francisco set with Barry Bonds. According to Avanessian, the Babooshkahä dolls are "the next generation of bobbleheads."





Upper Deck 2003 MVP Football

With football season on the horizon, sports collectible super company Upper Deck (ToyDirectory) has announced its new set of football trading cards. Collectors should look for high-end autographs and game-used cards in Upper Deck's 2003 MVP Football packs, which will retail for $1.99 per 8-card pack. Other inserts include Talk of the Town, Silver Parallel inserts, Memorabilia cards, MVP souvenirs and more. The set consists of 440 cards and 110 MVP rookies.
---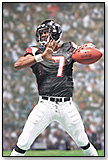 McFarlane 12-inch NFL figures

Just released during summer of 2003, Mezco Toyz' Extreme Athletes (ToyDirectory)are designed in the hip "urban vinyl" style and are made from tough roto-cast PVC. Each 9-inch figure has a unique animated look with full articulation and is durable enough to satisfy kids as well as collectors. Players wear real cloth uniforms adorned with official team logos. The first assortment features nine players from the NFL, including Warren Sapp, Mike Vick and Brian Urlacher.

In response to fan demand, McFarlane (ToyDirectory) is launching a new line of 12-inch NFL figures, due to arrive in stores by October. The initial line will consist of NFL figures and includes running back Emmitt Smith (available in both his Dallas Cowboys and Arizona Cardinals uniforms); Michael Vick, QB of the Atlanta Falcons; Brett Favre, QB of the Green Bay Packers; Jerry Rice, wide receiver for the Oakland Raiders and Ricky Williams, running back for the Miami Dolphins. The new figures will be available in Toys R Us as well as hobby and specialty stores. (estimated retail: $30)

JAKKS Pacific (ToyDirectory) is rolling out a new NASCAR® toy line featuring two of the sport's top racing teams, Hendrick Motorsports® and Joe Gibbs Racing®. The new toys are slated to include radio control, infrared and remote control vehicles, action figures, Tongue Tape™ candy, role-play, slumber bags, backpacks, lunch kits and kites (whew!).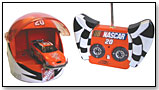 1:64 Infrared Control Car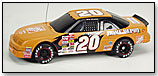 1:18 Radio Control Car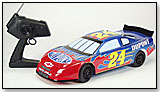 1:10 Digital Proportion Radio Control Car

The Road Champs (ToyDirectory) line, scheduled to arrive in stores in October, includes:

NASCAR Micro 1:64 Radio Control Car includes a helmet charger modeled after the real drivers' helmets.

NASCAR 1:43 Infrared Control Car has a flag-shaped controller with sound effects, including engine rev-up, take-off and crowd cheering.

NASCAR 1:18 Radio Control Car also has sound effects and performs the "victory spinout" that the real drivers do after winning the race.

NASCAR 1:10 Digital Proportion Radio Control Car. This 1:10 scale car features a lightweight, flexible body, digital steering and speed control, and is an Oppenheim award winner.
| | |
| --- | --- |
| Nascar 12-inch JeffGordon | Nascar 12-inch BobbyLabonte |
Road Champs is also debuting 6-inch and 12-inch action figures modeled on NASCAR's top drivers - Jeff Gordon, Jimmy Johnson, Bobby Labonte and Tony Stewart. The 12-inch figures feature full articulation and a removable helmet, gloves, racing outfit and shoes. The 6-inch figures are also fully articulated and come with a removable helmet and winner's trophy.
---
---