Allís Fair in Trade and War
By Tamara Halbritter
September 2003



Why are trading cards so popular? Chatting online about a special edition card and placing an ad on a trading board is fun, but itís collectible cardsí artwork and their colorful characters, as well as dueling against an opponent, that spur the imagination.



Konamiís Yu-Gi-Oh! Trading Cards
Japanese Please

Japanese animation has influenced many of the most popular cards worldwide, including Konamiís Yu-Gi-Oh! Trading Cards (ToyDirectory), which began as a comic strip in Japan in 1996 (You may have seen them in a Mighty Kids Meal at McDonalds earlier this year as well.). The new Joey and Pegasus Starter Decks ($10.99 each or $24.99 for the deluxe edition decks) move competition up a notch with new dueling monsters. The hero, Yugi Motou, continues to refuel his extraordinary powers with magic and trap cards.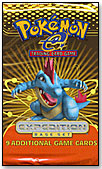 Pokémon Expedition Pack

Another commanding choice is the new series by Nintendo (ToyDirectory), the Pokémon Expedition Pack ($3.49) featuring Pokémon Powers (Poke-Powers and Poke-Bodies). This base set is designed to be swiped through a Nintendo e-Reader for great video game action on the Game Boy Advance. Other decks in this series include Pokémon Expedition Echo Theme Deck ($14.99), where the goal is to keep an opponent surrounded with Psychic and Colorless Pokémon characters, and the Pokémon Expedition Electric Garden Theme Deck ($9.99), where Grass and Lightning Pokémon mow down opponents. If this isnít enough action, Wizards of the Coastsí Professor Oak, the ďleading authority on these monsters says, ďThere are currently 150 documented species of PokémonĒ and plenty of other cards to keep you entertained.





Ghost in the Shell Trading Cards




DragonBall Z Trading Cards




Lego Bionicle Card Game
Ghosts and Dragons

Also from Japan, the stylish Ghost in the Shell Trading Cards ($4.98) based on Masamune Shirow's cult-classic anime film, Ghost in the Shell, are printed in chromium with full-color images from the film. The base set includes 64 sleek cards.

Inspired by the Lego Bionicle action figure, the Lego Bionicle Card Game Bohrok Swarm Starter Theme Deck ($12.99) gives the evil Makuta control of a swarm of Bohroks. Itís up to you to protect the Toa with this 30-card single-player deck.

Fire-breathing dragons appear in the DragonBall Z Trading Cards Series III by Funimation ($2.99). Each pack includes villains and heroes, nine regular cards and one gold metallic card as part of the new 86-card series.

Magical Heroes



Lord of the Rings Starter Decks


Magic: the Gathering Trading Card Game

Mech Warrior Dark Age Starter Kit

Magic: the Gathering Trading Card Game
Lord of the Rings Starter Decks ($9.99-$10.99) and Lord of the Rings Booster Packs ($3.29) by Decipher (ToyDirectory) let players protect the Fellowship of the Ring from the dark lord Sauron. As they attempt to demolish the One Ring, the cards can lead the heroes to the heart of Mordor on top of Mount Doom. Many other cards that support the movie trilogy are also available.

WizKidís Mech Warrior Dark Age Starter Kit (ToyDirectory)($19.95) gives players all the ammunition they need to save the planet from the Mech Warriors trying to annihilate it. Magic: the Gathering Trading Card Game Onslaught Pack ($2.79), a 15-cards-per-game booster pack, allows magical creatures to morph during battle. Also new, Magic: the Gathering Core Game 10th Anniversary Edition ($19.99) includes two decks of cards, a 14-card pack for advanced play, a collectible premium card, two playmats and a CD-ROM containing the Magic Online program.




Writers Bio: Tamara Halbritter has been teaching creative movement and dance to children for over 15 years. As a professional dancer and freelance writer, she puts plenty of playtime into her schedule. Currently, she is writing a book about a gifted pair who see other peopleís dreams.
---
---