New Die-Cast Vehicles Raise the Bar on Realism
By Lynda Lin
September 2003



Die-cast manufacturers like RC2/Ertl, Norscot, Revell, Mattel and First Gear are introducing new collectibles detailed enough to stand side by side with the real thing.

33349 C Slammed-Truck



33607 Ford Pickup
RC2/Ertl (ToyShow) American Muscle 2003 Slammed Series: 1956 Ford Pickup

Celebrating the American obsession with customizing cars, the 1:18 scale die-cast '56 Ford pickup stays true to the tradition with a dropped profile and large plated rims. The hood opens to reveal a beefed-up motor, and opening the doors will show off the truck's custom interior, including a plated shifter and steering wheel. Plated dual exhaust tips and a tailgate that opens like the real thing complete this stylin' collectible. Officially licensed by the Ford Motor Company ($39.95).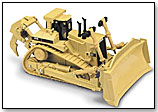 Norscot Caterpillar
Norscot Caterpillar (ToyDirectory) D11R Track-Type Tractor Dozer

Norscot, the official manufacturer of Caterpillar replicas since 1998, offers this detailed 1:50 scale adult collectible version of the tractor dozers we all remember from childhood sandboxes ($29.95). The Norscot Caterpillar D11R dozer has all the movements of a real one: The blade tilts, raises and lowers, as does the ripper, and the tracks move as well. It also features interior cab detail.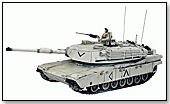 M1A1 Abrams tank
The M1A1 Abrams tank (ToyShow) has been a fixture on American TV screens during two wars with Iraq, and Panache Place's Forces of Valor series has recreated this fearsome machine in 1:32 scale diecast, complete with opening hatches to reveal internal compartments, folding side-armor and swiveling turret with an elevating 120mm smoothbore cannon. The Forces of Valor line is designed with a level of historical accuracy meant to appeal to the adult collector, and at $24.99, it's an affordable indulgence for any military buff.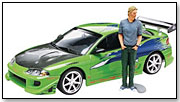 Revell Mitsubishi Eclipse
Revell Mitsubishi Eclipse from The Fast and the Furious Collection (ToyShow)

Strictly for adult collectors, fast car connoisseurs and movie fans, this neon green 1:25 scale die-cast model is an exact replica of the car in the blockbuster summer flick, right down to the souped-up interior, carbon-fiber hood, turbocharged engine and aluminum plated rear wing. The car comes with a complementary figure of Brian (Paul Walker) for those who want to stay true to the film ($19.95).

Mattel Cadillac LMP
Mattel (ToyShow) Cadillac LMP

The real Cadillac Le Mans Prototype (LMP) is the product of years of research and testing – the car features a 4.0-liter twin-turbocharged aluminum 32-valve V8 engine. Mattel's 1:18 die-cast version of the Cadillac LMP has an opening hood and doors to reveal the detailed engine and interior ($29.95).

First Gear International Crawler
First Gear (ToyShow) International Crawler TD-25 w/ Sheep's Foot Compactor

This 5-pound replica is part of First Gear's Vintage International Harvester Construction Equipment Replica Series. The 1:25 scale model features details such as an air cleaner, starter and hydraulic steering levers, and a 6-panel cloth umbrella imprinted with the International Harvester logo. The TD-25 also comes with a sheep's foot roller with wedge teeth, 2 steel drums that rotate and pivot and a pivoting front hitch. Equipped with a replica owner's manual, the TD-25 is one item no serious collector of construction equipment will want to be without. Available in September 2003.

Corgi Seagrave 70th Anniversary Tractor-Drawn Aerial Truck
Corgi (ToyShow) Seagrave 70th Anniversary Tractor-Drawn Aerial Truck
Corgi takes historical accuracy seriously enough to have pushed back the release date for this classic fire engine until April of 2004, in order to address an innaccuracy in the passenger-side bell. The Tractor-Drawn Aerial Truck is part of Corgi's "Heroes Under Fire Collection" and boasts the traditional 1960s color scheme of the Baltimore City Fire Department. This 1:50 scale model comes with all the bells and whistles (literally), from an extendable and pivoting ladder to faithful reproduction of the vehicle's vintage pinstriping. ($37.95).
---
---