Collector's Favorites
By Lynda Lin
September 2003




Matrix Minibust NEO by Dark Horse Comics



Matrix Minibust Trinity by Dark Horse Comics

Collectible toys, for the most part, may never be removed from their airtight packaging. Although included under the umbrella term of "toys," most of the collectibles mentioned below are designed for older aficionados of detail, craft and all things "limited edition."

Matrix Minibusts: Neo and Trinity

From Dark Horse Comics (ToyShow)and Gentle Giant Studios come two new mini-busts (6.25 inches tall) of characters from The Matrix ( $50.00 each). The series of busts will include other characters from the original film and its sequels, the last of which is scheduled for release in November.

The first in the series is Neo, portrayed by Keanu Reeves. The bust is based on three-dimensional scans of the actor himself. Joining Neo will be his love interest, Trinity, drawn from computer scans of actress Carrie-Ann Moss. Both Neo and Trinity's sunglasses are removable. Each bust will be a numbered, limited edition.

Chinese MiG-15 Pilot
Blue Box's Elite Force Mig -15 Pilot (ToyShow)
Released in late July, the Chinese MiG-15 Pilot ($34.99) joins BBI's Elite Force line of highly detailed 12-inch military figures. Rounding out the "Mig Alley" Korean War set, the MiG-15 pilot is the perfect compliment to the U.S. Sabre Pilot released earlier this year. Both figures have unique facial sculpts, loads of authentic gear and uniforms that are accurate down to the stitching.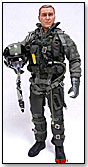 George W. Bush Aviator Figure
George W. Bush Aviator Figure
Last May, the world watched as our President staged his own victory parade by landing a military jet on the aircraft carrier USS Abraham Lincoln. Now, just in time for "Dubya" to kick off his re-election campaign, Blue Box has released a special edition Elite Force George W. Bush Aviator Figure displaying the company's usual rigorous attention to detail. G. Dubya figures will be available at KB toys in early September.


Playing Mantis' T-Bucket Ford
Playing Mantis 1:18 Scale T-Bucket Ford (ToyShow)
New this summer, this die-cast collectible hot-rod from Playing Mantis's Johnny Lightning line features soft tires, open bicycle-style front wheels that turn, a quick-change rear end and a fully blown Hemi. The 360-degree packaging lets collectors display the car from all angles while protecting its value.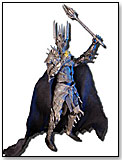 The Lord of the Rings' Deluxe Sauron by ToyBiz
The Lord of the Rings: 10" Deluxe Sauron with Electric Lights and Sound (ToyShow)
For collectors five years old and up, the Lord of the Rings ' Sauron has been brought to collectible form by ToyBiz ($34.99). Standing at 10 inches tall, this version of omnipresent evil is far less of a threat than the menacing overlord depicted in the LOTR movies, but the figure should get fans scrambling. Embodied as an undefeatable warrior instead of a giant red eye featured in the first movie, the figure features electric lights and speaks four authentic phrases from the movie. True to the movie and book, Sauron's eyes light up red when he speaks, and the figure's hand is detachable so Sauron's ring can be removed when his hand is severed.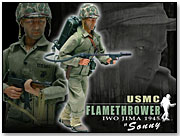 Sonny 12" Military Action Figure
World War II USMC Flamethrower – Sonny 12" Military Action Figure
Sonny (ToyShow), a detailed Marine Corps action figure stationed in Iwo Jima, comes with an M2.2 flamethrower, M3 pistol and holster strapped to the 1941-likeness uniform, Thompson machine gun, ammunition and canteen ($39.99). Each military figure from Dragon Models is poseable and designed specifically for collectors.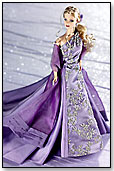 Barbie 2003
Collector Edition: Barbie 2003
Mattel 's Barbie (ToyShow) has been a hot collector's item since she first burst onto the scene in 1959, and the tradition continues with Barbie 2003 ($49.98), a vision in lavender with detailed beading and a floor-length wrap of organza and taffeta. Standing 13 inches tall, this special edition Barbie also wears a rhinestone brooch on her shoulder that reads "2003."

Thinkway 's Neopets Kacheek
Neopets: Kacheek Voice-Activated Virtual Pet
Unlike the first wave of virtual pet fever, Thinkway 's Neopets (ToyShow) come to life and react to the tone of your voice. Yell at Kacheek and he will respond with complaints. Coo at the collectible pet, and he will blush and sing merrily. With more than thirty different sounds, Kacheek can almost baby-sit your child with nods, wiggling ears and moving from left to right. Neopets love making friends with other Neopets, so it's worth a try to collect them all. Each character comes in four different colors and has unique characteristics of voice and movement. For a reasonable $12.99, Neopets are easy to afford but difficult to find.
---
---