Santa Claus Is coming To Town in 2003
By Pennie Hoover
September 2003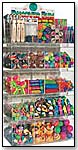 Toysmith's colorful new display racks.

Although manufacturers and retailers remain cautious, there is evidence they are planning for an improved holiday season in 2003. "Industry executives seem optimistic that sales will improve, just in time for the fourth quarter and the crucial holiday season," stated National Retail Federation President Tracy Mullin.

"Our strongest endorsement of positive things for the holiday season is our plan to introduce and promote over 100 new items designed to stimulate sales for the balance of the year," said Toysmith (ToyShow) Director of Merchandising Rich Ockwell.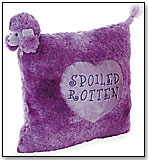 Aurora World's Too Spoiled line for tweens will debut this winter.
Jeff Robbins, national sales manager for Aurora World (ToyShow), believes retailers are ready to do whatever it takes to make this season a success "They want it to be a great year and expect it to be better than 2002." Robbins said. "I see them proceeding steadily, ready to react to the market and to hot trends." Aurora is also meeting the holidays with three new product lines: So Spoiled for Tweens, Murphy the dog and a new line of soft toys for infants.
Aaron Keller, managing principal of Capsule, a brand development firm, also predicts a sales volume increase, if not a dramatic one. "Toys are like comfort food: People use them to feel better and to help their kids to feel better," said Keller. "They offer a small indulgence that brings a bit of joy at a good price."
Does Cautious Mean Cheap?
Steve Edmiston of Front Porch Classics (ToyDirectory) is optimistic about the prospects for high-end products like his company's Old Century Baseball. "We saw a tremendous desire during the 2002 holiday season for products that served a purpose of connecting people, especially connecting families, through play."
Dread Pirate will retail for $99.95 this Christmas
For 2003, the company is introducing Old Century Dread Pirate and expects to enjoy an even more successful family gift launch. Both games retail in the $100-130 range, but Edmiston believes that as dollars get tighter, consumers look for quality rather than an inexpensive toy that will become disposable next year.
What's New in 2003?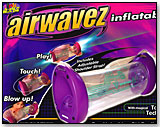 T-INK Airwavez will retail for $19.99
T-INK Inc. (ToyShow) President John Gentile ventures a projection: "Ultimately, one category that will certainly grow is the educational market." This category, recently dominated by Leap Frog (ToyDirectory), will see new products from T-INK, including the Color and Learn interactive series that will retail in the $6.99-$19.99 range. T-INK will also enter the Tween market with electronic products licensed through Hasbro's Thin-Tronix (ToyShow) and with products like Airwavez, an inflatable vinyl radio.

T-INK interactive color and learn products will retail for $4.99
According to Gentile, "It looks like a lot of boys categories have been soft. With the new Ninja Turtle Series and Power Rangers building [sales], along with strong action figure activity with Lord of the Rings and X-Men, there is momentum for boys categories again."
Writer's Bio: Pennie, a graduate of Indiana University School of Journalism, is a freelance writer and lives with her husband and three children in Visalia, CA.
---
---