New Books Tap into Synergy of Licensed Media
By Karen Mendez Smith
September 2003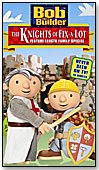 THE KNIGHTS OF FIX-A-LOT


BIONICLE
All play evolves from a sense of story. The most successful licenses draw upon characters that kids identify with strongly enough to connect them to their daily play activities. As an extension of television and licensed toys, media-based books create synergy by encouraging kids to read.
Take HIT Entertainment's BOB THE BUILDER (ToyShow). Over 11 million copies of Bob the Builder books have been sold since a release in July 2001. Not bad for a blue-collar guy. Soon to be published from Random House, Simon & Schuster and Publications, Intl. are early readers, lift-the-flap books, coloring activity books and electronic sound books. Their first direct-to-video feature, THE KNIGHTS OF FIX-A-LOT, and three other video titles, including BOB THE BUILDER'S CHRISTMAS MEMORIES, will only help build sales. Also under construction is BOB THE BUILDER LIVE!, a traveling musical show.


AMERICAN GIRLS



BEYBLADE



BRATZ



STRAWBERRY SHORTCAKE
BIONICLE by Lego (ToyShow) is soon to be represented by Scholastic with chapter books, collector's sticker rolls and official guides, as well as a tie-in book for an upcoming direct-to-video feature film. Also from Scholastic is a new animated series focusing on literacy themes based on their beloved red dog, CLIFFORD'S PUPPY DAYS.
The AMERICAN GIRLS series of books from Pleasant Company (ToyShow) have always done brisk business, both in stores and through catalog sales. Expect their titles to take off with the release of their first television venture, a made-for-TV movie based on the Samantha character to air on the WB Network in 2004.
Penguin Young Reader's Group has acquired MGA Entertainment's (ToyShow) best-selling fashion line BRATZ for 2 paperback and 4 activity books, as well as 6 new titles due this fall. Modern Publishing (ToyShow) promotes Nelvana's BEYBLADE with coloring and activity books. Dalmation Press takes on book titles based on VEGGIE TALES (Big Idea), STRAWBERRY SHORTCAKE (DIC) and JUSTICE LEAGUE (DC Comics, Warner Bros.), just in time for back to school.
Random House and BETTY SPAGHETTY (ToyShow) are a tasty team-up, with five titles released this summer, while Little Brown's already astronomical Todd Parr series (1 million copies of 22 titles are already in print.) is sure to skyrocket to further success with TODDWORLD, a television show launched last February on TLC'S Ready-to-Learn block.
Writer's Bio: Karen Mendez Smith has been involved in children's media for over twenty years as a literary agent, writer, and creator of animated television and film. Co-founder of Satori Organics and M/Path Press, she is a parent to eight children and five incredible grandchildren (and counting).
---
---