10 Tips For Increasing Collectible Sales
By Mark N. Lardas
September 2003



Collectible toys are in—and profitable. Collecting profits from such diverse and ever-evolving products is not child's play, however. It takes effort and ingenuity. Those unschooled in the finer points of retailing collectibles might end up with yesterday's fad on their shelves, and they might even drive off customers without knowing why. Here are 10 ways you can reach out to the booming collectible market without breaking the bank.

Beyblade's Wipe Clean Book
1. Specialize. Pick a niche you enjoy and become knowledgeable in it. Doll collectors, collectible card-game players and die-cast car enthusiasts all have different interests. They want to deal with someone who knows their field and speaks their language.
2. Think Nationally. Collectors go to great lengths to fill gaps. Many think nothing about buying from a dealer on the other side of the country. An inexpensive website and an eBay presence are ways to establish a national clientele.
3. Take Consignments. Set up a section where your customers can sell their treasures on consignment. You keep 50 percent of the retail price. Your customer gets more cash to invest in collectibles. Or the seller can take $1.50 in trade credit for every dollar of cash that you pay out.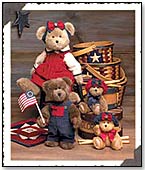 Boyd's Bears
4. Partner with Manufacturers. Many manufacturers offer deals to preferred retailers. Having Decipher (ToyDirectory) or BeyBlades host a tournament at your store, or Boyd's Bears give a new arrival party, will bring in a lot of customers.
5. Sell Peripherals. Any collectible has associated goods -- sleeves and boxes for cards, display cases for cars and dolls, cleaning and preservation materials for all sorts of things. Customers like getting these along with their collectibles. Encourage these "add-on" sales.
6. Start a Newsletter. Let them know when that new release is due, when that special event is happening and even what limited-release items are nearly sold out. A monthly newsletter is a great way to do this while building a customer database. An e-mail newsletter spares postal costs.
7. Start a Club. Host a monthly gathering of collectors at your store. Give them a chance to show off their teddy bears, dolls, cars and cards to others with similar interests. Of course, keep the counter open for sales.
8. Have a Locked Cabinet. What better way to market as item as "special" and "exclusive" than by having it in a locked cabinet? Post signs encouraging customers to ask to see what's inside. Use the opportunity when you have the cabinet unlocked to sell a customer on an item's features.
9. Sell Related Non-Collectibles. Adults buy the expensive collectible toys, but they often bring a child in for cover. A girl uninterested in limited edition Barbies may take a cheaper, standard Barbie. A boy unable to afford an all-foil pack of collectible cards may leave with a few dollars' worth of cards from the bargain bin. All collectors start somewhere!
10. Offer Repairs. Restoring broken treasures may not substantially improve the bottom line, but it fosters loyalty. Check to see if there is somewhere you can ship items for repair, or find a local hobbyist capable of repairing toys.
Writer's Bio: When Mark Lardas says something isn't rocket science, he knows. His career spans both space and e-commerce. His down-to-earth interests include models and writing. He combines both of these in articles for modeling magazines and as Boy's Life's Hobby Master.
---
---