Multimedia Learning Titles: A Window To The Future
By Scott Ferguson
September 2003



From interactive DVD dictionaries like My First Dictionary from Dorling Kindersley to Mattel's (ToyShow) partnership with Screenlife LLC in creating the first DVD-based board game, Scene It?, the children's market is helping to drive the evolution of interactive technology.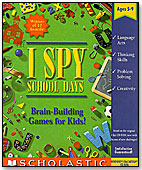 I Spy School Days
I Spy School Days DVD, Riverdeep (ToyShow) ($49.95, ages 5 to 9)

From the creator of the popular and award-winning I Spy School Days picture riddle book by Jean Marzollo and Walter Wick comes this interactive software title that challenges children to use their brains.

Nine unique play areas are filled with more than 1600 object-and-word searches in hundreds of clever picture riddles, puzzles and games. Each area has rhyming riddles to solve, hidden objects to search for and creative exercises.

This title helps children to develop the following skills: visual discrimination, spelling, reading and creative writing, associative thinking, rhyming, visual memory, problem solving and strategic thinking.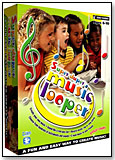 Super Duper Music Looper
Super Duper Music Looper, Sonic Foundry (ToyShow) ($29.99, ages 6 and up)
The Super Dooper Music Looper lets kids record their own vocals and e-mail songs to friends and, best of all, they can do it all without knowing anything about music theory.

With over 700 studio-quality sounds and instruments, including drums, keyboards, guitars, horns and percussion—as well as tons of cool effects—future pop stars can complete a song in minutes, then watch wacky animations as they dance to the music.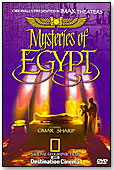 Mysteries of Egypt DVD
Mysteries of Egypt DVD, National Geographic (ToyShow) ($24.99, All Ages)

Spectacular cinematography and an engaging narrative provide a highly entertaining glimpse of ancient Egypt in this documentary from National Geographic.

Omar Sharif explains to his granddaughter such puzzles as how the pyramids would have been built and what knowledge their builders must have possessed.

Reenactments of events such as the building of the pyramids, the burial of King Tut and the 1922 opening of his tomb are presented intelligently in a story-book style kids can understand.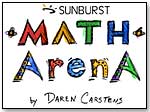 Math Arena CD-ROM
Math Arena CD-ROM, Sunburst (ToyShow) ($99.95, ages 10 and up)
In this title, students are challenged to improve math skills and develop an ability to use math in practical situations through 20 action-packed activities that focus on visual thinking, numeration, operations estimation/prediction, money sense, data representation and geometry concepts.
Each activity provides clear instructions with visual demonstrations, rousing music and appropriate sound prompts. Teachers can use Math Arena to create specific sets of challenges for students, devise formats for friendly classroom competition and maintain ongoing assessment records.
Night Sky Explorer, Space Holdings (ToyShow) ($29.95, All Ages)
Created especially for first time stargazers, Night Sky Explorer lets the entire family identify stars, planets and constellations with a simple point-and-click.
You'll also watch the phases of the Moon, see what the stars looked like on the day you were born and much more. Night Sky Explorer allows users to view the sky from any location on Earth, quickly identify constellations and point and click for information on 100,000 brilliantly realistic celestial objects—while traveling 3,200 years through time to see what the stars looked like on any night from 200 BC to 3000 AD.
Writer's Bio: Scott Ferguson is a writer, composer and family man. Since graduating from Oberlin College, Scott has seen his music in films and commercials, won awards for his copywriting/composing for various advertising clients and received a Grammy-nomination for his music production of Robben Ford's "Talk To Your Daughter" album for Warner Bros. Records.
---
---