Dusty Trail Debuts with a Unique Action Figure Line
By Tim Connolly
September 2003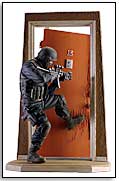 SWAT Pointman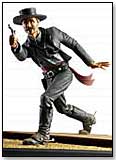 The Outlaw





Schwartz

Eschewing the saturated licensed-figure market, Dusty Trail Toys (ToyDirectory) arrives on the scene this month with a series of 6-inch original characters molded in eye-grabbing action poses. Though the action figure market may seem glutted, the reaction to the company's products at this year's Comic Con in San Diego proved that there's still an appetite for innovation.

"It was awesome," said Heather Allen, co-founder of Dusty Trails along with her husband Scott. "The only problem we had was a shortage of product. We only had enough for display and a few samples for retailers," said Allen. "People were disappointed; they really wanted to buy the figures."

Dusty Trails' finely detailed figures incorporate display bases which are organic to each character. Series 1 consists of a Swat Pointman (posed kicking in a door), The Captain (a 17th century pirate), Schwartz (a WWII German machine-gunner), Spider (a thug blasting twin pistols as he hits the floor), The Outlaw (an old- west gunslinger), and Corporal Smith (a WWII Airborne Pathfinder).

Dusty Trails figures are currently for sale at KB Toys' online store as well as Toys R Us online, with the entire Series 1 scheduled to hit store shelves this month. Retailers who have already signed on include Entertainment Earth, Big Bad Toy Store, Big Boy Toys and Hobby Town USA.









The Captain

Spider



Corporal Smith
Series 2 is scheduled for release in early 2004 and will include a U.S. Marine figure (Iraq), British SAS figure in repelling pose, a WWII Marine, U.S. Marshall and "a Samurai that's just out of this world," said Allen.
Dusty Trails' figures are created by Los Angeles artist Marcello Fuentes and company founder Scott Allen. Fuentes also functions as the company's head of research and development.
With offers for distribution in Europe and Japan already coming in, collectors might want to grab their figure of choice quickly, if only to lay claim to the choicest of all bragging lines: "Dude, I was into these guys' stuff before anybody."
---
---