---
Gaming is Relative at The Five of Us
The Five of Us, Inc.

(ToyShow) is a team of veteran storytellers turned game developers. Their product? Narrative driven play in a "world of whimsy and wonder." Their logo? A hand; each finger representing the three brothers, one sister and her husband that make up the company.



Among this pseudo Brady Bunch is a sound effects editor, costume designer, entrepreneur, and husband and wife editing team. They claim numerous prestigious awards. "It's a real creative group," explains Lynne Willingham, sister and director of marketing for the company.

They jumped into the toy business in 1999 with a line of machine washable backpacks called

Lil' Pal Packs

. These bags host a cast of characters, some of which have transitioned into the game realm as well. Regardless, their products are fundamentally plot driven and the development process is unique; they first create the story, next the characters and finally a game.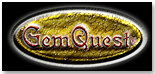 Gem Quest®, their first stab at the game market, came about over a dinner conversation. "The gaming thing just evolved," explains Willingham. Over the next three years, the team worked to perfect the artwork and round out the idea originated by Chris Mirkovich and Derek Sullivan.

Finally, after nearly five years in development, the fantasy board game for ages 10 and up premiered at Toy Fair, in New York. The group of formally novice gamers credit the previous head of Gamma with helping them fix or "break the game" making it a successful playing vehicle. In the coming months, The Five of Us will release

Gem Quest: Unrest Rising

, the first in planned series of expansion packs.

The board is set in another world where wizards and warriors embark on dangerous adventures. Play, which can take up to three hours, involves luck, skill and planning with difficulty levels for both gamers and recreational users. "It's not so complicated that it requires a heavy duty gamer, and it's interesting enough to keep them playing," says Willingham.

The fivesome's love of gaming culture has driven their focus towards this arena. Sullivan has become the driving force behind the start-up venture, taking a three-year career hiatus to devote more time to the company. They are set to debut an innovative line-up of games next year.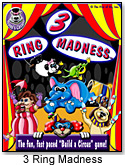 Look for Nonni's Circus®: 3 Ring Madness™

at Toy Fair 2005. This mix of solitaire and rummy challenges ages 8 and up to build the best circus possible while avoiding bad guys, using characters from the plush backpack line. It is credited with promoting family interaction, developing cognitive skills, and helping kids with their concentration. They will also release

Nonni's Circus®: Ringmaster™

, a board game for ages 4 to 8.

In 2005, also expect loads of gore from

Bloodletting™

, found on their Web site, which features four families who have been "undead" for centuries. This "new breed of game noir" is being marketed toward the especially "stout of heart."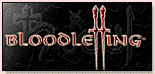 To alleviate parental concerns, The Five of Us Web site is divided into two distinct worlds, one a wholesome "lighter side," featuring the characters and products from

Nonni's Circus®

and

The Fab Five Farm™

and the other, a more ominous, "darker side," where the worlds of

Gem Quest®

and

Bloodletting™

live.

While they advertise on Web sites in addition to participating in trade shows and gaming conventions, the bulk of their attention comes from the Internet and word of mouth. In the next five years, the group envisions expanding their characters outside of the gaming arena, possibly into movies and other animation.

THIS BANNER IS AN AD:
---
---