For the child or teen that loves an intellectual challenge, many Toy and Hobby manufacturers have created products that will challenge and entertain the science-oriented young mind.
For the Budding Botanist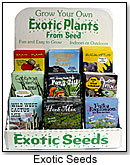 DuneCraft (ToyDirectory) introduces a line of nine types of Exotic Seeds ($2.99 per pack of seeds; ages 3 years and up). The plants can be grown indoors or outdoors and last for years! This first series of exotic and tropical seeds includes plants such as the Pony Tail Palm, Mexican Cigar Plant, Brain Plant, Eucalyptus, Pink Polka Dot Plant, Wild West Cacti mix and Aloe. The nine varieties ship pre-packed in a convenient point-of-purchase display, with each pack selling separately.
The Next Best Thing to Cheating
Every school day, more than 20 million students and teachers in the U.S. and Canada use an educational product made by Texas Instruments. TI has now added to those products the TI-84 Plus Silver Edition Graphing Calculator ($130; ages 10 and up).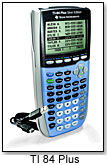 The TI-84 is preloaded with 30 educational programs, including StudyCards and Topics in Algebra, for middle and high school math and science, plus productivity programs, including an organizer, to-do list and contact list. The device has enough memory to store up to 94 applications.
A USB port allows easy connection to home and school computers, data sharing with other graphing calculators, and collection of field data for math and science classes. The USB port and cable can also connect with presentation equipment many teachers use in the classroom so that students can present their work.
The TI-84 has a sleek design, and comes with a silver face plate and slide case. Available separately are faceplates and slide cases in different colors, including orange, blue and pink.
A Twist on Memory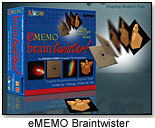 The eMEMO Brain Twister from EKOS USA (ToyDirectory) ($17.99; ages 6 years and up) offers an updated version of the classic memory game.
The object of the game is to make a pair where the images on both the front and back of two tiles match. During a turn, a player turns over two tiles. If the tiles match, the player keeps the matched tiles and continues turning over tiles for as long as pairs are made. The player with the most pairs wins the game.
Packaged in a hand-made box with a full-color instruction sheet, the Brain Twister includes 110 double-sided tiles with 10 different images, creating 55 different combinations. Each playing tile has scientific images on both sides, including glowing green light bulbs, red-hot fire, and light reflections.
Let it Snow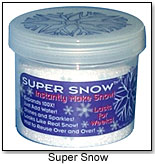 Dunecraft's SuperSnow (ToyDirectory) ($7.99; ages 3 years and up) allows any child to make snow anytime of the year. Used on movie sets and in snowboarding parks, SuperSnow is a unique polymer that will make snow in the warmest of climates. Add one tablespoon to 32 ounces of water and stir. The more you stir, the more it shines and sparkles! Super Snow expands to more than 100 times its size and lasts for weeks without rewetting. Sold in a 100-gram jar, one jar makes over 7 quarts of snow.
Building Blocks of Knowledge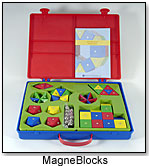 Geospace International (ToyShow) introduces its new line of magnetic building blocks, MagneBlocks ($9.50-$119.99; ages 3 and up). MagneBlocks come in a variety of geometric shapes, along with steel marbles, which cling to each other to form a myriad of fascinating shapes and unusual objects.
Described as a cross between Legos and the Rubik's Cube, MagneBlock's educational value serves as a natural springboard into math, design, architecture, and physics.
Geospace's brand new line offers kits ranging from a starter set with two pentagonal shapes with 10 steel marbles to the Giganta set containing a total of 152 pieces.
Look Closely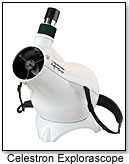 Celestron's ExploraScope ($87.95; ages 6 years and up) is a lightweight 80mm telescope that can be taken anywhere you can go! Its built-in erect image eyepiece permits use as an astronomical telescope or land-based spotting scope. The attached eyepiece brings objects 44 times closer, and the built-in erect image lens makes it perfect for daytime land viewing.
Perfect for hiking, camping or a nature-oriented field trip, the Explorascope comes with a swivel base, tripod adapter and carrying strap.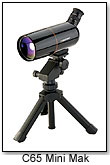 For the slightly older scientist who wants greater magnification and maximized portability, Celestron offers the C65 Mini Mak Spotting Scope ($99.95; ages 12 years and up). It has a built-in zoom eyepiece capable of 90 times magnification, and its soft carrying case holds both the scope and the included tabletop tripod. The tripod has built-in slow motion controls for accurate targeting. Both items break down to a portable configuration for traveling.
Its Maksutov-Cassegrain optical design is recognized for being a portable design that offers a variety of applications, both for terrestrial and astronomical use.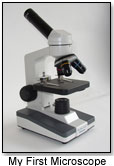 C&A Scientific (ToyDirectory) introduces My First Lab Cordless Microscope Model MFL-05 ($95-$110; ages 11 years and up) with the same great optics as its earlier plug-in version, now on a new base with a rechargeable battery light source. The battery lasts for hours and can be recharged hundreds of times for years of valuable scientific research. Magnification ranges from 40 times to 400 times. Also included is a detachable AC power cord, vinyl dust cover, and five prepared glass slides ready for viewing.
The Multi Study-Scope ($59.95; ages 7 and up), also by C&A Scientific, is a great introductory microscope for the younger scientist, designed for observing small objects (such as bugs, plants, or coins) as opposed to slides. It magnifies 20 times with no electricity needed — just daylight, room lighting or a desk lamp. The Multi Study-Scope comes with 12 household specimens already mounted for observation.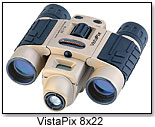 Celestron offers a new way to share your experiences on a hike or bird watching expedition, at a sporting event, or any place where one would take along binoculars. The VistaPix 8x22 Binocular Digital Camera ($89.95; ages 12 years and up) is a high-quality powerful binocular for clear, sharp, bright views - and a versatile digital camera - all in one! VistaPix allows its user to view the world and save those memorable moments. VistaPix is tripod-adaptable and weighs only 9 ounces.