Heritage Puzzle Inc.

(Gift Guide) wanted to get into the jigsaw puzzle business but needed something to differentiate the products from a multitude of available puzzles. The family owned and operated company got its start in the shadow of the Cape Hatteras Lighthouse. They decided to create a puzzle of the Cape Hatteras Lighthouse and sell it through small retailers along the outer banks of North Carolina. Heritage shipped the first product in spring of 1996. Retailers began asking for more lighthouses in the region and which propelled Heritage Puzzle Inc. into additional geographic areas.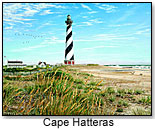 The Cape Hatteras Lighthouse Puzzle has been their perennial best seller. Heritage released three versions of the lighthouse from two different artists, each one with a unique perspective and customer following. Everhart took local artists' well-accepted works and created lighthouse puzzles that appeal to a particular geographic location. In addition, the

Great Lakes Lighthouse Puzzle

showcases lighthouses from New York to Wisconsin, which covers a lot of ground.



Brainteaser Marketing



Ken Everhart, part owner, has been in the import/export business for years and saw opportunities in the toy industry but never made the leap. Everhart's experience in business and MBA brought some needed structure and organization to the company. Once deciding on a "theme" for puzzles, their entrepreneurial experience kicked in and really moved the process along. Everhart's creative side worked with the artists and took great satisfaction in interacting with retail and end users.

Initially the products were targeted for regional markets through higher-end retailers like small gift shops and local Hallmark stores. Some products have greater geographic appeal than others. The images typically are representative of some local landmark that has great appeal to visitors and locals alike. Heritage has also produced custom puzzles for a number of historical sites such as Old Salem in Winston-Salem and the Hotel Hershey in Hershey, Penn.

Heritage puzzles are designed to fit into standard frames so they double as wall decorations when completed. First loyalty is to the brick and mortar local retailers that helped us when Heritage only had one SKU. That being said they will not be drawn into a situation where products are deeply discounted through catalogs and online re-sellers.



Future Puzzling Projects



Heritage will always try to differentiate themselves through selection of artists, product quality and customer service, which has accounted for much of the repeat business. On-line retailing is an important aspect to a company's business plan. To service that growing sector, Heritage will continue to expand their Web site and may pursue other on-line retail options. The primary goal is to expand product offerings into select geographic markets while maintaining a high level of quality and service to retailers and end users alike. There is an ever-expanding group of consumers to whom on-line shopping is becoming the norm rather than the exception.