---
TDmonthly's Top 10 Most Wanted Girls Arts and Crafts
The research for this article was compiled by November 12, 2004.

According to Stevanne Auerbach, Ph.D./Dr. Toy "Children learn best through play." Whether they are playing a game, drawing, reading, running or building they are learning by experiencing the world around them. Some manufacturers are even working to incorporate the ever-changing world by adding electronic interaction and digital activities to arts and crafts projects.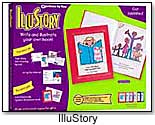 IlluStory ($21.95, Ages 7 & up) by Creations by You (ToyDirectory)
The IlluStory kit lets children design and illustrate their own 15-page book.

· IlluStory is number one in sales at imaginarium.com, target.com and eToys.com and is number two in the children's book section at Target.
· Specialized Story Web is available on the Internet to assist with story elements.
· IlluStory has won the Oppenheim Toy Portfolio Gold Award, Parent's Choice Classic Award, Dr. Toy Best Toy Classic Award, and Family Life Best Learning Toy Award.

From Nan Thomas, Director of Marketing and Sales at Creations by You "I've never seen any product with quite the same level of repeat sales." With continued new and repeat business this product is expected to remain a top seller.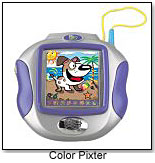 Color Pixter ($ 84.99, preschool to late school years) by

Fisher-Price


Pixter moves children into digital creations by letting them take up to 10 digital photos that they then customize and print.

· Children can express their creativity through photographic images and then alter those images to fit their vision of the world.
· Pixter was awarded the Oppenheim Toy Portfolio Platinum Award for 2005.
· A pocket version of Pixter was awarded the Preferred Choice Award for 2004 by Creative Child Magazine.

The technology behind this toy will attract children; expect this toy to trend up.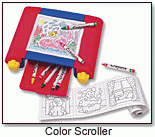 Color Scroller ( $9.99, 3 & up) by

Alex


It holds a refillable roll of paper on a scroll so children can color up to 50 slides to create their own illustrated stories or slide shows.

· It comes with two rolls of paper with 50 illustrations on each, six crayons, and a convenient storage drawer.
· Dr. Toy included it as a 100 Best Children's Products, 10 Best Creative Products, and Best Vacation Products.
· The National Parenting Center has given Color Scroller its Seal of Approval.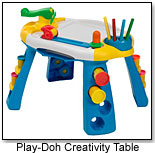 Play-Doh Creativity Table ($ 29.99, ages 3 and up) by

Hasbro


This play station provides a multitude of activities for young children including traditional modeling compound and accessories as well as crayons, markers and paper.

· This table has multiple levels of art projects which enable children to constructively experience and express their feelings and concerns.
· It includes Play-Doh toys such as the Fun Factory extruder, Fuzzy Pumper tool and a rolling mold rail.
· It was a 2003 Toy Awards Winner and has received Nappa Honors.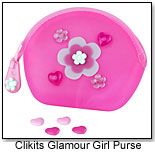 Clikits Glamour Girl Purse ($4.99, ages 6 and up) by

LEGO


This craft is a functional accessory for young girls, letting them design their own purse with Clickits icons included.

· LEGO durability is evident in this craft accessory for girls.
· This toy was an Oppenheim Toy Portfolio Platinum Award winner for 2004.
· According to about.com, "LEGO has been trying to reach the girls´ toy market, and this might do it." (Kimberly L. Keith, About.com 10/17/04.)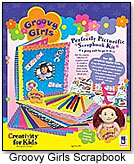 Groovy Girls Perfectly Picturific Scrapbook Kit ( $19.99, 6 to 96 Years) by

Creativity for Kids


This kit brings the scrapbooking fad directly to children in the Groovy Girls format.

· Everything is included in this kit, from scrapbook to glue stick, to markers and embellishments.
· According to Creating Keepsakes magazine, the scrapbooking hobby entered 4.4 million new households since 2001, bringing total sales for 2004 to 2.55 billion.
· Groovy Girls have received the Oppenheim Platinum Seal Award and the Astra Tried & True Award

With the scrapbook industry growing at approximately 30% a year, this product will see a growth in sales and popularity as well.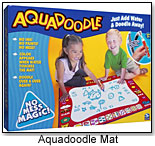 Aquadoodle Mat ($34.99, 3 & up) by

SpinMaster


At least two children can play at once with these tidy, water-activated markers.

· Pens hold water rather than ink, making clean up virtually unnecessary and allowing for multiple uses.
· According to the polled "Mommy Group," the Aquadoodle Mat was the most requested toy across the board.
· This product is consistently the number one toy seller on amazon.com.

The marketing appeal of this product and its consistent leadership in sales on amazon.com are a clear indicator of this product's future appeal.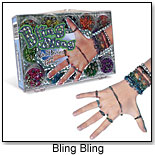 Bling Bling Kit ($19.95, ages 8 and up) by The Bead Shop (Gift Guide)
The Bling Bling jewelry craft kit lets older girls design and create their own jewelry.

· The Bling Bling Kit comes with enough supplies to make 24 bracelets and 12 rings.
· Girls are encouraged to express their creativity and individuality by designing their own jewelry.
· It is selected as a top arts and crafts project by about.com.

According to the Mommy Group polled, girls are crazy for bead crafts. The hip, trendy aspects of this particular product will make it a tween favorite.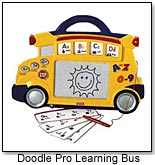 Doodle Pro Electronic Learning Bus ($20.00, ages 3 and up) by

Fisher-Price


Shaped like a school bus, this version of Doodle Pro is an extra-large magnetic drawing toy that includes a pen and shape stampers with a drawer for storage.

· Increased interaction is available with a quiz and free draw mode while sounds and music add upon the already popular magnet board technology.
· Children between 14 and 20 months begin working on hand strength and dexterity, according to Andrew Adesman, M.D. This product lets them exercise this skill while creating and does not leave a mess.
· The regular Doodle Pro was awarded the 2004 Oppenheim Toy Portfolio Blue Chip Award.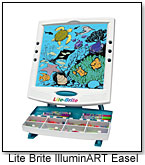 Lite-Brite Illumin-Art Easel ($34.99, ages 4 and up) by

Hasbro


Now children can draw, peg, illuminate and animate their own creations in six different animation modes.

· The Illumin-Art Easel is a two-sided 12 x 12 board devoted to traditional peg activities as well as drawing and coloring.
· Some of the included pictures hide secret images that appear when the lights are on. According to Highlights Company, solving hidden pictures helps develop figure-ground perception and helps with size relationships.
· Hasbro established an Illumin-Art competition for children where the five finalists were flown to New York where their artwork was displayed at the ZieherSmith Gallery.




Additional Entry: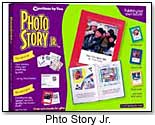 PhotoStory Junior ( $28.95, Ages 7 and up) by Creations by You (ToyDirectory)
PhotoStory Junior takes scrapbooking to a new level for children by publishing their artwork.

• Several options are available to personalize PhotoStory Junior, including additional pages for a total of up to 50 pages, seven different cover colors, or multiple copies.
· This kit comes with cover pages, book pages, 10 washable markers, 168 Mrs. Grossman's stickers, and a prepaid envelope for return of finished product.
· Following the award-winning success of IlluStory, PhotoStory Junior is expected to garner popularity among crafty kids.

With the popularity of PhotoStory's big sister, IlluStory, expect this product to be a perennial favorite.

I began by researching online sources and discussing with leading toy manufacturers. I established a "Mommy's Group" and polled the women to see which toys they were looking to purchase for their kids or which toys they had purchased and enjoyed. I also reviewed several toy awards to see which toys had been selected.
THIS BANNER IS AN AD:
---
---