Creation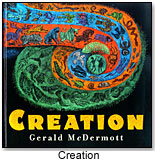 By Gerald McDermott, Dutton Books; 1st edition (October 1, 2003)
The story of creation from the book of Genesis brilliantly comes to life at the hands of Gerald McDermott. His gesso and fabric paintings use vivid colors, shapes and textures to illustrate his story and compliment his poetic, flowing text.
"I was before time. I was everywhere. There was nothing. I was there. My spirit moved over the deep. I floated in darkness."
The timeless story and beautiful shapes and textures will capture the imagination of various ages, and will encourage discussion as well.
The Lorax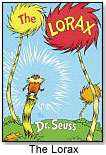 By Dr. Seuss, Random House Children's Books (August 1971)
Today's parents will most likely remember this tale from their childhood, and its message is one that is just as important today. Through his brightly colored illustrations and rhyme, Dr. Seuss teaches that if we don't protect our environment today, there will be consequences tomorrow.
Parents will enjoy revisiting this story, and Dr. Seuss is always a favorite of children from any generation.
Destination: Mars


By Seymour Simon, HarperTrophy (March 16, 2004)
This updated version of the 1987 book includes all the previous facts and adds the new pictures from the Pathfinder Lander, the Mars Orbiter Camera, and the Hubble Space Telescope. In addition, there is new information from NASA missions. This book will delight young explorers as it educates.
Seymour Simon has written more than 150 award-winning science books.
Experiments You Can Do in Your Backyard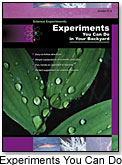 Waterbird Books (2003)
This book geared for children in grades 5 through 8 offers a fun, hands-on approach to learning. From building your own moisture trap with a margarine container to creating shadow art, the easy-to-follow directions are followed by explanations of scientific principles in simple terms. Simple drawings illustrate the experiments, as well. The book stresses the fact that science is fun, but also shows that it opens the door to a wealth of learning.
Science Verse


By Jon Scieszka, Viking (September 2004)
From the human body to dinosaurs, this book offers a different approach to science. The fun begins when a teacher tells his class that if they listen closely enough, they can hear the poetry of science in everything. The publisher writes, "What if a boring lesson about the food chain becomes a sing-aloud celebration about predators and prey? A twinkle-twinkle little star transforms into a twinkle-less, sunshine-eating-and-rhyming Black Hole? What if amoebas, combustion, metamorphosis, viruses, the creation of the universe are irresistible, laugh-out-loud poetry? Well, you´re thinking in science verse, that´s what." The poems continue throughout the book, which is recommended for children ages 4 to 8.