---
TDmonthly's Top 10 Most Wanted Girls´ Plush
The research for this article was compiled by November 13, 2004.



The hottest toys of previous seasons have successfully combined interaction and cuddliness and created rage sensations among tots and parents alike. According to Michelle McLaughlin, director of retail development for Nickelodeon Consumer Products, interactive plush is on the rise. This year, these toys are tackling some difficult tasks including singing, walking, dancing, and even potty training.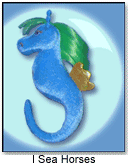 I Sea Horses ($9.95 each, all ages) by

Wild Heart Ranch

(Gift Guide)
These six plush little critters come with an LED magical star that lights up when their bellies are pressed, name-tag, poem, bendable tail, and comb for their long manes.

• Mother/daughter team Dawn and Cali VanZant follow their motto of "a simple idea from the heart is best" by creating characters based upon their own stories.
• The characters are based on a book and have their own Web site for interactive fun.
• They have been awarded the Seal of Excellence 2004 from Creative Child Magazine and Dr. Toy's 100 Best Children's Products of 2004.

This toy has created quite a bit of buzz and has appeared in TDMonthly several times lately. It is expected to trend up for the holidays.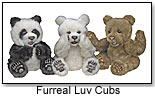 Furreal Friends Luv Cub ($29.99, ages 4 and up) by

Hasbro


It makes baby bear cub sounds, has adorable facial expressions, and responds to children's actions, even giving hugs and playing peek-a-boo.

• Furreal Friends increase child interactivity by encouraging them to play peek-a-boo and other activities.
• This product comes with an adoption certificate to increase a child's sense of ownership and responsibility.
• FurReal Friends Luv Cubs is a Family Fun Magazine T.O.Y. winner for 2004.

There is a rumor that the black Luv Cub is hard to find; expect this to be a sought after Christmas item.



E-L-M-O Singing and Dancing Elmo ($29.99, 18 months and up) by

Fisher-Price


This 14" plush sings and dances, using his arms to create the letters E-L-M-O (similar to the YMCA Village People hit).

• With a press of Elmo's hand he encourages children to interact with him by
singing and dancing along as they spell his name.
• It is listed as the seventh hottest seller for twins and multiples for 2004 by about.com's Pamela Prindle Fierro.
• Our source from Fisher-Price says she expects E-L-M-O to be a big hit with both boys and girls.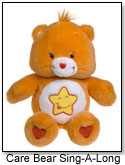 Care Bears Sing-A-Long: Laugh-A-Lot ($24.99, ages 3 & up) by

P A Distribution


Care Bears are back and as popular as they were in the 1980's, but now they sing three different songs and laugh.

• They recognize each other and interact, singing in rounds and encouraging children to play along.
• Care Bears have a pre-established history with a box office hit and popular television series under their belts.
• Released late in 2003, they became Parents Magazine's Toy of the Year that year.

With a number of nostalgia-related toys hitting the market, the popularity of this particular one may wane.



Shrek Plush Characters ($14.99, ages 4 and up) by

Hasbro


Following the popularity of the two Shrek movies, Hasbro has developed a line of Shrek plush toys. This is a large sized 24" replica of a favorite character from the film with appropriate costuming and catchphrase vocalizations.

• These popular characters from Shrek carried the sequel to a box office record for one day sales of approximately 11.8 million.
• It's a top seller on playfulplushtoys.com and amazon.com.
• When his stomach is pressed the character expresses one of six popular phrases.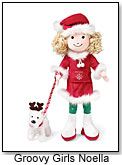 Groovy Girls ($19.95, ages 3 & up) by Manhattan Toy Company (ToyDirectory)
The 13" Groovy Girl Noella Christmas Doll is the first Groovy Girl dressed for the holidays.

• With 2004 embroidered on her front pocket, she instantly becomes a collector's item.
• Noella has already sold out on travelingtoys.com and absolutelydolls.com's online sales sites, and she is listed by amazon.com as an Early Adopter.
• Groovy Girls have won the Oppenheimer Platinum Seal Award and Astra Tried and True Award, and was chosen one of New York Magazine's Best Bets in 1998.

As a limited edition and holiday specific doll, this toy will be sought after by many and may become the hard-to-get plush of the season.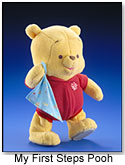 My First Steps Baby Pooh ($24.99, ages 18 months and up) by

Fisher-Price


This 12" plush Pooh knows more than 30 phrases, can walk at four different speeds, and is designed to turn towards voices and clap.

• Pooh comes dressed in his familiar red shirt and carries a blue blanket.
• Sound-activated Pooh responds when your child calls to him, even turning in the direction of the sound.
• Pooh encourages toddlers to participate with him by walking, talking, and even playing music.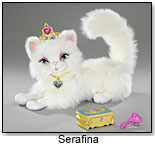 Serafina ($39.99, ages 3 and up) by

Mattel, Inc.


Barbie has stepped into the plush realm with her pet cat, Serafina, which moves and sings along when watching Barbie's movie, "Barbie as the Princess and the Pauper."

• Serafina has more than two minutes, over 75 one-liners, of speech in her repertoire.
• Serafina uses Video Encoded Invisible Light (VEIL) technology which allows toys to "watch" and "learn" from television or movies.
• Serafina is a co-star in Barbie's "Princess and the Pauper" movie which has already hit number one in video sales for this holiday season.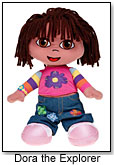 Dora the Explorer Soft and Stylish Plush Doll ($9.99, ages 2 and up) by

Fisher-Price


This familiar character from Nick Jr. brings her popularity off the television screen and into a child's arms.

• Dora is fashionably dressed in a striped shirt and denim jeans.
• Nick is planning on releasing a 2-episode Dora special around the holidays.
• Dora the Explorer is one of Nick Jr.'s most popular television programs for preschoolers.

Dora's popularity is bound to trend up as Nick Jr. released the first double-length musical version "Dora the Explorer Pirate Adventure" this year.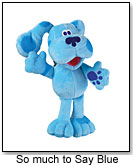 So Much to Say Blue ($15.99, ages 18 months and up) by

Fisher-Price


This huggable 12" Blue's Clues plush follows her TV counterpart by speaking more than 80 different phrases.

• Blues Clues won the Peabody's Award in 2001 as a "play-along, think-along animated series for preschoolers that continues year in and year out to respect its very special audience."
• The popularity of this Nick Jr. program will continue to make Blue a top choice among children.
• So Much to Say Blue was released in conjunction with the introduction of a speaking Blue to the television series.

As Blue speaks on television, more children are bound to want a speaking Blue at home. Expect this toy to trend up.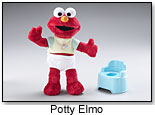 Potty Elmo ($19.99, ages 18 months and up) by

Fisher-Price


This Elmo helps children with the difficult task of potty training as he works through the process with them. This product was released in the summer of 2004.

• Elmo comes with a small book, removable training pants, a sippy cup and a potty. Once he has drunk enough (no actual fluid is used) he asks to use the potty.
• According to The Toy Guy, Potty Elmo features "…the type of positive reinforcement that can be reinforcing—helpful to a child during potty training."
• This toy was given the Oppenheim Toy Portfolio Platinum Award for 2005.


I began by researching online sources and communicating with leading toy manufacturers. I established a "Mommy's Group" and polled the women to see which toys they were looking to purchase for their kids or which toys they had purchased and enjoyed. I also reviewed several toy awards to see which toys they had selected.
THIS BANNER IS AN AD:
---
---