OWI, Inc. (ToyDirectory) is famous for their consumer and educational products. Known for durability and reliability, the company would seem a natural for producing robots. Made to the highest quality standards and competitively priced, OWI's robots are smart machines.
Craig Morioka, president of RobotiKits Direct, a division of OWI, credits his father for his success. "When he started the business twenty-five years ago, the concept of robotics kits was premature. It was very popular in Japan, but not in the USA. Japan is the leader in robotics technology and the leader in its manufacturing implementation. His vision has allowed us to be in the position we are today."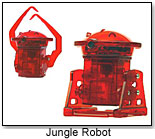 Some say robots may be the key to a more efficient future. Still, sales are fueled by something more than that.
Morioka explains, "Certainly television and the ´big screen´ have a lot to do with its popularity. Building and designing have always been the heart and soul of our nation´s success. Now, they have the concept of what to build and design."
Their best-selling models are the Rockit Robot, Jungle Robot, and Weasel Robot from $19.95 to $24.95. All have been honored with numerous awards. 100 Best Children´s Products, 10 Best High Tech Products, 10 Best Educational Products, and Preferred Choice Award by "Creative Child Magazine" are several. These are beginner kits and often purchased by first-time customers. Intermediate and advanced models are also available ranging from $19.95 to $119.95. The most expensive robot is the programmable, infrared WAO Kranius.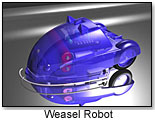 Beginner kits require basic assembly. Beginner soldering teaches basic soldering skills. Intermediate kits are for ages 10 and up. Advanced kits involve challenging soldering and assembly. Accessories and parts such as training guides for teachers, a solar battery, and a robot rink are available. Newest products include a 4-in-1 Robot and a Binary Player Robot.
RobotiKits are sold in retail outlets as well as by direct order. Hobby stores, specialty toy retailers, science museum stores, consumer electronic stores, and school supply stores carry them. A small percentage is exported.
The kits teach mechanical skills, electronic circuitry basics, and soldering techniques from the elementary to graduate school levels in the classroom. Morioka says, "The fundamental principle of our designs is to create a product for this market. Because they are fun and challenging, we ´reach´ to motivate children."
Morioka believes opportunities are created through hard work and advises business owners to listen to customers. He adds, "They are the lifeline to your success or failure."