The research for this article was compiled by November 3, 2004.


Collecting is an established sub-culture within the 1.2 billion dollar toy industry. According to an NPD group study, 25% of all toy purchases made by 18- to 24-year-olds falls into this category. Companies have begun recognizing the growing number of adult collectors and are responding to their needs. Expect Star Wars to be the collector's item of the holiday season. The release of The Original Trilogy "Vintage" characters, hearkening back to the movies made in the late '70s and '80s, have sparked a craze among toy aficionados and retro collectors alike. "They are a 12 inch time machine back to the year they are from," explains Dmitri Benzinger, buyer at toywiz.com. Transformers and G.I. Joe will also ring the cash register at holiday time.
The question remains, what factors draw collectors and increase the value of certain items? One of the main forces is the Action Figure Authority (AFA) grading system. Brianstoys.com sends many shipments directly in for grading on a scale of 1-100 because it can increase the value easily from $20-$100, explains Dan Monson, sales representative. A perfect score is almost impossible, but 95% is a rarity that commands dollars. Good-condition vintage items and 2004 exclusives from the summer shows are coming into the AFA at the moment. "Graded pieces give peace of mind to collectors; graded items usually increase the re-sale value," explains a representative from AFA which is the official grading service of Toy Fair. Variants are another attraction for collectors. They are looking for the paint variations within the series or "chase figures." Many of these pieces go on eBay for $20 each. The trend is especially hot within the McFarlane sports series and the Marvel Legends groups.
Pull out those wallets because these hard-to-locate items will have collectors lining up and hitting the pre-order list in droves.
1.) Transformers "The Commemorative Series" Optomus Prime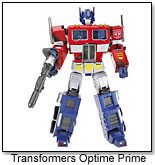 (approx $69.99, 5+) by Hasbro
Devoted collectors are excited about the re-production of transformers with both the original style and new format in high-demand.
-Collectors spend years looking for an item and "shell out obscene amounts of cash," according to Benzinger.
- Transformers have been a big seller for bigbadtoystore.com.
- Adult consumers respond to toys they played with as children, like Transformers.
2.) Star Wars Trilogy Vintage: Darth Vader (approx 19.99) by Hasbro


The "classic carded" editions are modeled after the original line with authentic packaging and vintage touches.
-This figure has been "superhot" for toywiz.com. He comes with a light saber and signature black cloak.
-Darth Vader sells for 149.99 on toyglobe.com.
-Chewbaca is another popular character because only 7,500 were produced. The Holo Emperor is popular as well.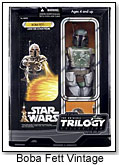 3.) Star Wars Trilogy Vintage: Boba Fett (approx $19.99) by Hasbro
The star wars collectors have designated this character as a stand-out item within the series.
-This is a bestselling item for dnstoys.com, which sells out of Star Wars figures immediately after posting them on their site.
- This is the top-selling character of the Vintage series on Amazon.com.
- The Exclusive Battle Front Scout Trooper figure is a hard-to-find collectors item as well.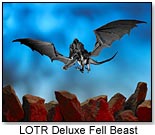 4.) Lord of the Rings 6": The Fell Beast (approx $19.99) by Toy Biz
This large 28" creature from middle-earth will be high in demand for collectors during holiday time.
- The final DVD release on December 17th should invigorate sales.
- It is predicted to be a bestseller by toyiz.com, where toys and DVD's go "hand-in-hand," spiking toy sales 300-400% upon a DVD's release.
- The #2 Early Adopter Product in Collectibles on Amazon.com based on purchases.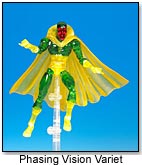 5.) Marvel Legends Series 7: Phasing Vision Varient (approx $7.99) by Toy Biz
This character looks like regular Vision, but it's cast in translucent plastic and has a wall-mountable base.
-The chase figures are the most popular within the Marvel Legends line.
-This item sells for $89.95 pre-order on toyglobe.com
- "...These variants will be produced with scarcity in mind, making fewer available than their mass-produced counterparts," according to RTM News, April 2004.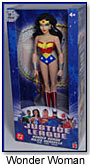 6.) Justice League: Wonder Woman (Approx $14.99, 4+) by Mattel
The women stand out in the Justice League series attracting kids of all ages.
- Hawk Girl has been an equally popular character within the line.
- Justice League ratings increased 84% with kids 6-11 in August 2004.
- The 4-pack with Wonder Woman is the #95 early adopter product in action figures on Amazon.com-based on purchases.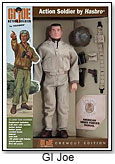 7.) G.I. Joe with a Crew Cut ($59.99) by Dreams and Visions
G.I. Joe has never been portrayed with a crew cut before and this factor peaked the interest of fans and collectors.
- The Unknown Soldier with changeable facemasks also looks to be popular for the holiday season.
- It has generated the most interest of the military figures on thecollectordepot.com.
- It has leather lace-up boots, and a p-coat from military-quality material.
8.) G.I. Joe 40th Anniversary Collection ($34.99, 5+) by Hasbro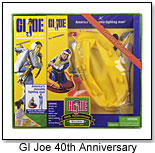 Joe collectors appreciate the vintage look of these action figures that celebrate his military past.
- The packaging and accessory packs are replicas of the original.
- This item is highly in-demand at D&S toys.com
- Characters include Action Sailor, Action Soldier, Action Pilot and Action Marine.
9.) Luke Skywalker Light Saber Elite ($499.00) by Master Replicas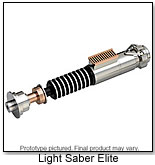 Star Wars collectors drool over their line of life-like limited production props.
- This item sold out in three hours and it was only available for collector society members.
- Because Master Replicas does not re-release any items, these props are limited editions.
- The much-anticipated AT-AT Imperial Walker sold out for $1,199.
10.) NHL Legends: Wayne Gretzky 2 (approx $11.99, 5+) by McFarlane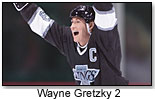 Hockey fanatics like the fact that he appears in different uniforms from his playing days.
- "Being able to buy a Gretzky figure has really made collectors happy," states a McFarlane representative.
- It is the best selling sports action figure on unleash.com.
- With the start date of this year's hockey season still up in the air as players and NHL owners continue to battle, this doll may be the best bet a hockey fan has at getting a little puck action this winter.
Four to Watch:
1.) Transformers Re-issue gift set by Takara
This will be a hot purchase in December according to bigbadtoystore.com. Judging from Takara's popularity, they look to be correct.
2.) Marvel Legends 8 by Toybiz
They are pre-sold out on entertainmentearth.com for a January 2005 release date. The Storm and Black Widow variants should be popular characters.
3.) Motley Crue Box Set by McFarlane
"The interest in that set has really been incredible," according to a company representative. The November release date should create a sales buzz among collectors.
4.) The Star Wars Sand Crawler by Hasbro
Off the market for 20 years, the item will appear in vintage condition. It has been on pre-order for a year and sells for $69.99 on brianstoysom. Set for a holiday release, this item will be in high demand.